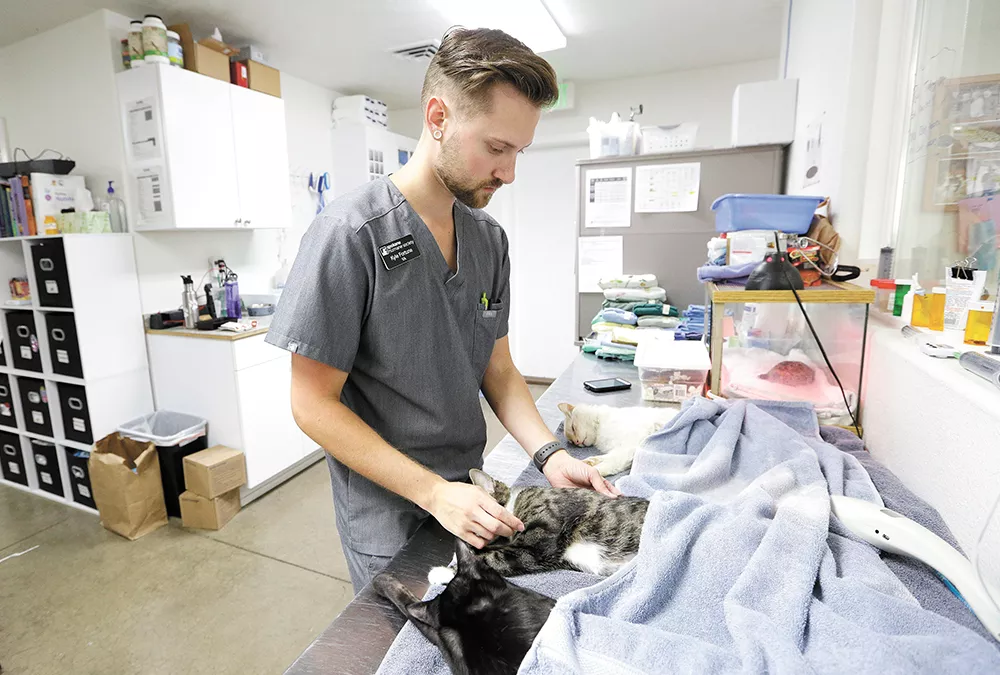 Kyle Fortune lives to take care of animals. When he's not working at the Spokane Humane Society's vet clinic, or spending time at a second job up at Chewelah Veterinary Clinic, he's studying to complete an online degree and become a licensed veterinary technician.
The 28-year-old has worked at the Humane Society for a decade, but volunteered there even before that, spending four hours every weekday volunteering with a friend from the time he was 16 until he got hired on at 18.
"My home life wasn't great so it's always been my second home," Fortune says of the nonprofit.
When he came out as gay in 10th grade, Fortune says he was one of only three people who he knew of that were "out" while he attended Lewis and Clark High School.
"So I was very awkward and I did not want to do anything with kids, I did not want to do anything after school," Fortune says. "And that's how I started volunteering. ... It was a great way to not ever be home and to do fun things."
As a staff member, Fortune works with animals in the nonprofit's clinic, helping with everything from preparing them for surgeries, to assisting with vaccines and microchipping, or even cleaning kennels.
Sometimes, his work comes home with him, as he's able to help take care of some of the sickest patients from the clinic to make sure they survive the night or a few days.
"I've fostered a lot through the Humane Society," he says. "Since I'm very well trained, I actually set up little IV stations in the bathroom for critical patients: ones where they have a good chance of living, but at the same time we're not sure if they might not live through the night from an extreme surgery."
Some of those cases come in looking pretty bad. Recently, he says, there was a cat that liked to eat things, and it had swallowed a string that fused with parts of its digestive system. The vet had to cut out six parts of the cat's intestines to get it all out, then suture up the very delicate tissue. If the sutures don't hold, typically the animal will start to die within 48 hours, Fortune says.
"But he did very well and one of my husband's best friends from high school adopted him in Seattle," Fortune says. "It's exciting to be able to be part of it where we take an animal that comes in like that, assess the situation, and we are fully funded by the community, we do not receive money from the city whatsoever."
In cases where the small percentage of shelter pets that are too sick to be adopted need to be euthanized, Fortune says he is willing to step in.
"If I'm asked to do the euthanasia, I'm happy to do it because it is nonpainful," he says. "I'd rather do it because it's one poke, and a very dignified death where they don't have to go through any more pain in the end."
The shelter takes in about 5,000 animals per year and 97 percent are saved.
For the last two years, Fortune has been spending his off-hours working on an online degree from Penn Foster College to become a licensed veterinary technician. After getting straight A's, Fortune is excited to get the chance to take the board examination this fall. If he passes, he'll come out of it licensed and able to start right away at the clinic — doing similar work to what he does now, only with more ability to work independently.
His dedication to the nonprofit hasn't gone unnoticed, especially as there tends to be a high turnover rate.
"One thing I can say is that these jobs at rescue organizations and shelters can be very draining," explains Pia Hallenberg, development director for the Humane Society. "We deal with very difficult situations. Especially in the vet clinic we see the worst of what people can do or not do to animals, so it's very impressive to me that he's someone that's stuck around for 10 years."
Fortune says that while the work can be difficult, it's been worth it because of his deep love for animals and the feeling that he's really helping improve their lives.
"You can work anywhere for 10 years, but I think it comes down to the love of what you're doing and the love of the animals," Fortune says. "It can be sad sometimes, but it also is wonderful too." ♦