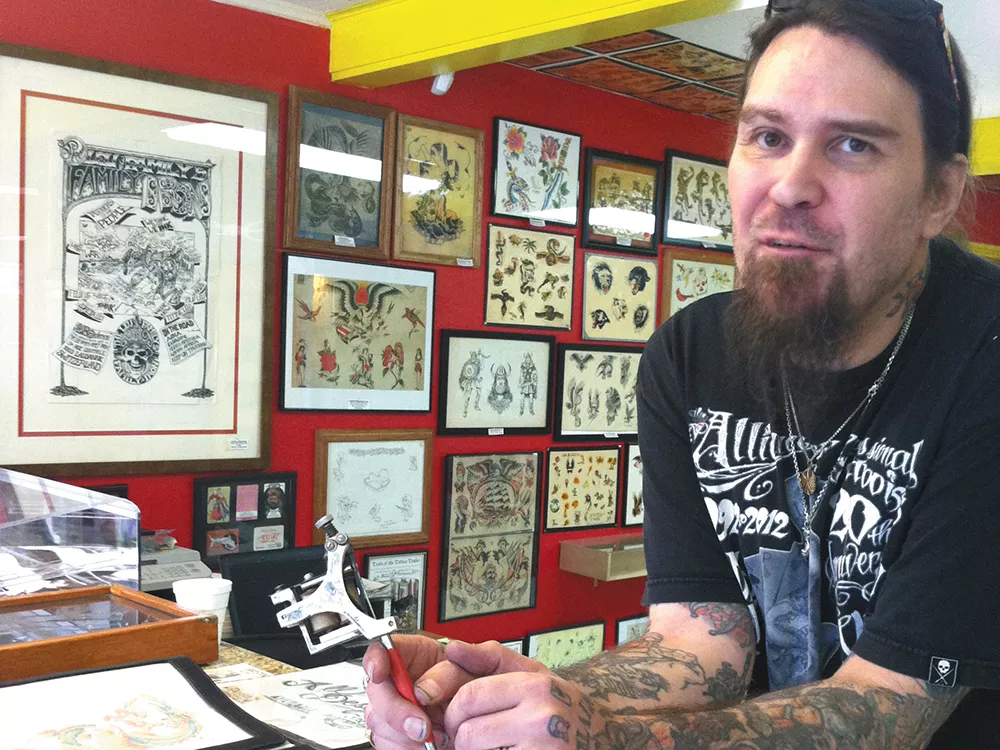 Tattoo art is more than skin deep for Jay Brown; it's his life and his livelihood. Although somewhat retired from nearly three decades of inking others, he still builds custom tattoo guns and will even do a custom job or two by appointment. But his real passion is the nonprofit Northwest Tattoo Museum he developed while running A Fine Art Tattoo Studio in Moscow.
"I want people to realize," says Brown, "that tattooing has deep history… it's not all Miami Ink."
That Learning Channel reality-based television series, and others like it, tend to glamorize the industry, says Brown.
Even if those shows have also helped turn the tide of public opinion on tattooing from one of fringe culture to mainstream acceptability, Brown wants people to see the evolution of the art form, especially in America. His focus — and the feel of the studio he maintains — is that of a 1930s-'50s era parlor.
At the museum, which is free (donations welcome), viewers can get a sense of everything but the feel of the needle. Books of flash tattoos — generic illustrations that give an idea of the tattooist's style and ability — fill the counter while the walls feature work dating from the early 1900s.
That's when men like sailors-turned-tattooists Norman Keith Collins (aka Sailor Jerry) and Amund Dietzel transformed bodies with their bold-line imagery inspired by a mix of Americana and overseas travel. It was mostly pin-up girls, full-masted sailing ships, Chinese dragons contorted in space, fierce-looking eagles surrounded by Old Glory.
More than 60 tattoo guns are on display, some with their electrical power units, including those from pioneers Percy Waters, Milton Zeis and Nick Melroy. Many displays also feature original packaging, ink bottles and even instructions.
Among the artwork and equipment is memorabilia from the history of the tattoo industry — convention flyers, black-and-white photos of clients under the needle, signage, autographed posters — much of it donated by tattoo artists both locally and across the U.S. When we visited on a recent Sunday, Tim and Cathy James from the Tattoo Room in Spokane were donating boxes of tattooists' business cards and folders of '60s-era flash designs.
"We can't throw it away," says Tim James.
Cathy, meanwhile, reminisces about an 88-year-old customer who wanted his deceased wife's name tattooed on him before he died.
"I like the stories people tell," she says of their clients who tend to wax poetic while being inked.
Brown is full of stories, too. He reserves special reverence for people like R.J. Rosini, well known to the motorcycle community, particularly at Sturgis. A banner from Rosini's Traveling Gypsy Tour (Brown toured with them from 1992-2003) covers one of the brightly colored shop walls, a tribute to the man Brown calls a mentor and father figure.
A contributing writer to Tattoo Artist Magazine and recipient of the Terry Wrigley Award for lifetime achievement from the National Tattoo Association, Brown is meticulous about documenting the more than 300 objects on display. And when he's not inventorying the 500-item backlog, Brown is organizing events such as flash painting parties to build community among tattoo artists.
"For the public, we will have tattoo history seminar and programs and artist get-togethers, so that the public can come out and meet area tattooers and see their work," says Brown.
Northwest Tattoo Museum • 510 B 4th St., Coeur d'Alene • Mon-Thu by appointment; Fri-Sat, 2-9 pm; Sun, 1-6 pm • facebook.com/NorthwestTattooMuseum • 208-665-6565