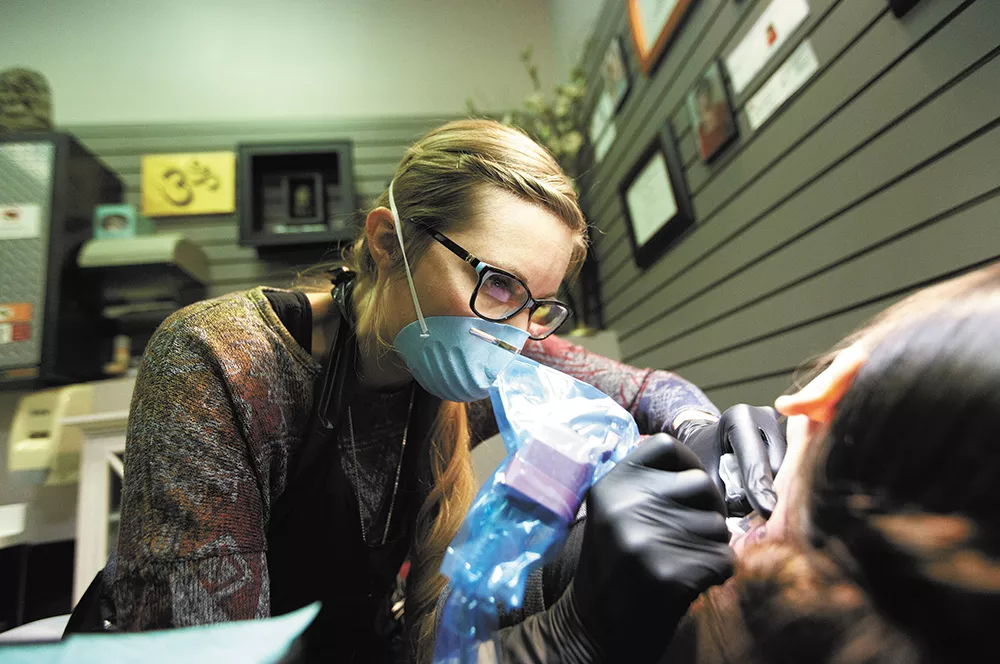 A faded tattoo wraps around the left side of Evelyn's neck. In curlicue letters, it bears a name she'd rather not see. "I thought I was just deeply, madly in love with him," she says, poring over a stack of paperwork with a pen on a Sunday afternoon. "And it did not turn out to be the case."
Evelyn made her 1:30 appointment at Silver Safari, a body piercing and tattoo removal shop in the Spokane Valley Mall, a few days ago. She'd learned that the owner, Jacque Gibson Kloehn, had recently begun offering free tattoo removal services to survivors of trauma and domestic violence at a few local agencies in town. Evelyn was at the YWCA, perusing the clothing racks at Our Sister's Closet, when she heard about it. She did a double take. This was a godsend.
"Are you nervous or excited?" Gibson Kloehn asks.
"Excited," Evelyn says.
Evelyn is lying on the body piercing chair, her head turned to the right. Her boots barely reach the footrest. She's 28. A floor lamp hanging a foot above her head illuminates her face, neck and long, dark hair, pulled into a tight bun. She has a slight scar on her nose and caramel eyes that scan the wall as Gibson Kloehn slips on a pair of rubber gloves. Framed photos of staff. Diplomas. Gibson Kloehn's certificate for completing her "Tattoo Vanish" training in Las Vegas this August.
Gibson Kloehn spreads a thin layer of lidocaine gel on the inked part of her neck with a tongue depressor.
"So do you do this a lot?" Evelyn asks.
"Lately, it's been about five a week," Gibson Kloehn says. Evelyn is her second client like this, referred to her shop from the YWCA. Normally, these procedures would cost anyone else between $150 and $450 per session. "It was kind of our way of helping those victims get over their trauma and move on," Gibson Kloehn explains earlier. "And not have that constant reminder on their body."
Wouldn't that be nice. Evelyn hates looking at it. Every day, there it is, staring her down in the mirror. She started dating him when she was 24 — after another piece-of-shit guy left her and her two sons high and dry and went to jail for, of all things, mugging someone outside a topless bar on Sprague. Though Evelyn knew she could do better, this new guy adored her. He plucked her eyebrows, cleaned her kitchen and carried her to bed when she fell asleep on the couch. He was a drug dealer and a "crackhead," yeah, but he kept that stuff away from the kids. Once, he picked her up in a white suit and a limousine with a tickets to a concert at Northern Quest Resort & Casino. "Let me show you how you deserve to be treated," he said.
He did at first, but he was possessive and jealous and didn't trust her. After he went to prison, the next guy didn't treat her any better. She was hit in the face with a wrench. Her nose was almost sliced off. When Evelyn found out she was pregnant with her daughter a year and a half ago, she took off and wound up at St. Margaret's Shelter. She lost everything in the process — her house, her clothes, her furniture, her trusty old stick-shift Saturn.
And good riddance. Evelyn could start over. She got a new house and new things. She started seeing a counselor at the YWCA. And she learned to stop blaming herself for the men in her past. Her counselor would remind her: You are just as good. You are enough.
"Everything happens for a reason," Evelyn says. "Shapes us into who we are."
Gibson Kloehn estimates that Evelyn will need three to five sessions to remove her tattoo. Evelyn doesn't smoke. That'll help. Her tattoo is just five years old and was only inked once. The artist had a light hand: "That helps too."
Gibson Kloehn ties a surgical mask around her head and powers up the tattoo machine. She starts by lightly scratching the surface of Evelyn's tattooed skin. Evelyn bobs her head to the radio and lightly kicks her feet. Gibson Kloehn applies a sea salt solution to Evelyn's neck with a Q-Tip.
"You actually do have some raised scarring on the heart," Gibson Kloehn observes. Evelyn laughs. Imagine a little scar in the shape of a heart on her neck. That wouldn't be too bad.
Ten minutes later, Gibson Kloehn has her hand pressed against Evelyn's jaw. The machine buzzes as a round of tiny oscillating needles dive into her skin like a sewing machine. It doesn't hurt. After three kids, little else does. Blood pools in the curves and hollows in the letters on Evelyn's neck. Gibson Kloehn wipes her skin with gauze. The sea salt solution soaking her wound is tearing open the cells trapping the ink. Her immune system will push the pigment out into a thick, ugly scab.
"At any point in this process, if you need me to take a break, let me know," Gibson Kloehn says.
Weeks later, when the bandage comes off and the scab clears away, the name on Evelyn's neck will be a little less visible, a little less haunting. No need to wear her hair down or off to one side. And soon, Evelyn can get that office job at Habitat for Humanity, or maybe Catholic Charities. Now that'd be a dream.
"It's definitely not as easy to remove a tattoo as it is to get one," she says, laughing.
Evelyn closes her eyes, her lashes fluttering, as the tattoo machine drones over the radio. Those rhythmic pricks. That electric buzz. It's a sound that almost hums her to sleep. ♦