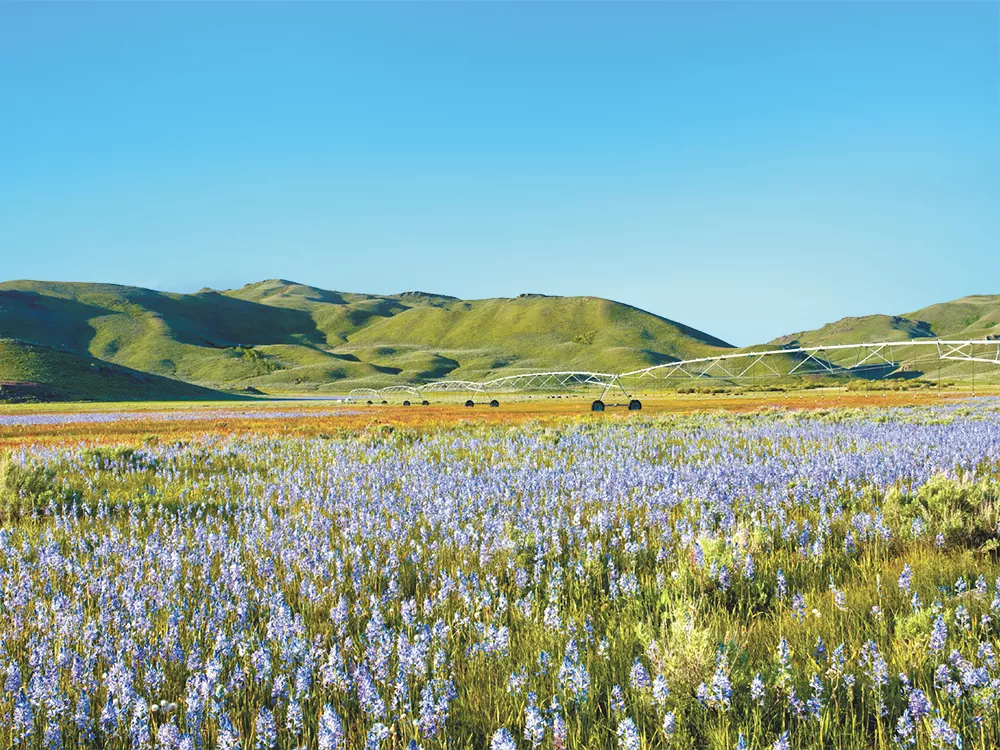 Yellow school buses slow down as they pull off a dirt road, their tires coming to a gritty halt in a field three hours north of Spokane. Kindergarteners through high schoolers disembark; most are from the Wellpinit school district but other buses have traveled from Idaho and places farther north and south. The students gather with a group of older folks — tribal elders, parents with young children, middle-aged friends and neighbors — for a total of 350 people here to dig white camas root from the dry ground.
The camas root, both white and brown varieties, has been a part of the Spokane diet for centuries, but the knowledge of its harvest, preparation and consumption hasn't had a clean line of descent from one generation to the next. The first and most destructive disruption was the arrival of Anglo-Americans and the systematic removal of Indians from their native land and harvesting places. This was followed by the re-education of Indian children at boarding schools and a resulting disconnect from native culture. A tribal descendant and member of Generation X recalls her mother's preference for Wonder Bread and all things related to 1960s mainstream culture. It seemed that the community's taste for roots and tamarack moss had to be reacquired.
Roughly 20 years ago, Peter Campbell, then student advisor of Native American studies at Eastern Washington University, met with tribal member Louie Wynne (both have since passed away) and Richard Bailey, an archeologist with the Bureau of Land Management, to investigate the possibility of reopening traditional harvesting lands for the Spokane Tribe. Fewer than 30 people showed up for the first harvest, but that number increased tenfold this spring as young and old went out into the fields with digging tools (shovel-handled metal bars with pointed tips and a low cross-piece for leverage) and bags to collect the radish-sized white root that has a peculiarly airy texture and slightly minty-sweet flavor. Once taken from the ground, the tops of the plants are turned over and tamped down into the depressions left by the roots, so that seeds can germinate and provide a harvest for the next year.
Many roots are given to the elders; the rest are taken home to be dried and preserved for soups and stews throughout winter. Brown camas root is harvested later in the spring. On a particularly windy day, elementary school students with digging tools (accompanied by teachers, parents and tribal elders) collected the black-licorice flavored vegetable. These roots will be baked later this week in ground pits that are prepared annually as part of the Spokane Tribe's Culture Week.
Marsha Wyncoop, tribal elder and cultural advisor, recalls the early days of camas digs. Campbell and Wynne sought out elders who gathered and shared as much information as they could about harvesting and cooking techniques. After three years of trial and error — of digging pits and noting how moisture levels and temperature affected the amount of time needed to bake roots and tamarack moss — the techniques were perfected.
Wyncoop laughingly remembers one year: After digging the pits, cleaning the roots, placing them in muslin bags, heating rocks and layering the pit, one man teased, "Well, that's not the way my mom would have done it."
There are non-food events at Culture Week: beading, tipi setup, stick games and sweat houses. Not every child finds an interest in everything, but many make their way to the baking pits and adjacent meat-smoking area, where Shannon Hubert and her husband Al burn cottonwood and turn pieces of elk, deer and salmon, evenly drying out the meat as it captures the fragrant smoke.
Al laughs about how some kids just grab a few pieces and run while others stick around, asking questions about smoke, fire and the process of drying meat. Shannon's favorite part of Culture Week is the end of the day, when the couple continues smoking meat throughout the night and community members join them for storytelling, drumming and singing.
Wyncoop says that the point of Culture Week is to teach culture, not to teach about culture. Her granddaughter Maya Severson confesses that she thought the brown camas root dig was boring and too windy. She and some classmates ate lunch on the school bus to escape the weather. Yet when she follows her grandmother through the site, she can't stop asking her questions — about the baking pit, about the firewood, about the stones, about the pit house.
The children who ask about the baking pit, who want to learn about wood smoke, the ones who listen to elders tell stories as they work tamarack moss into edible form — these children aren't asking questions about history. They are asking questions about their world, the world they live in now. Thanks to the elders, the past has joined with — and will continue to be — part of the living world.