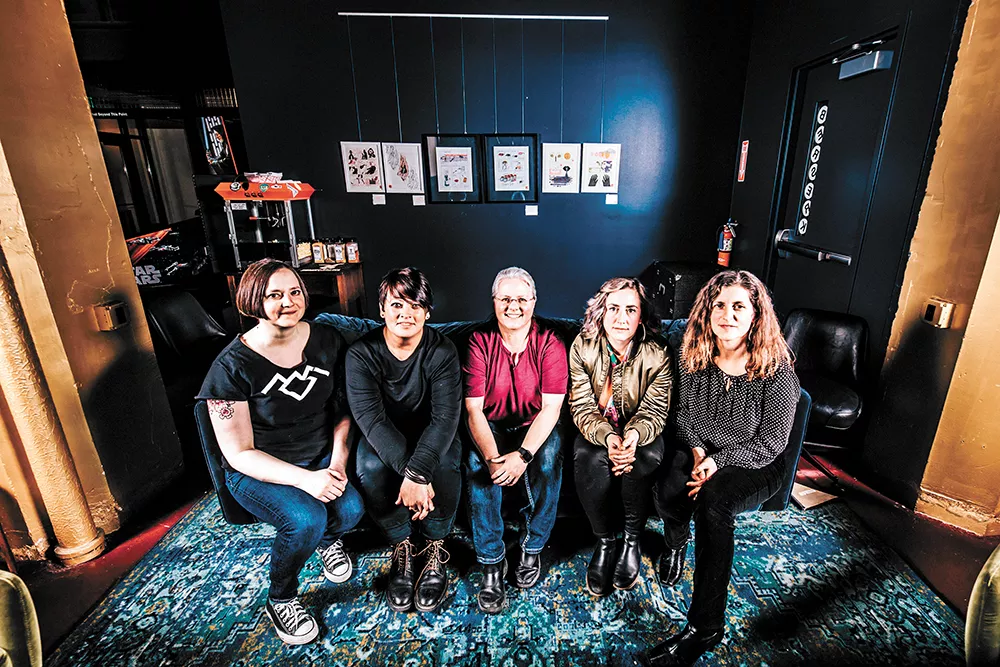 The music business is a boys club. It has always been that way. That's no secret.
But Spokane is bucking that trend, at least in one significant regard: Most of the city's downtown music venues are owned and operated by women.
Look at all-ages music venues like the Pin, the Big Dipper and the Bartlett. And then consider clubs and bars that regularly host live music, including Berserk, nYne and Baby Bar. They all have women at their helms, or as co-owners. They're also all within walking distance of one another.
This is surprising, especially for a city the size of Spokane with relatively few venues. Compare those numbers to Austin, Texas, one of America's most vibrant music hubs: A 2015 study determined that fewer than 30 percent of the city's nearly 200 music venues were owned by women.
Yet none of the owners of those Spokane venues say they'd really even noticed this before. That's just the way it is.
Karli Ingersoll, co-owner of the Bartlett and the soon-to-open Lucky You Lounge, says it's simply what Spokane is used to. When she was working her way up in the local scene as a solo musician, she was a regular performer at the now-defunct Empyrean Coffeehouse, which was owned by sisters Chrisy and Michelle Riddle.
Camaraderie has driven Spokane's scene for as long as Ingersoll has been a part of it; in bigger cities, it's far more cutthroat, she says.
"In local scenes, it just doesn't happen," Ingersoll says. "People are trying really hard to make it through, so there's a sense of 'there's not enough space for all of us.' But in Spokane, no one's fighting for space. You're all making music and doing whatever you want. So I wonder if it's a result of years of that."
Ingersoll and her husband, Caleb, opened the Bartlett in late 2013, and the Big Dipper, a long-time concert space that had been closed for several years, reopened under the ownership of husband-and-wife team Dan and Dawson Hoerner in 2014. Late last year, Chelsey Heidenreich, a local booker and musician, took over as owner of the Pin, which specializes in metal, hard-rock, drag and hip-hop shows.
For all of them, ownership is a multi-tiered position. It's not merely about deciding which bands play your room: It involves fielding emails from PR folks and musicians, updating multiple social media accounts, designing posters and flyers and managing staff. Some owners bartend or work the door, depending on the night.
Women have always been involved in Spokane's music scene, dating back to the DIY and punk scenes of the 1980s, but usually they were the fans. Beth McRae, one of the four owners of downtown bar Berserk, was a regular in the scene, and she remembers an all-women punk quartet called Clabberhag. Other than that, it was a lot of men calling the shots.
"I didn't think about it, but it was all male-driven," she says, "and that's why one band in particular sticks out to me, because it was all women."
And that's still the case: Most of the artists, both local and touring, who play these venues are men. Kitty Kane, owner of nYne Bar, says it's sometimes a struggle to find female DJs to perform on weekends. Hoerner says she does her best to consciously add local female artists to bills that are mostly male.
"There are a lot more male bands than female bands. I don't know why, but it just still is very true," Hoerner says. "I don't want to have to consciously try and add a woman. I want it just to be natural. And I think it will. I think it is getting more like that."
Ingersoll says that she's conscious of the gender imbalance, and she's working to combat it.
"I only have so much room on our calendar for all-male, all-white bands," Ingersoll says. "It's time for me to fill the calendar with other things."
In March, her band Super Sparkle performed as part of Belltown Bash, a Seattle music festival that was organized by women and made up of female-fronted bands. It was a rare scenario, playing on a bill that was mostly women, and Ingersoll says the ambiance of the event impacted her performance in ways she hadn't really considered before.
"It just felt so safe," Ingersoll says. "Honestly, I don't think about it enough. I usually try to put it out of my mind because I don't want to waste my mental energy. I don't know any man that would [organize an all-women festival], because they don't have to."
But there's still the business of trying to puncture the notion that an all-female band, or a group fronted by a woman, is some kind of novelty. Patty Tully, owner of Baby Bar and vocalist for the Spokane band Fun Ladies, says it was something she heard all the time when she was the bar's primary music booker.
"When they say 'an all-female Ramones cover band,' I think, 'I don't give a f—- if you're all female.' If you're good, you're good," she says.
Ingersoll agrees: "We want to be taken seriously because of our music, and not because [being a woman] is a selling point," she says.
There's been talk lately about music venues as "safe spaces," with bookers refusing to bring artists with histories of sexual abuse into their venues, and making it a priority to protect vulnerable concertgoers, especially when alcohol is involved.
nYne, which is located right next door to the Bartlett, hosts live bands, karaoke and DJs, and owner Kitty Kane says she has "zero tolerance for intolerance."
"We're here for this community to come in and have a good time, to be like their home away from home," she says. "We want people to come and feel safe. And that's always been our primary concern, that you have a good time. But you can feel like you can be yourself and no one's going to judge you."
When Heidenreich took ownership of the Pin late last year, she says she made safety a primary concern. The venue had been embroiled in controversies surrounding the booking of several bands with questionable histories, and Heidenreich says she's paying careful attention to the artists who take her stage. She also brought in an entirely new staff of bouncers and bartenders.
"[Safety is] our No. 1 priority, because everything else can get worked out and fall into place. But if it's not safe, anything can happen," she says. "And people aren't going to come back and feel comfortable."
In talking with these venue owners, another trend becomes increasingly clear: When the talent on a stage is more diverse, a more diverse audience comes to see them.
"I think it's the same with anything," Kane says. "The more diversity that we're presenting, the more diversity is going to come in."
That mostly happens when owners are making equal representation a priority. And if you consider that local arts scenes are so often cyclical, it suggests that women see other women performing and decide to perform themselves.
"Representation is important," Ingersoll says. "That's such a cliche thing to say, but it's so true. ... It took me a long time before I ever found out about women who played guitar."
She also points out that the performers signing up for the Bartlett's monthly open mic nights are primarily young women.
"The hard work that women have done to get more in the spotlight has led to those 13 and 14-year-olds being like, 'I can play guitar,'" she says.
"The more bookings they're going to get, the more [bands are] going to get seen," Heidenreich says. "And I think that with enough owners and people behind bands like that, that are wanting to get out there, that'll happen."
"[The more] women that are on stage, the more younger people might think, 'That looks fun. I can do that. I want to do that,'" Hoerner says. "I think that's true, especially at smaller venues where artists would be walking around afterwards totally accessible." ♦

---
According to Women in Music, a nonprofit that promotes gender equality in the industry, only 15 percent of record labels are owned by women, and just 6 percent of North American music producers are women. Fewer than 25 percent of the top 600 Billboard-charting songs between 2012 and 2017 were performed by women, and only 12 percent of those songs were written by women, according to a 2018 study by University of Southern California professor Stacy L. Smith.