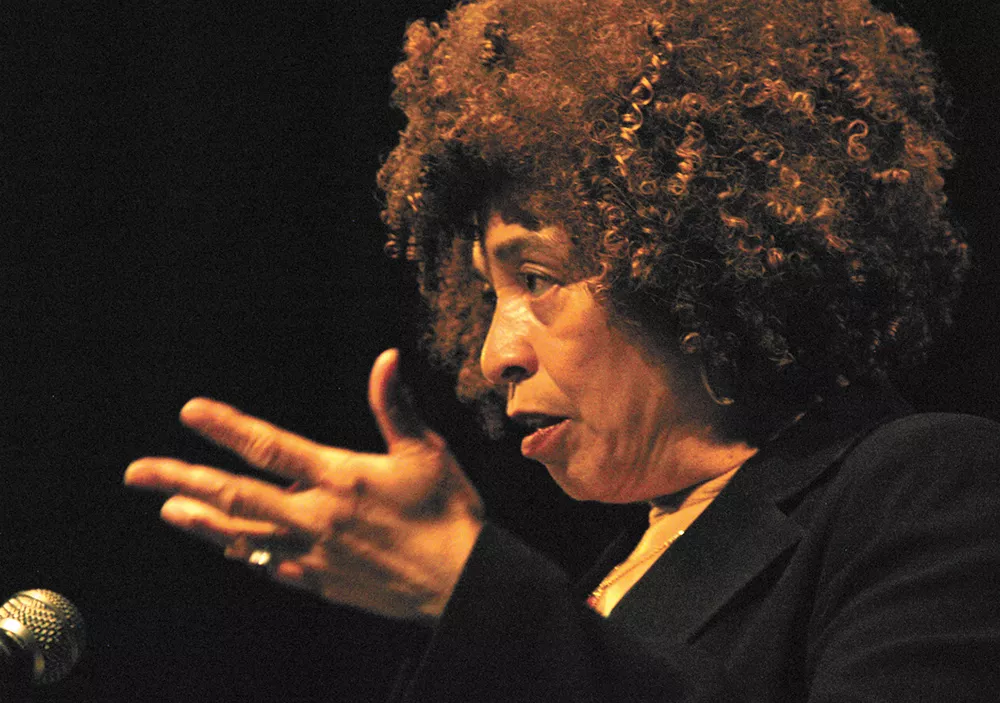 They didn't have time for dreams, fame and fancy suits, but the black women of the '50s and '60s should be celebrated with much pomp and circumstance for starting, fueling and finishing the work of the civil rights movement. Later this month, we will welcome one of these civil rights icons, Dr. Angela Davis, to the Inland Northwest.
These leading ladies behind the movement created organizations, energized committees, built volunteer networks and walked countless miles, while raising children and working day jobs with pay as low as 15 cents per hour. We see black women and girls everywhere in photos and footage from the civil rights era, but we do not know their names or their stories. Events, tributes and films, such as Selma, which hits theaters this Friday, often showcase male leaders. We have no national holiday to ponder our mother leaders. History books have pushed the memory of black women to the margins, if their names are mentioned at all.
As we anticipate celebrating Dr. Martin Luther King, Jr. on Jan. 19, let's remember the women most responsible for creating change powerful enough to steer the course of our nation. Amidst the triple jeopardy of race, class and gender oppression, these heroines inspired leadership and nurtured fresh vision.
Rosa Parks might be one of the names we actually do hear about, but what we are often told is that she was just too weary to give up her seat that day in 1955. What we ought to know is that Parks carefully planned the day she refused to give up her seat, just 100 days after the murder of Emmett Till. She was an activist who worked for years campaigning against Jim Crow laws. She wasn't too tired; she was intentional, strong and strategic.
Jo Ann Robinson, who was focused for two years on planning a citywide bus boycott, issued a letter calling for the famous Montgomery Bus Boycott immediately after Rosa Parks was arrested. Black women arranged car pools and passed out thousands of flyers to spread the word. Even in the bitter cold of December and on to the next year, for a total of 381 consecutive days, women walked to work in protest.
Fannie Lou Hamer learned of her voting rights at age 42. Excited, she registered to vote and was promptly kicked off the plantation where she had lived and worked for 18 years. Proving that life can begin in your 40s, Hamer began a political career working as a voting rights activist. She later ran for Congress and aspired to be president of the United States.
Septima Poinsette Clark deserves infinite regard and adulation for effectively teaching 132 children of all ages in one classroom. Apparently a woman with infinite energy, Clark taught night classes for illiterate adults after her day job. On her weekends, she petitioned for school reform and acquired 10,000 signatures in a single day, which changed school policy in Charleston, South Carolina, to allow black principals in 1920.
Let's also remember that if it hadn't been for Ida B. Wells drawing international attention to lynching in America, the impact of Mamie Till's choice to let the world "see what they did to my baby" wouldn't have ricocheted around the globe with such powerful force. The acquittal of Emmett Till's killers sent international shock waves, and 100 days after his murder, Rosa Parks strategically refused to give up her seat. The civil rights movement was born from the tears of a grieving mother, the determination of an activist and the support of a cohort of organized women who refused to quit before the job was done.
"There's a Chinese saying, 'Women hold up half the world,'" says Julian Bond, civil rights activist and historian. "In the case of the civil rights movement it's probably three-quarters of the world."♦
Rachel Dolezal, formerly of the Human Rights Education Institute in Coeur d'Alene, is president of NAACP Spokane and teaches courses in art, Africana history and culture at area universities.