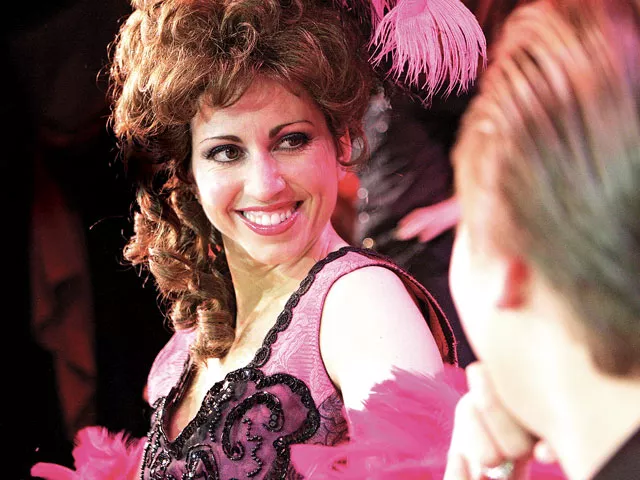 Through Feb. 6, Spokane Civic Theatre is presenting Curtains, a murder mystery set in 1959 that involves a musical within a musical. An early scene has writers and producers reading the overnight reviews of the show's inset musical, Robbin' Hood! A New Musical of the Old West.

The reviews are devastating. (They should be. Robbin' Hood! is pretty awful.) And as the foursome onstage starts to realize just how insulting the critics have been, they start to vent their anger: "Who could be jerk enough / Hard up for work enough / To want a job like that?" Theater critics are such scum, we're told. And the song, called "What Kind of Man?" even goes on: "Who could be prick enough / Mentally sick enough…?" Well, this is the sort of arrant critic bashing up with which I shall not put.
It's enough to make me want to kill off this show's performers, one by one. Whom shall I skewer first?
Will it be SaraEllen Hutchinson as Bambi Bernet, the chorus girl who's always angling for a better role? No, her dancing's athletic and graceful in that Pocahontas-with-Swedish-pigtails number called "Kansasland." (Don't ask.) No, I wouldn't kill her.
Should it be Patrick McHenry-Kroetch as Robbin' Hood's composer? Sporting an argyle sweater vest, he fi lls "I Miss the Music" with love-longing. No, I couldn't kill him.
Would I really want to critically maul the lovely Maureen Kumakura, who steps in as leading lady in "Thataway" and turns a saloon gal into a femme fatale?
Or how about Lance Edwin Babbitt as the swishy-bossy director, all fl owing cape and finger-snap put-downs?
Such a prissy little tyrant. I'd slap his face, but his putdowns are so stinging.
Liz Oyama plays the cast's innocent young thing, but I'm not buying her dewy-eyed act for a second. Still, her ditzy-dimwit comic timing — all squeaky-voiced and flirty — begs that she be spared.
As one of the producers of Robbin' Hood, Mary Starkey is only in it for the money ("It's a Business"), and she's cruel to her daughter. It wouldn't hurt to knock her off. But she has that brassy-broad, tell-it-like-it-is quality. So spare her too.
How about Andrew Ware Lewis as Lieutenant Frank Cioffi , the gumshoe detective who fancies that he himself knows a thing or two about musical theater? He's calculating and gosh-golly naive, all at the same time. Called in to solve a murder that happens right before our eyes, he manages to woo the girl, wander off into non sequiturs and waltz through his Astaire-and-Rogers fantasy, "A Tough Act To Follow." Without Lewis solving the crime in his forehead-smacking way, we'd have a murder mystery that remained, well, mysterious. So no, he's gotta stay.
I could murder Gary Laing's six-piece pit band. But they never murder the music — they even add delightfully discordant notes during the off-key opening of Robbin' Hood!
And Curtains director Troy Nickerson? If I kill him off, there go all the dance moves and comic double-takes.
Oh, so now you want my real opinion of the Civic's production of Curtains? Well, to be honest, after that unwarranted attack on critics in "What Kind of Man?," I think they ought to take this show out and wring...
... out every opportunity to tell folks how much fun it is. Mystery-lovers will enjoy how Curtains spreads around the clues and accusations; theater-goers will enjoy its exuberant song-and-dance tributes to this business we call show.
I can almost find it in my heart to forgive those people for savaging the critics. Almost.

Curtains uses tap dance to solve crimes through Feb. 6 at Spokane Civic Theatre, 1020 N. Howard St., on Thursdays-Saturdays at 7:30 pm and Sundays at 2 pm. Tickets: $27; $25, seniors; $18, students; $9, student rush. Visit spokanecivictheatre.com or call 325-2507.