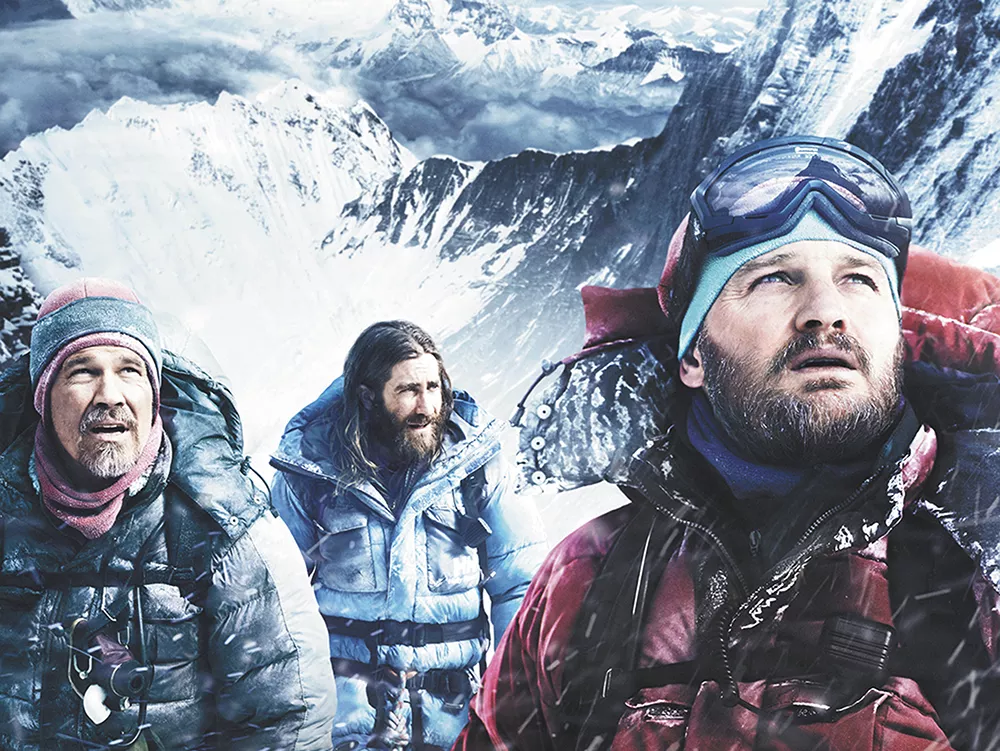 This is the kind of movie that movies were invented for: big, visceral and intense, a heart-stopping adventure that has you catching your breath and gasping in shock as it takes you places most of us will never get to, so as to engage in the sort of life-threatening thrills that, paradoxically, remind us that we are alive. That's an argument that safety-minded homebodies like me scoff at when risk-takers make it, but Everest makes you understand it deep in your gut.
This is true even though Everest is the story of what had been the deadliest climbing season on the mountain until the 2014 and 2015 avalanches. The events of 1996, which led to the deaths of eight people, are generally well known to the public, thanks to adventure writer Jon Krakauer's best-selling first-person account Into Thin Air — he was on Everest in '96 on assignment for Outside magazine. There also was an IMAX team on that mountain that year, shooting what would become the 1998 IMAX documentary Everest. (Krakauer appears here, played by House of Cards actor Michael Kelly. The IMAX team is mentioned but does not appear.)
By 1996, Everest had gotten commercialized. Outfits like New Zealand's Adventure Consultants, headed up by Rob Hall (Jason Clarke), and Seattle-based Mountain Madness, led by Scott Fischer (Jake Gyllenhaal), were taking paying customers up to the top of the world, and there were just too many damned people trying to get to the summit during the narrow windows of opportunity. This year, 1996, is when "traffic jams" at the very highest point on the planet began.
It's probably a sad fact that this movie is going to make things even worse on Everest: this is a spectacular experience that may well make some viewers hungry for the real thing. We meet Hall and some of his clients, including Doug Hansen (John Hawkes) and Beck Weathers (Josh Brolin), on their long trip through Kathmandu and up to base camp ... which, at 17,000 feet, is an achievement in itself. Director Baltasar Kormákur finds the most gorgeous vistas along the way: the trekkers passing over a narrow rope bridge above a deep mountain crevice is dizzying and breathtaking, and they haven't even gotten to the amazing bit yet. (The film was shot partly in Nepal, including at the real Everest base camp.)
The movie features a few moments in which the climbers discuss why they are doing something so dangerous, so expensive, and, some might say, so pointless. Their explanations are surprisingly compelling: Weathers finds relief from crushing depression; Hansen is motivated by the schoolchildren he inspires to imagine big things for themselves. But the clear exhilaration that the film sings out at the mountain's summit says everything that needs to be said. "Because it's there" suddenly makes a lot of sense to those of us down here. Those "down here" in the film include Keira Knightley and Robin Wright as, respectively, the stay-at-home yet supportive wives of Hall and Weathers, and Emily Watson as the manager of Adventure Consultants' base camp. But they already get it.
This is not an intellectual examination of what drives people to do apparently crazy things, but there are unspoken questions running through the undercurrent: "How do we most fairly police access to wild places?" might be the most important one. The unspoken answer of Everest is that this is something we need to figure out, because the only motivation we need to look to is this: Climbing a big ol' mountain that might kill you along the way is ultimately a very human thing to do. We will push ourselves to the very edges of human endurance, because we can. If you never appreciated that before, Everest is here to show you the truth of it. ♦