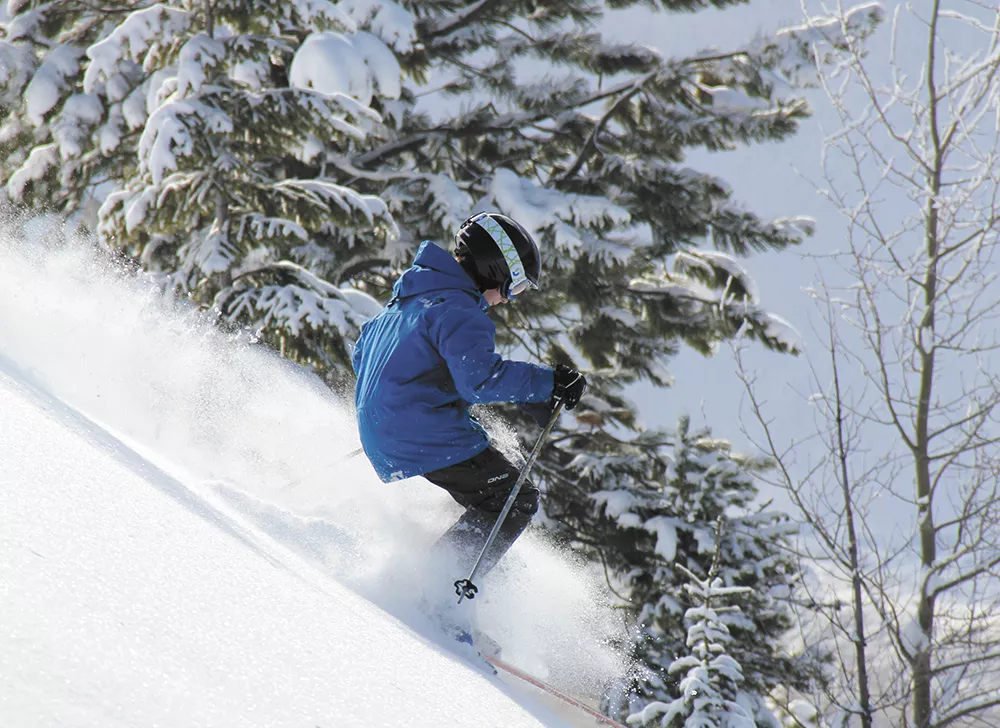 WHAT'S NEW
"As soon as it snows, we're ready to go," says Phil Edholm, CEO and president of Lookout Pass Ski & Recreation Area. This is due in part to the sheer amount of snowfall they receive throughout the year, especially in the early season. "Of course, a large part of this is because of the extensive brush cutting we complete every summer," adds Edholm, this year being no exception. Other improvements include the purchase of a PistenBully snowcat, expanding their fleet of groomers to a total of five and adding more grooming capability for those infrequent Lookout dry spells.
"We have all new skis and snowboards in our rental fleet this season," Edholm says. "This is something we do every year." Another project for Lookout Pass this summer was the ongoing process for their next expansion project, which will include two new chairlifts, 700 acres and 14 new runs, plus gladed areas. "We are still in the middle of the Environmental Impact Study," says Edholm. This expansion will be in the Eagle Peak area, to the immediate west of the existing ski area. This will be the third major expansion since 2003, when the Timber Wolf double chair was added to the Montana side of the mountain, followed by 2007, when the North Star double chairlift added expert terrain with a north aspect to the Lookout Pass trail map.
You won't see this update for the upcoming season, but Lookout Pass is in the planning stage of lodge improvements: A new 14,000-square-foot base lodge is being drawn up that will include meeting room space, a new food court and expanded season. The plans also include for the lower level to have overnight rooms.
MAKING THE MOST OF IT
During January and February, Lookout Pass is open six days a week, Wednesday through Monday. Hit the mountain on Wednesday, after a Monday evening or Tuesday storm cycle, and enjoy a morning of fresh powder.
Lookout Pass also has an assortment of learning opportunities for those looking to advance their skills: Programs for seniors on Mondays, women's-only clinic Downhill Divas on Fridays, and the Next Level program for intermediate and advanced skiers and snowboarders, scheduled for Sundays.
SPECIAL DEALS
6-Pack Advance Ticket Package: If you know you're going to ski Lookout Pass this season but can't commit to a season pass, take a look at the 6-Pack Advance Ticket Package: Make your purchase at least five days in advance and receive six days of skiing for the price of five; adults $200, junior/senior $145 and college/military $190, plus Idaho state sales tax.
---
Lift tickets
Adult (18-61 years)
Full day: $38 midweek / $40 weekends & holidays
Half day: $33 midweek / $35 weekends & holidays
Juniors (7-17 years)
Full day: $27 midweek / $29 weekends & holidays
Half day: $23 midweek / $25 weekends & holidays
College/Military
Full day: $35 midweek / $38 weekends & holidays
Half day: $30 midweek / $33 weekends & holidays
Seniors (62+)
Full day: $27 midweek / $29 weekends & holidays
Half day: $23 midweek / $25 weekends & holidays
Children 6 & under
Free