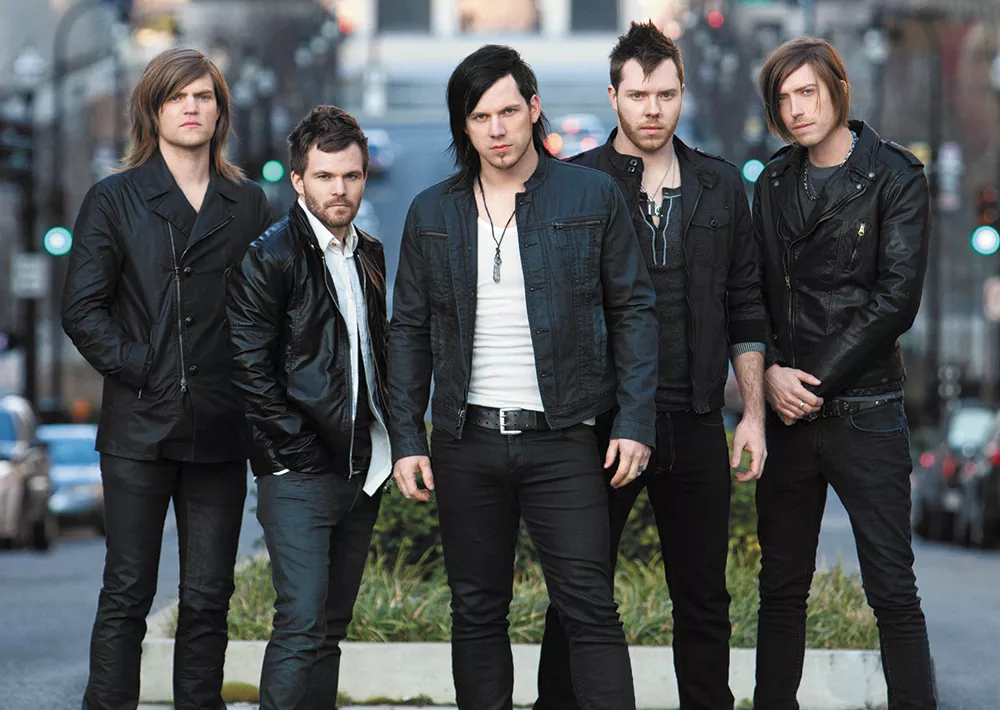 Gorgeous Sandpoint, Idaho, has a lot going for it. It's positioned right alongside the Pend Oreille River, it's at the base of a stunning mountain resort, and its town square is a uniquely quaint world trapped in a better time. The town is so captivating, it was named the "most beautiful" small town in America by USA Today.
It's also the birthplace of We as Human, a popular (almost bizarrely popular) Christian hard rock band representing a side of the town that differs from its decidedly serene backdrop. They've been hard at work for the past few years — moved to Nashville, Tennessee, got noticed, signed to Atlantic Records — and now they're finally coming back to the Inland Northwest to remind us all that they've hit it big.
Singer Justin Cordle and drummer Adam Osborne both hail from Sandpoint, and bassist Dave Draggoo is a native of Spokane Valley. When their music started to take off and they got more serious about being careerists, the three of them (along with Seattle-area guitarist Justin Forshaw) decided the most obvious move would be Nashville — "Music City" itself.
Now playing with a fifth member, Texan Jake Jones, We as Human craft a particularly classic brand of Christian alternative rock, one that nestles nicely into the landscape of the safe, similarly minded alternative-metal stylings of groups like Filter and Skillet. Fittingly, it was Skillet lead singer John Cooper who discovered We as Human and originally put them in contact with Atlantic.
Were it not for Cordle's unnerving vocal style — more of a wail than a howl — the band would completely melt away into the obscenely radio-friendly Christian rock that seemed so inescapable in the mid-'90s. But there's definitely a modern edge at work here that suggests the band's urge to graduate beyond the dated, sludgy sound of their elders.
So what's stopping them? Is their ultimate goal to resurrect the music made by their mentors and heroes? Or is there an aching, experimental spirit lurking underneath all of the power chords and alternative-metal clichés? Surely, these are questions that could have been answered had the band's management fulfilled our interview requests.
With the remainder of a large U.S. tour ahead of them and likely another record on the horizon, We as Human seem to be riding high at the moment, so apparently their sound still hits home. But their relative success begs a question that will undoubtedly continue to plague mankind: Is Christian metal alive yet again? Did it ever really die? ♦
We as Human with Like a Storm, Veer Union, Righteous Vendetta, Blacklight District • Fri, May 30, at 8 pm • Knitting Factory • 919 W. Sprague • sp.knittingfactory.com • 244-3279