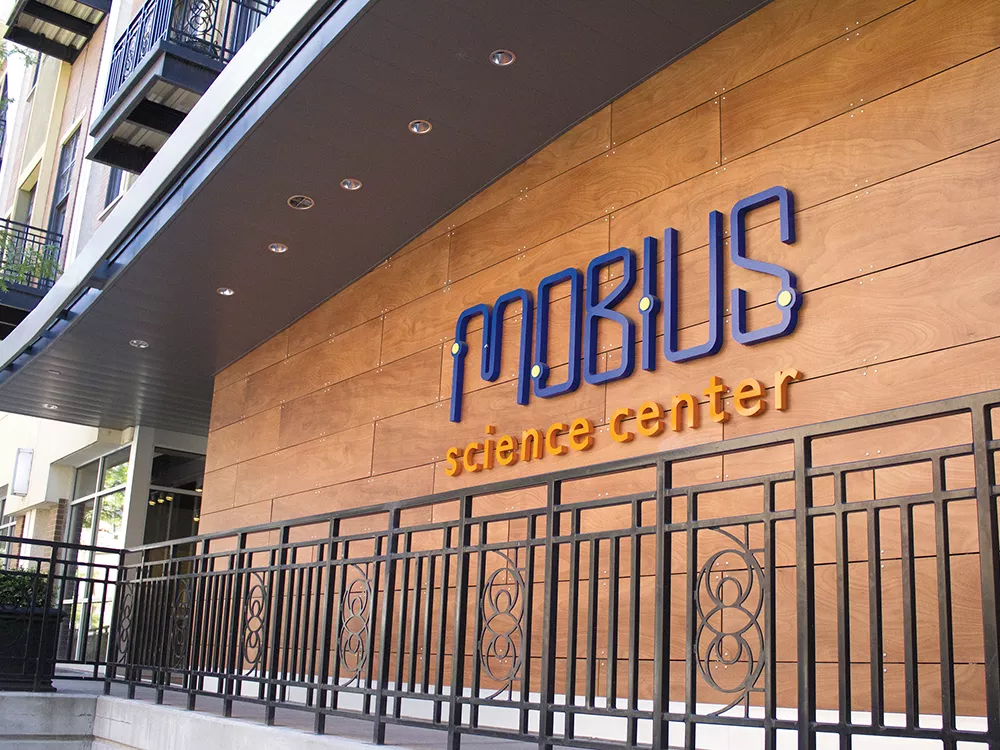 Mobius on the Move?
When the Mobius Science Center finally opened last fall, it was a victory after numerous setbacks. The dream of a science center in Spokane had undergone three different iterations over 17 years. The 27,000-square-foot downtown building, located across from the River Park Square mall, cost about $12 million to retrofit and open.
But now, after only about nine months, Mobius Executive Director Marty Gonzales confirmed the center has been in discussions about moving.
"It's kind of like with jobs," Gonzales says. "You're saying this is great for now, but where do I go long term?" While the current location has advantages — Mobius Kids, the science center aimed at younger tykes, is just across the street — the location lacks free parking and is difficult to customize.
Gonzales wouldn't elaborate on which locations, if any, Mobius was looking at. "There's nothing concrete," he says.
While Gonzales is proud of the success Mobius has had, the center has also faced several hurdles. "As opposed to the big splash Day One, it's taken time to grow," Gonzales says. And a plan to get federal funding to help purchase the building "isn't coming to fruition," Gonzales says. "Ideally, you own the building. That's how these things thrive."
The Mobius building, formerly a J.C. Penney store, is owned by the Cowles Co., which also owns the Spokesman-Review and River Park Square. A representative from the Cowles Co. could not be reached for comment on the building.
The Mobius lease has a number of contingencies, for both landlord and tenant, Gonzales says, though he wouldn't elaborate on the details. "We're looking at the best interests of both sides, long term," he says. "You have to look at all your options constantly."
— DANIEL WALTERS
PROPOSED CUTS
A U.S. House appropriations subcommittee approved Idaho Rep. Mike Simpson's budget proposal on Tuesday to slash spending on environmental agencies and the arts in order to provide funding for "higher priority" services under the second year of sequestration.
The Interior and Environment Bill would cut $2.8 billion from the Environmental Protection Agency next year, or 34 percent of its current budget, reducing funding to pre-1978 levels. It would gut the National Endowments for the Arts and Humanities budgets by nearly 50 percent. The Department of the Interior and the Forest Service, on the other hand, would receive an additional $559 million, a 16 percent increase, to fight wildfires.
Simpson, a Republican, who chairs the Subcommittee on Interior, Environment and Related Agencies, said budget writers were forced to make "some very difficult choices … in an extraordinarily, extremely tough budget environment."
"Funding reductions and yes, even terminations of some programs are necessary," Simpson said in his opening statement before the subcommittee, "in order to provide critical funding for higher priority human health and public safety and treaty obligations and responsibilities."
The bill includes a 27 percent cut to Fish and Wildlife, a 9 percent cut to the U.S. Geological Survey, and 19 percent cuts to both the Smithsonian Institution and National Gallery of Art. It also prohibits future spending on President Obama's National Ocean Policy, the administration's plan allowing federal agencies to collaboratively manage, protect and restore marine resources.
It's unlikely, however, that the president and Democratic-controlled Senate would agree to enact the House appropriations bill. The next fiscal year begins on Oct. 1.
— DEANNA PAN