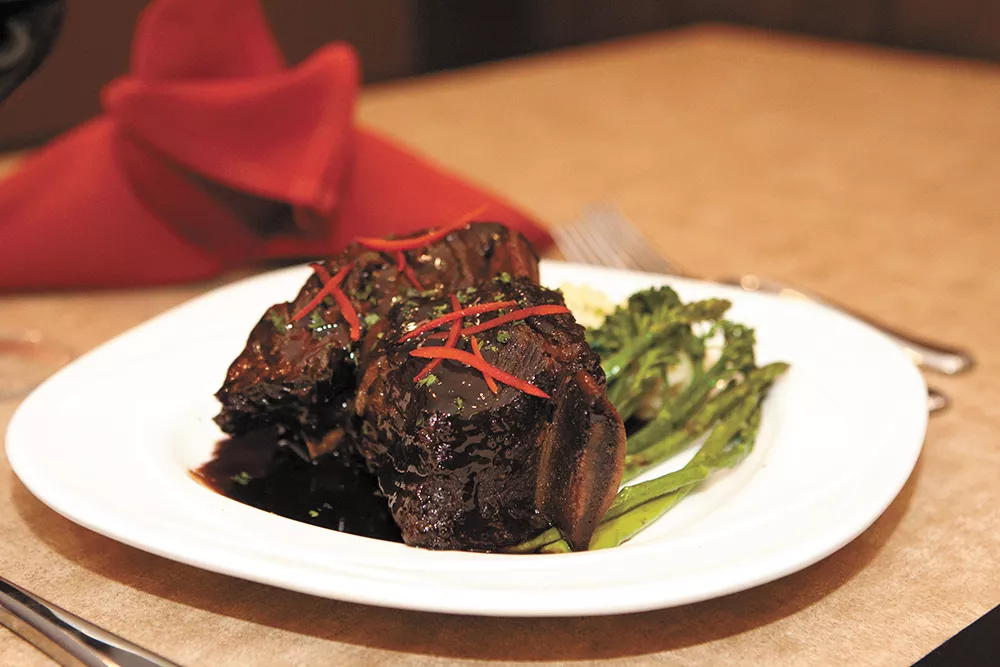 For the last two years, Barlows has seen a packed house for breakfasts and lunches. A couple of years after Alicia Fry opened the Liberty Lake restaurant in late 2009, she decided to close for dinner and stick to only serving the first two meals of the day.
The building on Meadowwood Lane that housed Barlows just didn't have the capacity to handle a dinner menu, and they were still busting at the seams during breakfast and lunch, says Michael Fry, co-owner and Alicia's husband.
"We couldn't cook another egg," he says. "We were maxed out."
So the couple started looking for property of their own where they could construct a larger building to move Barlows into. They broke ground in last July at a site just around the corner from the original Barlows in the Liberty Lake Town Center and officially opened the new restaurant — with about twice the space of the former location — in mid January.
Along with the move, the Frys introduced a whole host of other changes. They made a slight name change from Barlows Family Restaurant to Barlows at Liberty Lake, while also adding a 60-person banquet room, a lounge and two outdoor patios. But some of the biggest changes are found on the restaurant's menus.
With the larger space, Barlows now stays open for dinner. A new menu features items like red curry shrimp ($15.90) and Northwest ribeye steak ($25.90-$33.90), or you can create your own rice ($13.90) or linguine ($14.90) bowl.
The breakfast and lunch menus also have received some new items. For lunch, the deli-style sandwiches now have more variety, says Michael. And for breakfast, they've added waffles, crepes — topped with apples, strawberries, blueberries or peaches — and a Pacific Rim dish called loco moco, made with sticky rice, brown gravy, a hamburger patty, a fried egg, mushrooms and onions ($11.95).
Those menus, plus a new bar menu and dessert list, will be in the hands of newly hired executive chef Everett Fees, who previously cooked at Beverly's in Coeur d'Alene and Patsy Clark's Restaurant. ♦
Barlows at Liberty Lake • 1428 N. Liberty Lake Rd. • Open Sun-Thu, 6 am-9 pm; Fri-Sat, 6 am-11 pm • 924-1446