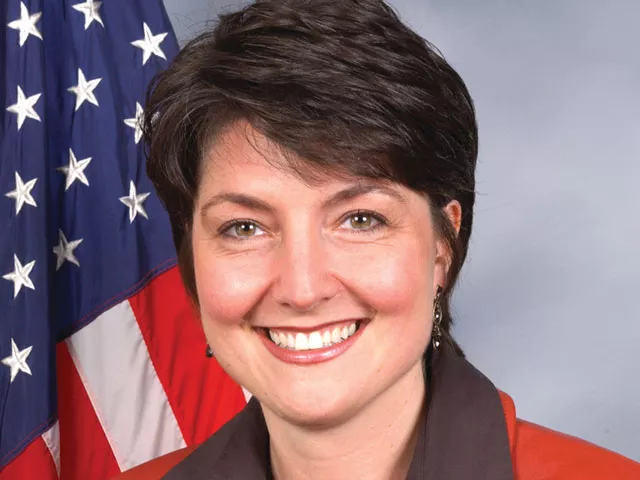 A packet. That's what Cathy McMorris Rodgers calls the collection of Republican alternatives to President Obama's policies. Unlike Obama's tomes — the $3.8 trillion budget proposal he released Monday, or the 2,000-page health care bill the House passed in November —a "packet" sounds downright quaint.
But she doesn't seem to mind. It's become the Republican way of life to contrast sharply with — and oppose — anything the president or Democrats have to offer, whether it's closing Guantanamo or creating a bipartisan panel to study cutting budget deficits.
Last Friday, Minority Leader John Boehner handed the president this packet as Obama took to the podium for a Q&A session at the annual Republican policy retreat in Baltimore. Obama said he'd take a look at it, then he proceeded to rumble with his opposition, taking them to task for presenting health care reform as a "Bolshevik plot," and "telling your constituents… 'This guy's doing all kinds of crazy stuff that's going to destroy America.'" We called the congresswoman and asked her how the rumble went and if there's any chance in hell she'll work with Obama.
INLANDER: So the president spoke with the House Republicans Friday afternoon. Did he receive any applause at all?
MCMORRIS RODGERS: Yes. (Laughs) Yes. Well, first of all, we invited him to come and have a conversation with us at our retreat. It was positive that we were in the same room together, and that we were talking and discussing these issues.
How'd it go?
Just the fact that he came and started the dialogue was very important. Unfortunately there had been a lot of decisions being made behind closed doors, rather than out in the open.
There's been a lot of lip service lately regarding bipartisanship, but not a lot of action to back it up. Will this recent powwow amount to anything?
I am hopeful that we'll makes some steps in the direction of at least getting ourselves into the same room and having a conversation about this issues.
But House Republican opposition to Obama's programs has been virtually unanimous — even according to the Wall Street Journal. Is this part of the conversation?
Well, we showed support for the president in his plan for Afghanistan, so I don't think it's acrossthe-board opposition. There was unanimous opposition to the stimulus package because we believed it wasn't the right approach. … We were nearly unanimous in our opposition to health care reform when it passed the House. The proposal before the House was really a government takeover of our health care system. And that is not the approach Republicans would like to see.
Is there nothing, other than Afghanistan, you can see eye-to-eye with Obama on?
I was encouraged that the president, during his State of the Union address, pointed to a broader approach on energy that included nuclear and more exploration here domestically for oil and gas.
If you do find middle ground with Obama and the Democrats, are you worried that this could this be used against you in the next Republican primary?
Whether they're Republican or Democrat, [voters] would like fiscal restraint from Washington, D.C. They would like to see balanced budgets. They know that in their own homes, and in their own businesses, they have to make tough decisions to balance their budgets, and they expect us to do likewise. They would like to see transparency. They don't like behind-closed-doors negotiation. So I really do think there are some basic principles that people would like to see their leaders exercise as their representative. If you do that, whether you're working with Democrats or Republicans, they're more interested in the outcome.