ON INLANDER.COM
NEWS:
Prescribed burns at Turnbull National Wildlife Refuge
could start soon
, officials say. The burns are designed to restore nutrients to the soil and maintain overall forest health.
NEWS:
After winning a brutal legal fight against the West Hayden Estates Homeowners Association when a jury ruled that they had discriminated against Jeremy Morris due to his infamous 200,000-light Christmas display, a federal judge
overturned the ruling
.
IN OTHER NEWS...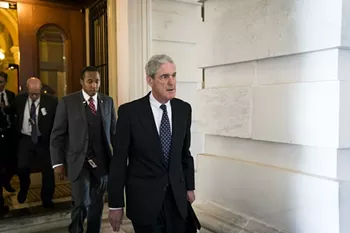 Straight from the source
The U.S. attorney general told the House Appropriations Committee this morning that the highly anticipated report from Special Counsel Robert Mueller on whether President Donald Trump colluded with Russia and obstructed justice will be delivered to Congress (and the public) "within a week."
(
New York Times
)
Spat with Europe

A trade disagreement between the Trump administration and the European Union over subsidies for Airbus — Boeing's competitor — is escalating to the point where both sides are considering tit-for-tat tariffs.
(
New York Times
)
ICE courthouse stakeout

Across Washington state, agents from the U.S. Immigration and Customs Enforcement (ICE) agency are arresting undocumented immigrants when they arrive to go to court or pay fines.
(Crosscut)
Slashed production
The market's reacted harshly to the news that Boeing was slowing output of the 737 Max aircraft, the plane that has come under global scrutiny after being involved in two major crashes. The airline company's stock price plummeted on Monday.
(Seattle Times)


Park it up

The entirety of the Riverfront Park Promenade — which was revamped with roughly $64 million in taxpayer funds — will open this summer, city officials say.
(Spokesman-Review)