Old Father Time is about to ditch this tired, worn-out, controversy-laden year of 2017. This has been the year many advances in public policy have been tossed out the national window like cheap dime-store jewelry — as if they didn't matter. Among them are many gems to be mourned and rough-cut stones worth fighting to restore.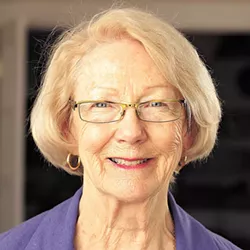 The assault upon the global environment by the Trump administration heads my list of grievances, because the globe can't fight back. It's getting smaller and smaller as planes and telecommunication shrink the miles, and as population expansion blankets the land.
Global warming is happening and assuredly the warming is caused by human activity. Only the United States, once a leader in environmental protection, doesn't recognize by official action that our planet is in serious trouble. Our country's new leaders don't appreciate that our earth is unfathomably precious.
In 1964, understanding how precious lands that are still in their wild condition are, Congress passed the Wilderness Act. The population was increasing, "accompanied by expanding settlement and growing mechanization... leaving no lands designated for preservation and protection in their natural condition." The bill was carried by Idaho's own Sen. Frank Church.
Recognizing how important preserving our nation's history is, Congress had earlier passed the Antiquities Act in 1906, which gave presidents a chance to set aside special historic and scientifically significant places on federal lands. In 1910, because he loved the whole outdoors and thought and acted in grandiose ways, President Teddy Roosevelt declared the entire Grand Canyon to be a national monument. President Bill Clinton in 1996 established the Grand Staircase-Escalante National Monument. The Grand Staircase-Escalante is a vast, austere and spectacular stretch of land of canyons, time-sculpted red rock forms, badlands and arches. It remains one of the last and largest stretches of wild land within the contiguous 48 states.
That was then, and now we have President Donald Trump. The White House just shrank two million acres out of two national monuments in Utah — Bears Ears and Grand Staircase Escalante. We are told that is the largest rollback of designated monuments, ever. Sad.
Sadder yet is the fact that Bears Ears Monument has been created to honor the Native American cultural heritage. Reportedly, one Utah Indian leader has complained that the white man first took away his land long, long ago, then gave it back, and now was taking it back again. What did we used to call that?
Three Native American tribes, Hopi, Zuni and Ute Mountain Ute, are represented in a lawsuit filed to protest President Trump's action revoking the original monument claiming he, Trump, was exceeding his authority.
Trump has made another erroneous statement by saying these monument designations were "the greatest federal land grab ever." Monuments are only designated on lands that are already federal — that is, owned by all of us.
Environmental groups filed a companion suit against the Trump administration's action to shrink the Grand Staircase-Escalante. While the legal actions take their course, it should be noted that the nation's only uranium processing mill now sits inside the new boundaries of the Bears Ears Monument and will have access to formerly protected uranium deposits. A Canadian company, Energy Resources, actively lobbied for opening up the area.
Does the country need more uranium? And for what purpose?
Another hard-fought win is threatened with development, the Alaskan Arctic National Refuge with its abundant wildlife and fragile tundra, which may be opened up for drilling. The polar, brown and grizzly bears co-exist on the northernmost area of the refuge, which energy companies have panted after year after year. Reportedly they may have their way with the present administration and Republican-led Congress.
Along with the bears, the Arctic Coastal Plain part of the Refuge provides nesting in the spring for 200 species of birds, who then fly south in the summer, scattering to every state in the nation as well as to countries in Central America.
Idaho's former governor, the recently deceased Cecil D. Andrus, was Secretary of the Interior in the President Jimmy Carter administration, from 1976 to 2000. Andrus's crowning achievement was the designation of the Arctic National Reserve in 1980. Environmental battles have a hard time staying won.
It's scary that we are in the process of cutting taxes, some tax relief for the middle class and much more for the very rich. The president wants to cut budgets for environmental protection. Medicare and Social Security may be next.
Climate change is real and very costly. What about projected costs for future wildfires and the inevitable hurricanes? Protection for extreme weather and recovery from its damages should be anticipated in the national budget. Puerto Rico needs financial help.
Here we are, facing 2018 with hope that sanity may again return to the way we as country regard the earth we stand on. ♦