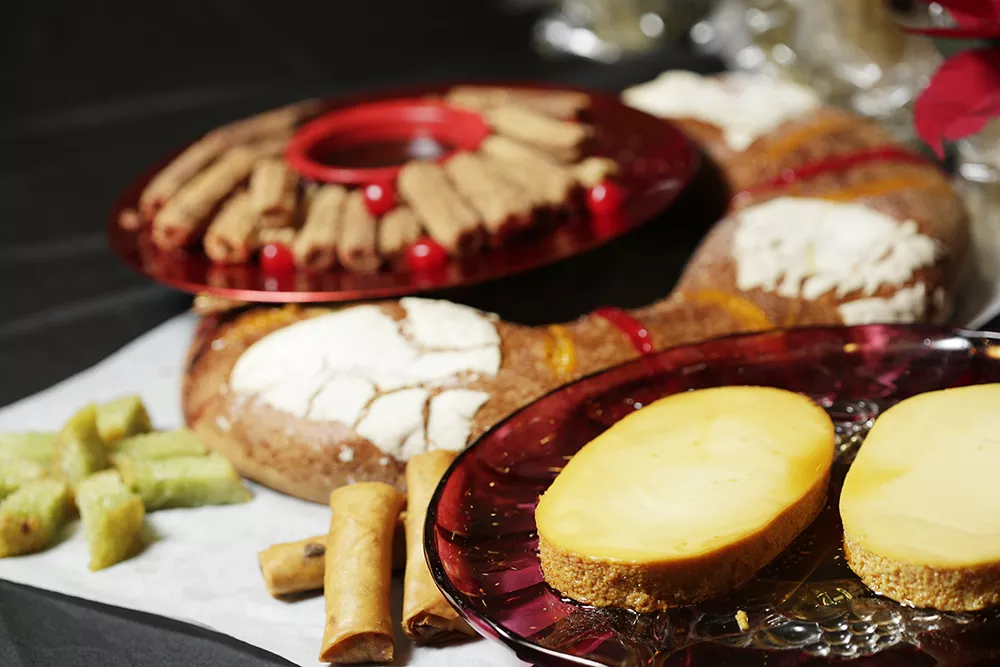 United nations we are not, especially when it comes to end-of-year traditions, which range from somber to celebratory depending on one's religion and cultural heritage. Yet even as outward expression varies, there is one commonality: food.
In Charity Bagatsing Doyl's family, for example, holiday meals are a reflection of her diverse heritage: Punjabi Indian, Spanish, Filipino and German.
During December, Doyl's Sikh grandfather, father and uncles sponsor a langar, or free community kitchen, through two churches for those in need. Christmas Eve means midnight Mass followed by Noche Buena, a feast of jamon (ham), paella (seasoned rice, seafood and sausage), flan (custard) and other Spanish foods common throughout Catholic-practicing Hispanic and Latin American cultures.
For New Year's Eve, the family eats lechon baka, a Filipino roasted calf dish, which becomes leftovers alongside German food — sausages and apple strudel — on New Year's Day.
Sweet treats are abundant during holidays in Germany, including marzipan, a cookie rich with almond paste, which Hermine Sittle has been making and selling at her Coeur d'Alene store Hermine's Old World Confections since opening in 1988. Sittle's lebkuchen, often described as similar to gingerbread, is flavored with anise, cardamom, cloves, cinnamon and honey.
Christmas in the German tradition is a more somber affair, Sittle says: A meal of sauerbraten (marinated roast), potato dumplings and red cabbage, followed by the tree lighting.
"The spectacle is outside," she explains, where in most towns, the Weihnachtsmarke, or Christmas market, would be open all month serving food and gluehwein, hot spiced wine.
In Germany, the Christmas season begins on Dec. 1, the beginning of advent, explains Karin King, president of Spokane's German American Society. She recommends Alpine Deli on the east edge of downtown Spokane for many German foods like dampfnudeln (noodles with vanilla and fruit sauce) and gebrannte mandeln (roasted candied almonds).
Similar to German tradition, Bulgarian Christmas is also sedate, explains local resident Alisa Vashon, who grew up in the formerly Communist-ruled country before emigrating to the U.S. in her 30s.
Christmas Eve culminates a 40-day abstention of meat in the Orthodox religion. Dinner might be stuffed cabbage leaves or peppers, says Vashon, who describes Bulgarian cuisine as a mix of Mediterranean, Middle Eastern and Slavic influences.
Vashon remembers anticipating Christmas Day meals featuring jerky, kielbasa, salami — all dishes that had been curing for months — as well as lyutenitsa, a kind of chutney with roasted vegetables, peeled tomatoes and peppers, and shredded carrot for sweetness.
To find some of these products locally, she recommends Kiev Market and Mariupol European Bakery & Deli. Odessa European Foods and Deli is another local European market selling such specialties. Bobby's Café and Catering in Liberty Lake, Vashon adds, is owned by Bulgaria native Bobby Taninchev. The restaurant doesn't offer dine-in service, but online orders only.
"It's not easy to prepare some of the traditional dishes, so you have to modify," says Vashon, who has shared Bulgarian culture at her church and children's school, as well as through programs hosted by Spokane Public Library.
Vashon also participated in last year's Northwest Winterfest, a multicultural event held at River Park Square and organized by the local publication FamilyGuide, of which Doyl is editor and publisher.
Doyl, whose three daughters are also of Bulgarian heritage and whose husband is Scottish, Irish, English and a "wee bit of Norwegian," was approached in 2017 by several community members with an interest in creating such a holiday-themed event.
"Based on my heritage, I thought how fun it would be to come together; to invite other cultural groups for a cross-cultural exchange of holiday traditions by decorating a Christmas tree, entertainment and offering cookies, breads and pastries from their country of origin," Doyl says.
She launched Northwest Winterfest in 2018, mostly focused on Christmas traditions and featuring 18 cultural groups.
The event quickly grew: 25 cultural groups this year represent China, Finland, Guam, India, Mexico, local Native tribes, Norway, Persia, Philippines, Scotland, Sweden, Thailand, Uganda and Vietnam.
This year's event, held at NorthTown Mall, started nearly three weeks earlier than in years past, and finishes Dec. 29 with a Kwanzaa Festival honoring African culture. Christmas trees are on display through Jan. 1 at both the mall and Mirabeau Park Hotel, which is slated to host Winterfest in 2020.
For many observant Chinese, end-of-year celebrations are still a month or more away because New Year's Eve varies according to their lunar calendar. In 2020, Jan. 24 is the last day of the year — the year of the pig, to be replaced by year of the rat — and the celebration, which begins Jan. 25, stretches to Feb. 8.
The observance is commenced with the Lantern Festival, during which sticky rice balls are traditionally eaten to symbolize togetherness, explains Jianjun "JJ" Lu, chef-owner at Chef Lu's Asian Bistro.
Although the restaurant typically offers Chinese New Year's specials, they differ from what would be served amongst friends and family.
"Every fancy dinner should have a fish dish," notes chef Lu.
Nian nian you yu, which translates to "may the year bring prosperity," accompanies the serving of New Year's fish. The Lus are partial to serving the whole fish, deep-fried and served in a sweet-and-sour sauce. The presentation is important, too; the fish is cut in a special pattern and presented with the head towards the elder or honored guest.
Vinson Cai, who often translates for Lu, draws the character for fish — or yu — and explains how the characters for fish and "abundance" are similar.
"Eating food [that symbolizes abundance] equates to the signs of abundance."
Although regional differences exist in Chinese New Year traditions, food served symbolizes or is connected to the written character for prosperity, surplus, fortune, etc.
Fried spring rolls resemble gold bullion, signifying prosperity, for example, while the crescent shape of dumplings resembles a currency used in bygone days. Typically consisting of pork, cabbage and other vegetables, the dumplings might be steamed or fried and are one of many dishes enjoyed well beyond the holidays.
At the start of every new year, says Cai, "there's only three things people are looking for: money, longevity, happiness." ♦
Northwest Winterfest • Sat, Dec. 21 and Sat, Dec. 28 from 2-4 pm; Sun, Dec. 29 from 2-5 pm • Free • NorthTown Mall • 4750 N. Division • facebook.com/NWWinterfest