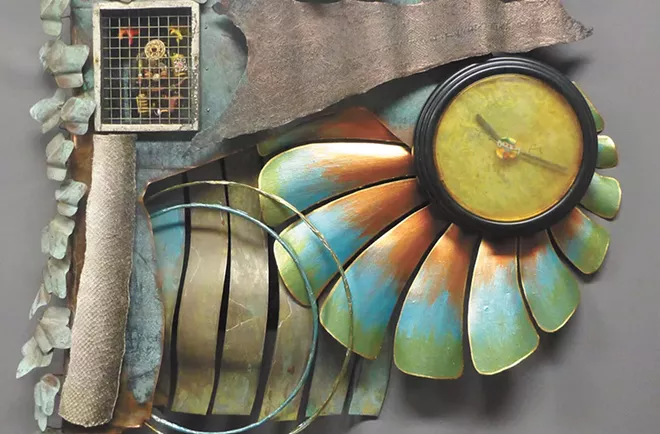 When Larry Ellingson was 16, his music instructor admonished him, saying he would look back on his life and realize he was the proverbial jack-of-all-trades, master of none.
Ellingson's response? "Cool."
Turns out his teacher was mistaken about Ellingson, whose audio-visual industry career spanned nearly four decades and allowed him to work with two media simultaneously: sound and visual images. But he was right that Ellingson marched to the tune of his own drum.
His journey, which landed him a current art exhibition, "Force of Attraction," at North Idaho College, offers a lesson in pursuing one's passions. Out of high school, Ellingson took art classes at Spokane Falls Community College, played music and worked with his father, who owned Inland Audio Visual.
Just before Expo '74, Ellingson opened his own printmaking business inside the former Kroll Building, then sold it and became engrossed in working with sound. As he explained at an NIC gallery talk, purchasing an early-model synthesizer and tape deck was transformative.
"The fabric of the universe shifted perceptibly," he says of the time.
Before Microsoft's PowerPoint and Apple's GarageBand made it possible to look and sound like a rock star, Ellingson was creating multimedia presentations and composing music on the cutting edge of digital technology.
By 1986, Ellingson had taken over Inland Audio Visual; he ran the company until 2005. Business losses and the proliferation of cheap, fast, portable technology (by then, more than half of American households had at least one computer) led to filing for bankruptcy. Although he continued to operate the company as a rental business until 2011, Ellingson hadn't been making music for several years. Instead, he'd returned to an early love: art.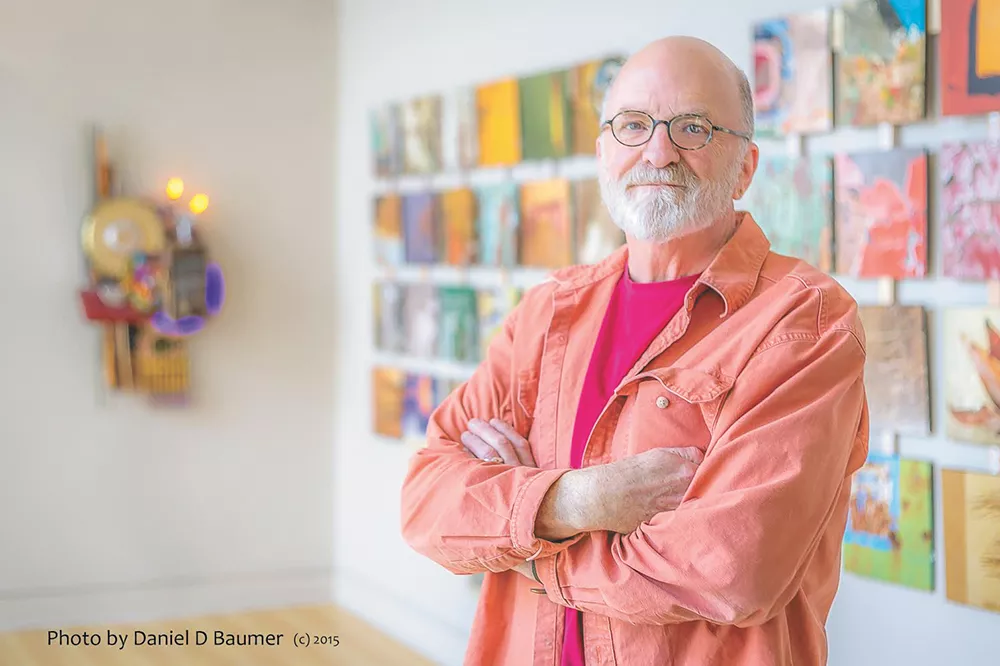 His first piece in 2003, nicknamed The Egg, was a mixed-media sculpture for his future wife, Jan Wigen, at the time serving as development officer for Cheney Cowles Museum (now the Northwest Museum of Arts & Culture).
More pieces quickly followed, each as fantastical as the previous one. Although Ellingson can and has made art with just about any material, he favors industrial elements — rusted metal, circuit boards, car parts — unusual surfaces and whimsical touches like doll parts, fish leather, an old tire pump. He's also gathered materials from travel (he's visited 50-plus countries with Wigen) and scours the grounds of Pacific Metal for materials.
"I'm interested in stuff people want to throw away," says Ellingson.
Many artworks have quirky titles, like (Thomas) Edison Meets (Aleister) Crowley's Pet, or Cubist Nouveau Gynoecium from a lamp base, cow horn and bat "wings" off a replica of a Leonardo da Vinci invention.
Some art incorporates lights, some sound. Four Voices consists of four lantern-like tableaux, each eerily lit — LED, cathode fluorescent or incandescent light — with self-contained MP3 players featuring music he composed and programmed to play randomly. Collectively, they represent a highly engineered synthesis of visual art, performance and sound.
Ellingson says he didn't think much about what people thought of his work when he started out; he only knew he enjoyed making things and if he sold some, he could make more. He's since shown at such places as Barrister Winery, the Chase Gallery (with acclaimed poet Nance Van Winckel), Saranac Art Projects and the former Tinman Gallery.
At 67, Ellingson is still enthusiastic about making things and learning new skills — he recently tried Arduino programming — and is philosophical about what he has and has not yet accomplished. He quotes modernist composer John Cage: "All I know about method is that when I am not working, I sometimes think I know something, but when I am working, it is quite clear that I know nothing." ♦
— Larry Ellingson: "Force of Attraction" • Through Nov. 6 • Free admission • North Idaho College, Boswell Hall Corner Gallery • 1000 W. Garden Ave, Coeur d'Alene • nic.edu