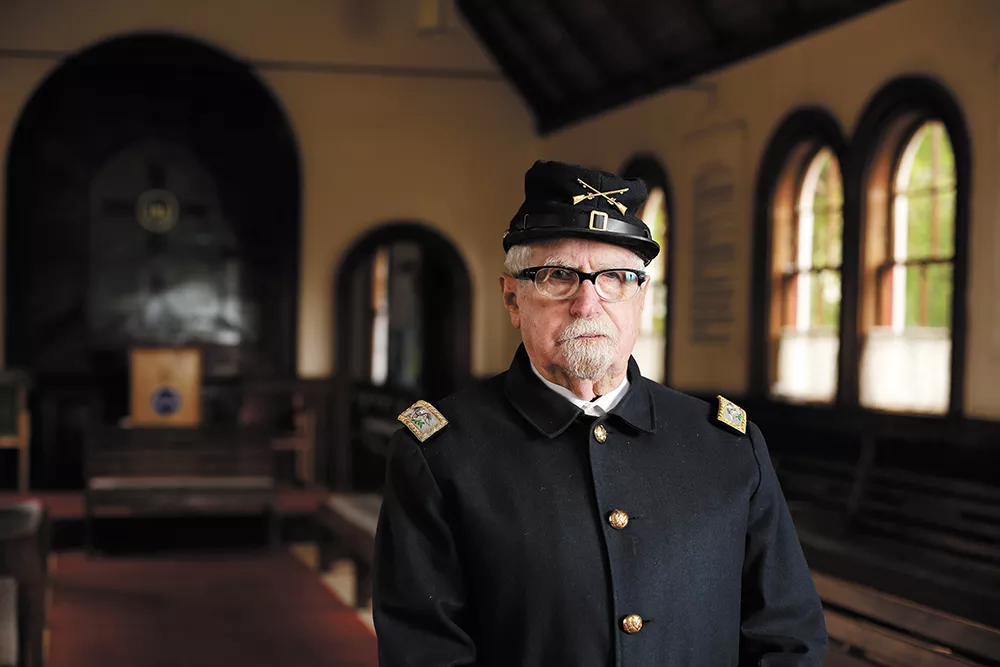 Robert Singletary has worn a lot of hats in his 84 years: a Prussian-looking spiked hat like that worn by Fort Sherman's Gen. William Carlin, a kepi worn by Carlin's soldiers, a bowler that might have been favored by Jim Wardner, the man credited with co-founding Bunker Hill Mining Company and after whom the Silver Valley town of Wardner is named.
"Wardner was a bit of a flim-flam man," chuckles Singletary from his office at the North Idaho Museum, which is celebrating its 50th anniversary with an exhibit entitled Keeping History Alive.
Singletary has kept alive the stories of Wardner and other notable historical figures — roadbuilder Capt. John Mullan, steamboat captain Peter Sorensen, railroad magnate and entrepreneur D.C. Corbin — for numerous regional publications and presentations. In addition to authoring Kootenai Chronicles: A History of Kootenai County, Singletary wrote a history column for Coeur d'Alene's local newspaper for 10 years, and is working on a new book that emulates a newspaper format, tentatively titled Coeur d'Alene: Beautiful & Progressive.
His hat collection sits atop office shelves groaning with historical reference books — steamboats, Native American tribes, agriculture, railroads, the military, early settlers — while his closet is filled with historically accurate clothing to go with each hat.
They're not just costumes, however. Singletary dresses in and embodies the characters about whom he speaks. Singletary's living history walking tours are a big draw for the museum, which was recently awarded the Idaho State Historical Society's Esto Perpetua award for preserving and promoting Idaho history, according to its director, Dorothy Dahlgren.
Singletary's tours, which include stories from Coeur d'Alene, the Silver Valley and Cataldo Mission, also unite his varied interests. When he wears the soft felt hat and corresponding clothing favored by fiddle-playing French fur trader and Lewis and Clark expedition guide Pierre Cruzatte, for example, Singletary gets to channel another of his passions: music.
"I do the things I love to do," says Singletary, who served on the museum board for 15 years before becoming its public relations and marketing director in 2012.
A refugee from Alaska's historic 1964 earthquake, Singletary discovered Coeur d'Alene while passing through on a family visit south. He taught at North Idaho College a few years later, helping form its instrumental music program in 1972 and starting the North Idaho Symphonic Band and Jazz Ensemble and the North Idaho Chamber Orchestra, which would evolve into the Coeur d'Alene Symphony. He's also played with the Spokane Symphony and was principal bass with the Panhandle Symphony Orchestra.
Singletary still gives private music lessons, is active in historic building preservation and serves as the chairman for the Kootenai County Historic Preservation Commission. He continues to lobby for a city-level commission to protect historic buildings like Fort Sherman Chapel, one of three remaining Fort Sherman buildings on the National Historic Register, which the museum was gifted in 1984.
"Preserving the chapel is one of our big things," says Dahlgren, who notes that they've added a restroom and re-roofed the 138-year-old distinctive red-and-white structure built by the U.S. Army. It can be rented out, and is a popular feature on Singletary's walking tours.
The future of the museum's own building, a former Cenex store the museum has occupied since 1973, is uncertain. Slated for closure, the exhibition space lacks heat and is too small for the museum's growing collection currently housed in a 4,000-square-foot storage space. Items include desks donated by schools, Fort Sherman furnishings, clothing and logging equipment that dates to the museum's roots as an outgrowth of the North Idaho Hoo Hoo Club — an organization of early forest industry men — which wanted to create a way to represent their industry and culture.
"We really are a repository for this whole region," says Dahlgren. "History continues to move forward."♦
Keeping History Alive • Tue-Sat, 11 am- 5 pm through Oct. 31 • $4 adults/$1 child/$10 family • Living History Walking Tours • $15 • Museum of North Idaho • 115 Northwest Blvd., Coeur d'Alene • museumni.org • 208-664-3848
Inland Northwest Milestones: Museum of North Idaho 50th anniversary presentation • Thu, May 24 at 7 pm • Free • Coeur d'Alene Library • 702 E. Front St., Coeur d'Alene • cdalibrary.org/events • 208-769-2315.
---
BY THE NUMBERS
North Idaho Museum is a significant gatekeeper on the region's history. Its 2017 annual report includes information that the museum:
Hosted 5,250 visitors the previous year, including 744 Inland Northwest students.

Has a database including 35,000 photos.

Has 7,000 artifacts not currently on display, housed off site.

Had 60 volunteers donate 2,000 hours.

Had its costumed tour guide Robert Singletary attend over 50 events, including 30 historical lectures reaching 1,500+ people, as well as 1,200 Coeur d'Alene middle and high school students.