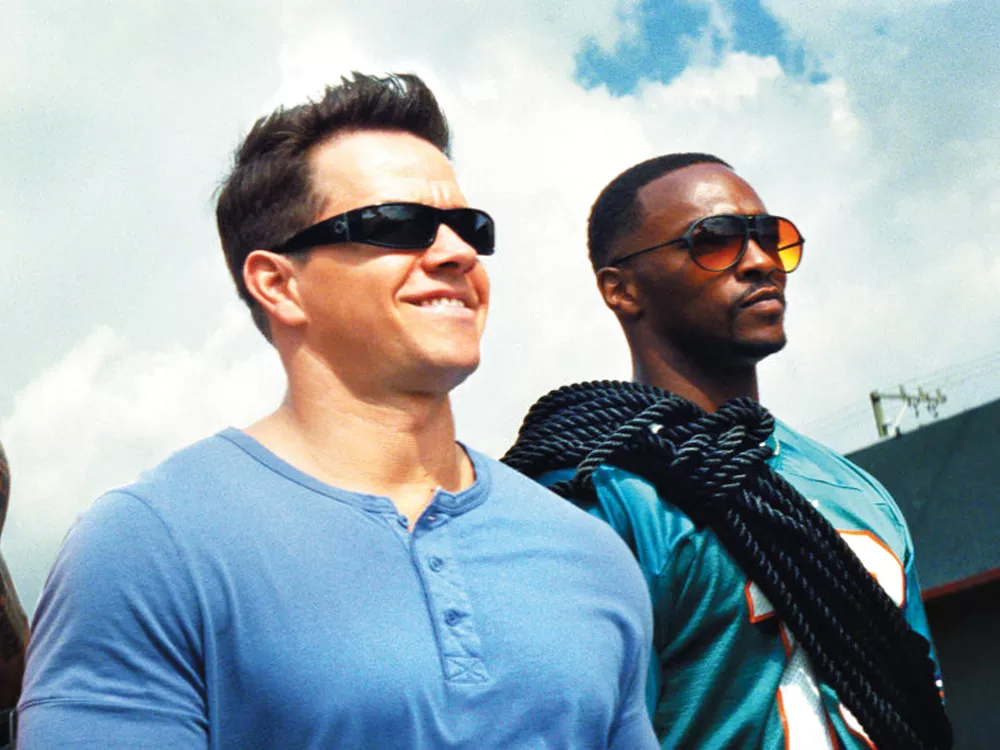 There are two things to deal with before giving in to this surprisingly terrific film.
First, it's produced and directed by Michael Bay. C'mon, folks, there was some pretty good pre-Transformers moviemaking from the admittedly effects-crazed Bay. Check out The Rock and the original Bad Boys. Some fun stuff there.
Second, a great deal of what happens in Pain & Gain really happened, almost 10 years ago, in and around Miami, albeit with less funny business than is presented in the film.
While we're counting, let's go for a third — a different Rock: Dwayne Johnson. The man has proven to be a competent actor during his time out of the wrestling ring, in both minor and major roles. But this time he reaches new levels, shows multiple sides of a complex character, shines just a little brighter than the other glowing folks around him.
This is the story of Daniel Lugo (Mark Wahlberg) — a man who did time for bilking money from investors, reinvented himself as a personal trainer in a Miami gym, then went for his version of the American dream: getting as much money as possible by simply taking it from a rich guy he despised.
He brought two fellow bodybuilders on boad — Paul Doyle (actually an amalgam of a couple of people), played by Johnson, and Adrian Doorbal (Anthony Mackie). As portrayed in the film, the combined intelligence level of this trio wouldn't provide a light bulb with enough brightness to read. Their inept approach to the kidnapping of wealthy braggart gym client Victor Kershaw (Tony Shalhoub) goes wrong from the start, and provides the film with some sparkling comedic moments.
But let's go back to Bay, and the often rough and tough sensibility he brings to his films. These criminals actually did some really loony things, but they also abandoned any normal behavior when things went wrong and they had to wing it. The comedy here turns dark, then black, then pitch black, then gruesome.
But the combo of a slick, mostly believable script from Christopher Markus and Stephen McFeely (co-writers of Captain America and the Narnia trilogy) — and some perfectly timed ensemble acting from the three leads, a manic Shalhoub, and a calm and collected Ed Harris as a private detective — results in a film that makes you laugh while you cringe, then makes you laugh some more.
It's a bizarre, complicated story filled with jaw-dropping left turns. Some artistic license has been taken to help it go down a little easier, but a quick Google search for Daniel Lugo will reveal that you can't just slough it off by saying it's only a movie.