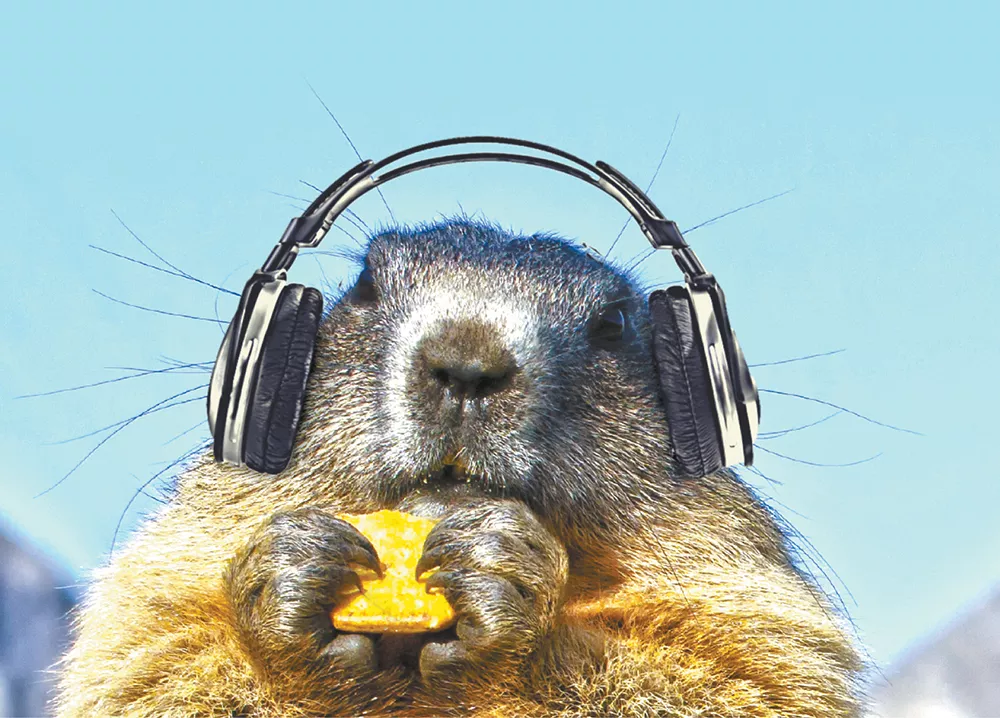 Marmots apparently like music festivals. "They'll be there, just in hiding," says Lupito Flores, KYRS station manager and the brains behind the second-ever Marmot Fest (last year known as KYRS Music Fest) at Peaceful Valley's Glover Field this weekend. While the rodents are most likely burrowed in their holes, people have the opportunity to see regional and local acts in the open air on Saturday.
A fundraiser for public radio station KYRS, the event is geared more toward families than other all-ages music festivals like Elkfest and Volume have been. Flores says he tried to bring in a diverse lineup to attract all kinds of ears to the festival — which he says is the only music festival in the area to harness solar energy to power all those microphones, instruments, speakers and other equipment. Also along the environmentally friendly track, a monitored bike corral will be set up for those who ride to the festival on two wheels.
Among the kids activities, beer and wine garden, Hula-Hoopers and drum circles, there will be a new second music stage, featuring local musical and spoken-word acts. The big draw, of course, remains the main stage, which features eight bands.
ROGUE WAVE, 9:30 pm
Since Oakland-based Rogue Wave's inception more than a decade ago, album after album has featured songs full of dense melancholy, joyous melody, and acoustic and pop-rock radio-friendly tunes. Each well-crafted, lo-fi track rolls into the next.
Their songs have been included on soundtracks for films including Napoleon Dynamite, (500) Days of Summer and recently The Secret Life of Walter Mitty, along with multiple shows on the CW network, but they've never quite caught the next wave to greater fame. And that's OK. Their most recent album, 2013's Nightingale Floors, a throwback to their earlier sound of more energized, muddy guitars, is a treat for fans who have hung on with them from the beginning.
Created by frontman Zach Schwartz (aka Zach Rogue), the group has seen many lineup changes over the years. The now five-piece still includes the steady beat of original drummer Pat Spurgeon, whose kidney-failure issues were documented in the 2009 film D Tour.
This will be the band's only Pacific Northwest show this summer.
FLY MOON ROYALTY, 8:05 pm
Seattle act Fly Moon Royalty would fit in perfectly as a Whitney Houston opening act. Full of early-'90s, pop-styled, electro-blues grooves, the two-piece updates that sound for a new generation. From song to song, you never know what to expect next — sometimes rap, other times (what sounds like) pipe organ solos. Diva singer Adra Boo's voice melds perfectly with producer/MC Mike "Action J" Illvester's flows and beats.
THE HOOT HOOTS, 6:45 pm
You know about the Hoot Hoots — or at least you should. The Seattle band has played Spokane multiple times this year, including at Volume. The four-piece has been known to wear odd rainbow costumes on stage and plays shows that make people want to simultaneously dance, laugh and smile all at the same time. Watch out!
MARSHALL POOLE, 5:35 pm
Rock 'n' roll fans won't want to miss Marshall Poole. They're loud and thrashy and have two dynamite rockers on lead vocals — Melanie Radford and Rider Soran. And no one in the Boise-based three-piece is actually named Marshall Poole.
VAUGHN JENSEN BAND, 4:25 pm
There is someone in the Vaughn Jensen Band named Vaughn Jensen; he's the raucous lead singer and guitar player. The Texas blues crew out of the Tri-Cities plays a mix of originals and innovative R&B covers. But don't be fooled by the blues label; much of this music has a far-out, hard-rock edge to it.
LOCAL ACTS
The festival's opening comes from three Spokane acts that span the gamut of world music. Kicking things off at 1 pm is the formidable alt-rock group Angela Marie Project. At 2:05, the lively Irish band Floating Crowbar takes to the stage. Folkinception shows off their foot-stompin' folk around 3:15. ♦
Marmot Fest feat. Rogue Wave and more • Sat, July 12, from 1-11 pm • $20/free for kids under 13 • Glover Field • 216 N. Cedar • TicketsWest.com • 747-3012