QUEST FOR TUNES
We've come to rely on Northern Quest Resort & Casino for killer summer concerts, but 2019 marks their biggest lineup ever. The casino's outdoor stage will be overflowing with A-list talent from all genres; here's what you can look forward to. All shows start at 7:30 pm.
CLASSIC ROCK: Michael McDonald and Chaka Khan (July 23) dominated rock, pop and R&B charts in the '70s and '80s. Speaking of the '80s, the great Pat Benatar performs on July 28, alongside her husband/longtime guitarist Neil Giraldo, and rocker Melissa Etheridge shares the bill. The Texas blues-rock of ZZ Top arrives on Aug. 17, followed by the high-concept theatrics of Styx on Aug. 22 and former Van Halen frontman Sammy Hagar and his backing band the Circle on Aug. 24. And don't miss the Steve Miller Band (Aug. 28), one of the most prominent figures on classic rock radio, who co-headline with rockabilly legend Marty Stuart.
COUNTRY: Brett Eldredge (June 27) is still rising within the country ranks, but he's already scored hits like "Wanna Be That Song" and "Drunk on Your Love." Toby Keith (Aug. 6), meanwhile, is a country lifer, as is Travis Tritt, who performs alongside the fiddle-tastic Charlie Daniels Band on Aug. 13.
HIP-HOP: Pitbull, Mr. Worldwide himself, hits the Northern Quest stage on June 24, bringing the charisma that has made him a superstar entrepreneur. And then there's West Coast rap icon Snoop Dogg, who spurred such demand that a second show was added. You can see him alongside Warren G on July 18 and 19.
REGGAE: Rasta fans really only have one option, but it's a doozy: A co-headlining tour with Michael Franti and Spearhead, who fuse multiple genres for a unique rootsy blend, and reggae legend Ziggy Marley, who really needs no introduction. They bring their good vibes to Airway Heights on June 23.
COMEDY: Need a laugh? Legendary funnymen Steve Martin and Martin Short (July 21) are back on the road, rescheduling a previously canceled show that marries sketch comedy with music. And "Weird" Al Yankovic brings his timeless pop song parodies back to the Inland Northwest on Aug. 18.
For concertgoers looking for a place to stay beyond Northern Quest's hotel, consider the casino's new RV resort. Amenities include a clubhouse, pool, multiple fire pits, golf carts that take you right to the venue, and tiny-house-esque cottages for rent. Reservations are going fast, so get on it now. northernquest.com (NW)
GORGE YOURSELF
The Gorge Amphitheatre out in George, Washington, certainly has its downsides. When it's hot, there's little shelter, and a wind/dirt/thunderstorm can roll in on concert-goers at a moment's notice. And not all of us are into camping in order to enjoy a concert. All that said, the Gorge remains one of the country's most beautiful and distinct concert venues thanks to its insane views and high potential for killer sunsets. This summer's lineup is stronger than those of the recent past thanks to the inclusion of country superstar Eric Church (June 28-29), a stop by the Beck/Cage the Elephant double-bill (July 13), the massive country fest Watershed (Aug. 2-4) and the annual visit by Dave Matthews Band (Aug. 30-Sept. 1), plus so much more. gorgeamphitheatre.com (DN)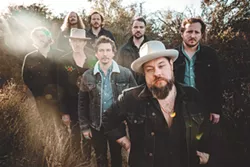 NOT-SO-PRIVATE IDAHO
Taking over War Memorial Field every August, the Festival at Sandpoint has been delivering terrific live shows from big names for decades. The first weekend of this year's fest brings the high-energy R&B of Nathaniel Rateliff and the Night Sweats (Aug. 1), YouTube sensations Walk Off the Earth (Aug. 2) and legendary singer-songwriter Jackson Browne (Aug. 3). Weekend two kicks off with jam-band favorites Lake Street Dive (Aug. 8), as well as a brewfest offering premium beer tastings. The Avett Brothers follow on Aug. 9, and everything closes on a note of funk and celebration with Kool and the Gang (Aug. 10). Beyond the headliners, there's a family concert on Aug. 4, and a grand finale on Aug. 11 that features the Spokane Symphony, the experimental classical stylings of Sybarite5 and a fireworks display. festivalatsandpoint.com (NW)
CASINO ROYALE
Over at the Coeur d'Alene Casino, things start heating up in August, starting with country star Lee Brice on Aug. 2. Starting out as a songwriter for others before branching out as a solo artist, Brice's biggest hits include "Love Like Crazy" and "A Woman Like You." Warrant and FireHouse (Aug. 9) are hair metal heavies, the former best known for the power ballad "Heaven" and the lascivious rocker "Cherry Pie," and the latter for the Top 10 single "Love of a Lifetime." Nitty Gritty Dirt Band (Aug. 23) have been touring for more than 50 years, and their brand of country-rock influenced countless alt-country followers. These summer shows offer an ideal opportunity to check out the serious upgrades the casino has worked on in its performance space, from new digital screens to new tiered seating, making every spot for a concert a good one. cdacasino.com (NW)
STAY IN, ROCK OUT
Director Martin Scorcese has proved a brilliant music documentarian through the years as the man behind the lens of such memorable movies as The Last Waltz (the Band), George Harrison: Living in the Material World and Shine a Light (Rolling Stones). This summer, you'll want to take the time to check out his latest rock doc on Netflix, Rolling Thunder Revue: A Bob Dylan Story by Martin Scorcese. The director has already covered Dylan with his excellent 2005 movie, No Direction Home. While that covered Dylan's '60s years, Rolling Thunder Revue picks up on Dylan's barnstorming 1975 tour of the same name. It will be streaming by the time you read this, and the mid-June release coincides with the arrival of a 14-disc (!) Rolling Thunder Revue boxed set. (DN)
THE BING GOES BIG
It's hard to remember a summer in recent memory when the Bing Crosby Theater had such a stellar music lineup. The Robert Cray Band drops in with some serious blues over the Independence Day holiday weekend, playing July 6. The incomparable Ani DiFranco swings through Aug. 6 with some of her incredible guitar-playing, politically charged lyrics and on the heels of releasing her memoir, No Walls and the Recurring Dream. The very next night, fans of '80s-era alt-rock should jump on the chance to see the Alarm (the Scottish U2!), joined by Modern English and Gene Loves Jezebel. That's one fat night of fun songs and serious nostalgia on Aug. 7. And when Labor Day weekend arrives, so does the amazing Mountain Goats and their highly literate brand of folk-rock. bingcrosbytheater.com (DN)
RIDE THE PONY
The Ben Bridwell-led Band of Horses have been creating epic slabs of grandiose roots-rock for 15 years now, and despite myriad lineup changes during that time, nothing really seems to knock the band off its game when it comes to creating winning albums, or playing killer shows. It's been three years since Band of Horses' last release, Why Are You OK, and with a full summer of tour dates scheduled for Europe and the states, including a midsummer stop at the Knitting Factory, it sure seems like they're gearing up for a new album sometime soon. Joining them in Spokane is alt-country ace Nikki Lane, whose three albums evoke the likes of Wanda Jackson and early Neko Case. sp.knittingfactory.com (DN)
RED LETTER DAYS
There is likely no show coming through Spokane this summer quite like the one A Tribe Called Red will bring to the new Lucky You Lounge on July 22. The electronic duo bases its music in the Native American sounds — particularly the vocal chants and drums — of their childhoods as members of the Mohawk (Tim 2oolman Hill) and Cayuga First Nation (Ehren "Bear Witness" Thomas). But Hill and Thomas have voracious musical appetites, and during their sets you'll hear reggae, hip-hop and dubstep. They've been rocking parties for more than 10 years since getting their start in Ottawa, Canada, and in 2018 they won the Canadian equivalent of a Grammy for being Canada's "Group of the Year." luckyyoulounge.com (DN)
BLESSED
Lauren Daigle had the kind of 2018 that most Christian artists can only dream about. In addition to releasing her first album in three years, her single "You Say" set the record for a solo artist to reach No. 1 on the Hot Christian Songs chart, sticking there for 35 weeks and taking the record from Carrie Underwood. Six months later, the song made its way to mainstream pop radio, where it enjoyed a second life, reaching the Top 40 of the Billboard Hot 100 pop charts and helping Daigle find a whole new, larger audience. Part of that move landed her gigs at the New Orleans Jazz & Heritage Festival earlier this year, and she'll perform at Austin City Limits fest this fall. In between, she makes up for a delayed Spokane date with a show at the First Interstate Center for the Arts on Aug. 12. inbpac.com (DN)
FREE SPIRIT
Khalid is only 21 and already has four headlining tours, five Grammy nominations and several Top 10 singles under his belt. The sky's the limit for the R&B tunesmith, whose meteoric rise brings him to the Spokane Arena on July 9. His recent album Free Spirit features grooveable, radio-friendly pop with introspective singer-songwriter flourishes. Also scheduled at the Arena this summer: hard rockers Disturbed and In This Moment, scheduled to perform July 31. spokanearena.com (NW)
VOICE OF REASON
Singer-songwriter Amos Lee returns to the region following a set at last year's Festival at Sandpoint; he'll be at the Fox Theater on Aug. 24. Whether he's dabbling in traditional folk, blues, jazz fusion and even R&B-tinged rock. What has united his discography are his tender and empathetic lyrics about heartbreak, spirituality and the euphoria of new love, which are on full display on his most recent album My New Moon, a collection of cathartic examinations of the tumultuous state of the modern world. Regardless of his stylistic mode, Lee's voice is as heartfelt as ever. foxtheaterspokane.org (NW)
TIGHTROPE WALKER
Anyone who thought contemporary musicians weren't still digging the prog sensibilities of Steely Dan or early Genesis clearly hasn't heard Ryley Walker. The Chicago based songwriter leans toward the sound of hushed, acoustic folk, but his songs are often spacey and sprawling — they sometimes stretch out over five or six minutes, twisting through melodies and separating themselves into distinct movements. When Walker hits the Bartlett on Aug. 23, he'll be supported by Wild Pink. thebartlettspokane.com (NW) ♦