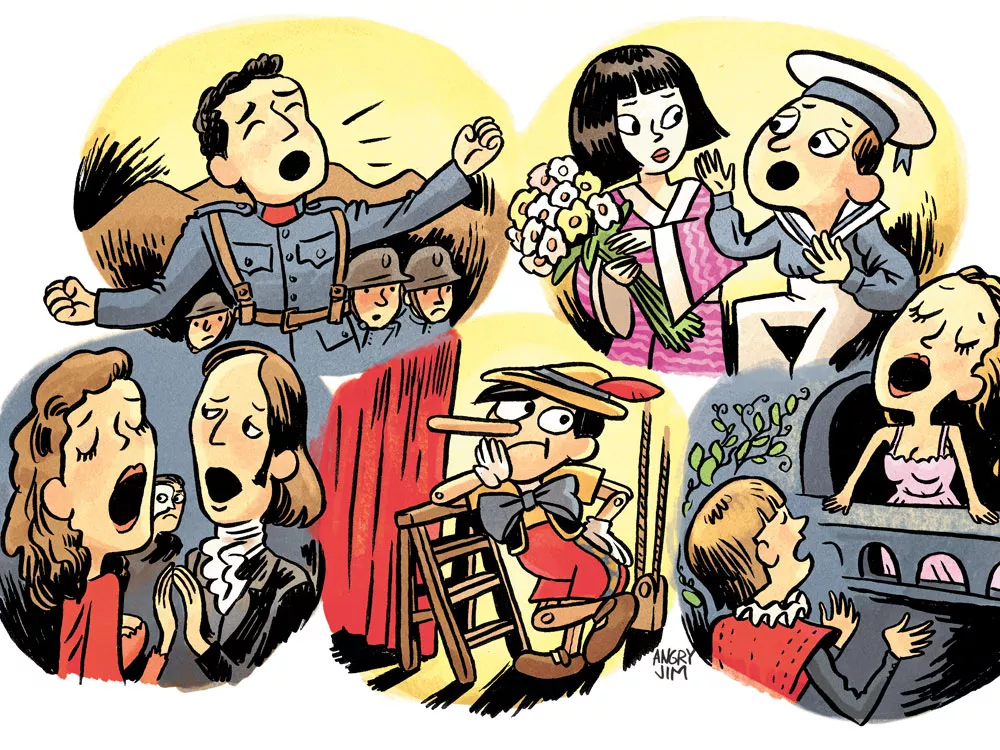 It ain't cooling down at night anymore. It must be the season for Spokane Opera's Hot August Nights, two magical evenings of free live music under the sweltering summer stars.
This year's first show is Aug. 4 at Mirabeau Meadows in Spokane Valley, the second on Aug. 6 at the Northwest Museum of Arts & Culture. The latter is a First Friday, so make a day of it with a museum tour, picnic dinner and free entertainment.
The event — celebrating its 25th year — traditionally features a mélange of opera, operettas and musical theatre.
New this year is an interactive promotional activity happening prior to both shows. Participate, and you can score free tickets to the Spokane Opera's next main stage production at the Fox. The challenge? Be fearless, and sing some "opera" (or your idea of it) — on camera. Visit facebook.com/SpokaneOpera for details.
It's not at all strange for symphonies or jazz orchestras to play greatest hits concerts, but with opera — where each song develops the characters and advances the plot of its particular work — the attentive viewer is in store for a veritable Fantasia.
For kicks, we squashed together some of the repertoire into a condensed, mostly accurate though semi-fictional rendering of what you may find at Hot August Nights.
The opening number is an aria called "Ah! mes amis" from the opera comique La fille du regiment. A twitterpated youth named Tonio plans on marrying his sweetheart, Marie, and sings exuberantly with an impressive series of frolicking high Cs.
"She has set my soul on fire!" he rejoices. "I have won my Marie!"
Not to be outdone in twitterpated-ness, Juliette from the French opera Romeo et Juliette nabs the spotlight, singing rapturously about love and passion and such. She's followed by Christine and Raoul from Phantom of the Opera, a googly-eyed pair of lovebirds who serenade each other in "All I Ask of You."
Backstage, Pinocchio waits patiently behind the curtain for his turn. But he grows bored, so he runs onstage and Judo-chops everyone in the knee. This moves things along.
Next, a lovely dame called Lauretta from the opera Gianni Schicchi takes the stage to sing "O mio babbino caro," a gorgeous aria so lovely the makers of Grand Theft Auto III borrowed it for the game's soundtrack.
"Papa!" sings Lauretta. "I love this boy! I'll throw myself in a river to prove it! Stop feuding with my potential future in-laws!"
Before she can finish, Lauretta is blown offstage by a mysterious gust of wind named Maria (commence, "They Call the Wind Maria," a song from the 1950s musical Paint Your Wagon).
The audience is also treated to "Deep in My Heart, Dear" from The Student Prince — a 1920s operetta that Hollywood saw, no doubt, and thought, "Jackpot! Teen movie!" (Hence The Prince and Me, starring Julia Stiles.)
After the intermission, we hear "La donna e mobile," a famous Italian ditty about women being fickle. This quintessential opera canzone has, like, a thousand pop culture cameos, from an ode to vegetables sung by Rabbit in My Friends Tigger & Pooh to a solo for Lisa from The Simpsons.
The next song, "Pretty Lady" from Pacific Overtures, is about a culturally naive British sailor who's been deployed to Japan. He spots a hottie in a kimono and assumes she's a geisha. He pesters her with lustful advances. (Rookie mistake; her dad's a samurai.)
"Pretty lady with a flower!" he croons. "Give a lonely sailor 'alf an hour!"
She sighs, politely rejecting his attempts.
Effing foreigners and their cheesy pickup lines, she thinks to herself.
Several numbers follow, including "Torna a Surriento," a Neapolitan ballad so catchy, songwriters Doc Pomus and Mort Shuman heard it in 1960 and were like, "Dude, let's rearrange that for Elvis," and did. (It became a No. 1 hit in the U.K. and U.S.)
The compilation is capped with a tribute to Disney, in "Give a Little Whistle" and "When You Wish upon a Star."
Pinocchio finally gets his face time.
Hot August Nights • Wednesday, Aug. 4 at Mirabeau Meadows, 7:30 pm; Friday, Aug. 6 at the MAC, 7:30 pm; filming starts at 5:30 both days • Free • Call: 533-1150 • Visit: spokaneopera.org/hotaugustnights.html