I
n this week's issue of the Inlander
I
chatted with a few folks about the legacy of AC/DC's Back in Black album
, celebrating its 40th birthday on July 25. It was easier than typical to track these folks down because, as we all know, the coronavirus has basically decimated the live-music industry.
The Drive-By Truckers released an excellent new album in January called
The Unraveling
and had a full year of touring ahead of them before being forced to postpone all their dates. Now singer/guitarist Patterson Hood is stuck at home in Portland instead. Likewise, the Supersuckers put out a new record,
Play That Rock 'n' Roll
, earlier this year, and Eddie Spaghetti and Co. basically live on the road every year. For Adrian Connor, guitarist for AC/DC tribute band Hell's Belles, a full season of shows that would have made up much of her annual income got canceled.
While the AC/DC story didn't get into the hardships these musicians and many others are facing due to coronavirus, as well as those suffered by shuttered venues, indie promoters and small labels, the artists I talked to talked about what life under pandemic is like when you're stuck at home, unable to tour, and wondering how you're going to pay the rent.
Here's what they had to say about their unexpected 2020 lives, and what they're doing with their time in isolation.
PATTERSON HOOD of DRIVE-BY TRUCKERS
The Drive-By Truckers co-founder is best known for his songs full of Southern characters and spirit after growing up in Alabama, but he's now a resident of Portland, Oregon, and watching the police response to Black LIves Matter protests there has just added to the stress of losing out on a year's worth of tour dates (including one set for Spokane's Knitting Factory in July) —and income. He's been doing live internet shows he calls "Heathen Songs," taking requests and telling stories.
"It's been hard," Hood says. "I'm just not a particularly happy camper, but we're all healthy, so I don't really feel like I have a right to complain, but I do. We're keeping it together and making ends meet and I'm thankful for the shows. They really help financially, and they help with my mental state, honestly."
The Truckers' album came out Jan. 30, and they were going to be on the road all year, but now there's no way of telling when the band will be able to tour again. "This will be one of the last businesses to come back," Hood says, and watching the struggles of people they've known for decades is just adding to the stress.
"There'll be a day when I wake up and I'm feeling OK, and the first thing I see is a favorite club that's trying to raise money to survive, or else announcing they're closing," Hood says. "Then I'm just depressed all day. We've been on the road for decades, so we know all these people in these venues, even some of the smaller ones we don't really play anymore. They're the ones that are going to close first, right, and they're such an important part of this art form that we love and have devoted our life to."
Follow
Patterson Hood on Twitter
or the
Drive-By Truckers on Instagram
or
right here
to find out about his next "Heathen Songs" online show.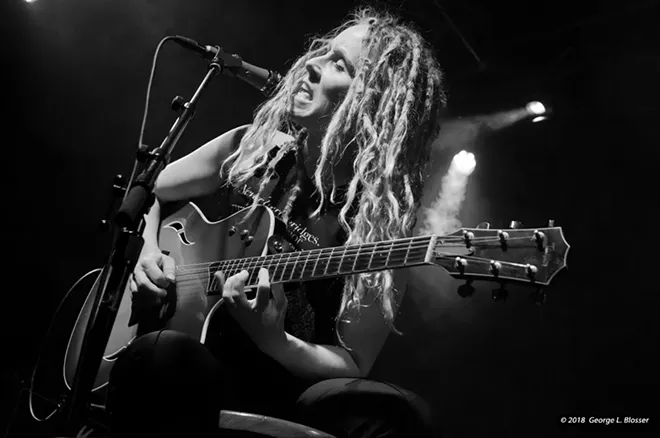 ADRIAN CONNOR of HELL'S BELLES
Connor plays the "Angus Young" role in all-women AC/DC tribute band Hell's Belles, and that band's tours make up a significant amount of her annual income. The band had to cancel shows that filled their calendar from winter through July. "People will ask me when we're playing shows again, and I'm hesitant to even answer," Connor says from her Austin, Texas, home. "You know, it depends on the virus."
Connor's been playing shows on her Facebook, YouTube and Twitch outlets a couple times a week, mixing up covers and solo, non-Hell's Belles material, songs "I can sing well."
"Livestreaming, it's paying the grocery bills at least," Connor says. "My fans are really awesome, and realizing that tipping is a wonderful thing to keep my music going."
Doing the livestreams has given Connor a crash course in utilizing the technology to show off her guitar work on camera, and she's embracing the opportunity to sing more. "I'm really improving, and I love that," Connor says.
Connor livestreams shows Wednesdays at 7 pm Pacific time, and Fridays at 5 pm Pacific, on her
Facebook
,
YouTube
and
Twitch
channels.
EDDIE SPAGHETTI of SUPERSUCKERS
The
Supersuckers
tour pretty much all year every year it seems, but in 2020 they had a new album to support on dates booked through the end of the year. Right now, if all goes perfectly, their next show will be in Europe in November. If European countries are letting Americans in by then, of course.
During the pandemic, Spaghetti's been home with his wife and three kids in San Diego, an experience he calls "super weird" even while acknowledging "things about it have been great," like hanging out with his kids every day.
"But the freakout of not knowing if I'll be able to pay the rent or where the income is going to come from" is scary, he says. "I didn't get any stimulus money. Donald Trump wasn't looking out for me at all, and I don't have any backup plan, either. There's no big savings reservoir here at Supersuckers Industries. There's no 401(k) plan for rock 'n' roll.
"This is the kind of work you don't retire from, you just keep doing it. It looks really scary."
To make ends meet, Spaghetti's been playing daily
songs-and-stories shows in his Instagram
, and he's selling handwritten lyrics to fans for $50 a pop as well as recordings of his "
Living Room Sessions
."
The unpredictability of the live-music business going forward is particularly unsettling for this road veteran and his brand of rock 'n' roll.
"I don't even know what that's going to look like, if people are even going to be willing to go," Spaghetti says. "What it requires for us to do our job like we're used to doing it is people willing to pack into too small a place or with too many people, to get all sweaty and all over each other, breathe each other's air and scratch each other up.
"I don't really see that happening."