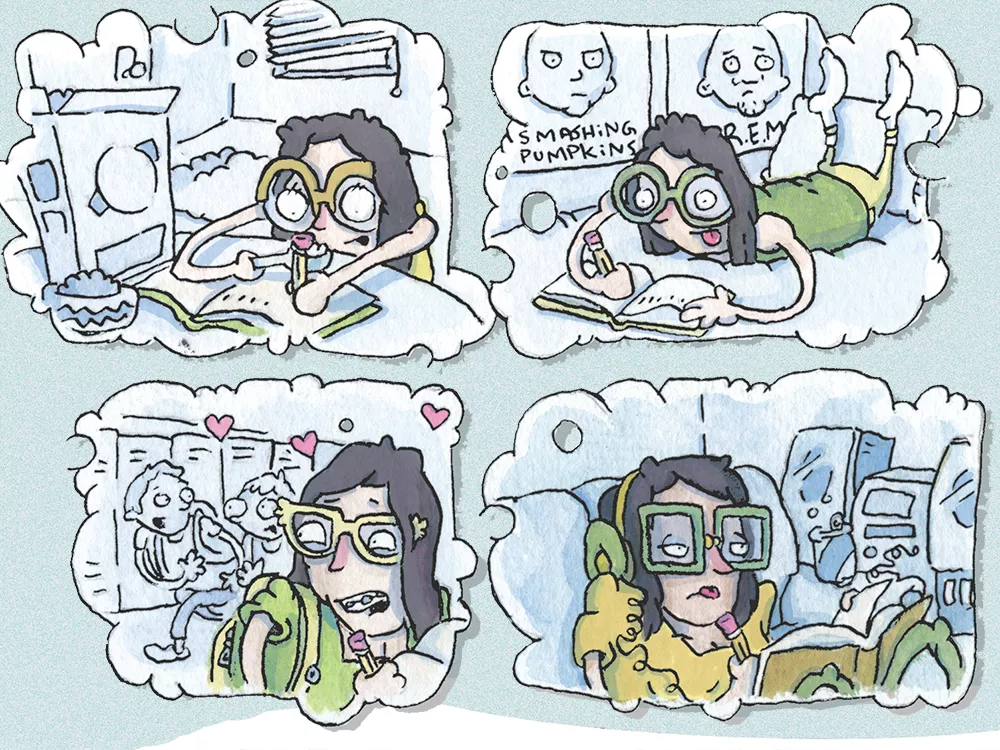 My mom hefted the last cardboard box labeled "LEAH STUFF" into the back of my Subaru wagon. The car slouched under the weight.
My mom told me it was time to start hauling my old stuff back to my own house. You're 31, she said, and it was time I took home my boxes of toys, Babysitter's Club books and googly-eyed dolls.
Every time I go home to visit, it's like spending a weekend inside an old memory. There's the old library where I used to ride my bike to every summer day and knew the librarians by name. The elementary school I loved, the junior high I hated. The fences I cut up my legs on during games of hide and seek. The steep hill where I test-drove my Rollerblades. Legs and elbows bloody, I walked back up the hill and gave up wearing them.
But inside those big cardboard "LEAH STUFF" boxes, I found a different kind of memory. Among Barbie dolls, Cabbage Patch kids, piggy banks and crumpled-up band posters, I found long-forgotten glimpses of my confused former self.
At the bottom of a box were four diaries I kept from Dec. 30, 1988 — when I was 7 — to Aug. 27, 1999, the last entry written from the backseat of the same Subaru I drive today as my parents took me to college.
My first diary was a small, bubblegum-pink hardcover thing with a tiny metal lock. The first entry documents — in awkward, spindly writing — that I received it for Christmas.
From the get-go, it was clear I viewed diary-writing primarily as recordkeeping. But it was also an excuse to be a meticulous social observer. On Feb. 2, 1989, I wrote that my brother Matt was in trouble: "Today, at night, at 7:51, Matt was getting yelled at."
As a young writer, I experimented with dramatic tension and rising action.
Jan. 17, 1990: "Dear Diary, I think we lost my pet hamster forever."
Oct. 7, 1990: "Well today has been the worst night of my life." Little context is provided.
An undated entry takes up seven pages. In all caps: "I HATE MATT AND MOM SOMETIMES."
My journaling picked up speed in the sixth grade when I had time during school to write, marking the beginning of my meticulous list-keeping phase. In an entry entitled "Ten Living Humans I would Like to Meet" from Oct. 28, 1992, my list — which includes Judy Blume, Beverly Cleary, the cast of Beverly Hills 90210 and "the lady in C&C Music Factory" — gives a glimpse of my priorities. I sign most entries "Leah the Great."
I start a trend of taking hard-line stances: I insist that Bill Clinton is "a FAKER" and that "people who drink are obnoxious, stupid, immature, ignorant, ugly jerks."
It's also then that I get the most realistic glimpse into my teenage self: a boy-crazy, often-depressed, naive and self-obsessed girl trying to figure out who the hell she is. I shift from starting each entry "Dear Diary" to "Dear Journal." My handwriting becomes loopier — sometimes in colored pen, sometimes all caps. I move past the pink diary to a spiral-bound journal. I doodle the MTV logo in the margins. In one entry I just write the word "Skittles" 45 times — I know this because the number is at the bottom, circled.
On one page I love a boy named Eric. On the next page it's Joey. Then Chris, Aaron, Bryce, Andrew, Chad, Robin, Peter, in rapid succession. I also love Burger King, Pepsi, The Real World. I quote Smashing Pumpkins, Nine Inch Nails and Portishead endlessly.
Sometime in 1996 my musings become angsty, bratty. I'm mad at my parents and friends. I hate pretty girls and obsess about going to school dances. I hate school and my cat who continually throws up on my homework. I call girls I don't like "whores." I talk shit about my friends. Reading those entries today makes me feel bad for my parents.
It isn't until my senior year of high school that I start resembling an actual human being. My confusion and sadness drips off the page the day of the Columbine shooting — and again when a girl I know at another school kills herself.
It's around that time I talk about going to poetry readings at independent bookstores, serving dinner to homeless folks at a soup kitchen, reading Jack Kerouac. I drink a lot of coffee, crave independence. I have big, bold ideas. I'm sick of high school.
My journals end abruptly on the drive to college. My handwriting is shaky and buzzing — I can actually see my excitement about my future on the page.
And though part of me wishes I'd kept journals through my college days, through failed relationships and more jobs than most people have in a lifetime, I'm glad I stopped journaling. Instead of watching from the sidelines, I started living.
But the little scribe with the pink diary and the big dorky glasses lives on: I may have stopped journaling, but I've never stopped writing.