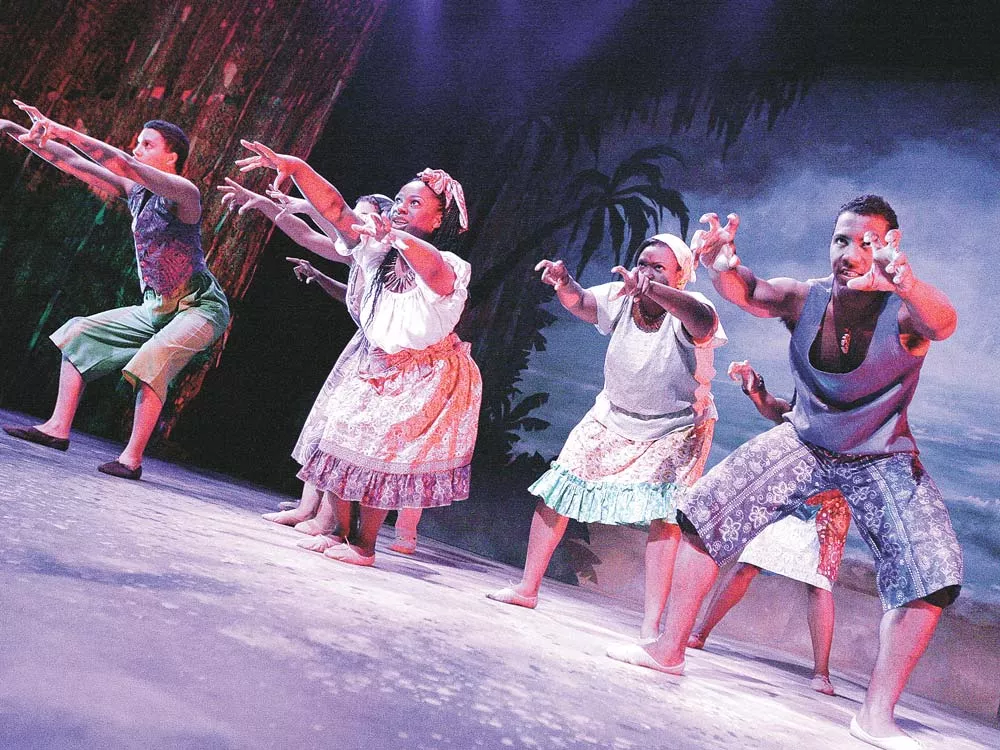 It's just a made-up story. There's some singing and dancing, and the whole thing is over in less than an hour and a half.
But during that hour and a half, Once on This Island will rouse your heart, reminding you about the urgency of selfless love.
Not to make too much of Once on This Island — it's a simple story, really, about basic truths, and it's told in a simple way — but this musical about a peasant girl's abiding love has the power to inspire.
That's why we go to churches and concerts and museums and theaters, isn't it? To get extracted from our daily worries, to be reminded of why we bother to run around making money and paying bills all day.
Island, produced by Coeur d'Alene Summer Theatre, centers on an orphan girl named Ti Moune. She nurses an accident victim back to health, falls in love with him and pursues her love — despite parental objections, class differences, and a meddling quartet of whimsical gods. It's a star-crossed-lovers musical set in the Caribbean and empowered by lyrics and melodies (by Lynn Ahrens and Stephen Flaherty) that aim at your heart.
"Mama Will Provide," for example, is just a child-leaving-home song. But forget the particular circumstances of Ti Moune's determination and the rich boy she loves against all odds. Because of the union of music, lyrics and performance in director Roger Welch's production, "Mama" will make a potent emotional connection both with parents reluctant to release their children into the world and with the young adults who can't wait to gain their release. Even as chorus members embody the trees and the breeze — even the frogs — who will accompany the daughter on her journey, they're also helping us visualize a mother's longing for her child. And then Ti Moune's mother (Sarah Russell) lets rip with her soaring voice, wrapping us in the promise of maternal love: Mama will indeed provide.
Or take "The Human Heart," when the love-goddess (Joann Coleman) steps forward to list the mixed-mood concerns of Island in song: "The courage of a dreamer, the innocence of youth,/ The failures and the foolishness that lead us to the truth,/ The hopes that make us happy,/ The hopes that don't come true." Coleman, in that moment an exuberant narrator-figure, makes Ti Moune's quest almost interactive: Her story becomes ours. Enduring love is wonderful, but we also know that this fairy tale isn't going to end happily ever after. Sometimes our hopes don't come true, or only partly true.
In a sung-through musical that's dependent on plot, however, muddy sound and poor diction obscure some details. This has been such a longstanding problem at CdA that whether the musical you're attending is familiar or not, it's probably best to consult a plot summary and scan the lyrics beforehand.
Director Roger Welch keeps the storytelling playful and straightforward. Island begins and ends with listeners gathered in a semicircle for storytelling, and with staging that appeals to the tell-me-a-story eagerness of a child who enjoys using her imagination. Handheld bulbs serve as a car's headlights. Actors instantly "grow old" by stooping over and moving hesitantly. Dancers portraying trees dripping with rain cavort with strands of tinsel dangling from their palm-frond hats.
And right from the opening number, "We Dance," Christopher Moll makes it clear that his choreography is going after visceral impact. Storytellers rise from a campfire to crane their necks and turkey-thrust their shoulders, then sprout arms, clap hands and wiggle their fingers.
Matching their intensity, Oyoyo Bonner plays Ti Moune with appealing determination. While her voice sometimes fades on the high notes, the sincerity of Bonner's passion and her ability to dance never waver. Late in the show, Ti Moune has a feverish solo dance that's meant as a rebuke to the prissy niceties of the rich folks' formal waltz, and Bonner kills it: She squats and stomps, patters her feet in circles and challenges viewers with aggressive freestyle-swim arms, transmuting her love into rebellious, passionate movement.
The sequence encapsulates Island's fervor. The third-slot musicals at Coeur d'Alene Summer Theatre, with their smaller casts and pit bands, often present fewer pleasures than the four-show seasons' bigger productions. But Once on This Island, with its direct emotions and engaging songs, offers surprising delights.

Once on This Island • Thurs-Sat 7:30 pm, Sun 2 pm, through July 31 • $43; $39, seniors; $30, children • NIC, Boswell Hall • 1000 W. Garden Ave., Coeur d'Alene • cdasummertheatre.com • (208) 769-7780