The Spokane Empire won a thrilling, back-and-forth game against the Salt Lake Screaming Eagles on Sunday, taking down the visitors 31-29 at Spokane Arena.
Down 10-9 at halftime, Empire quarterback Charles Dowdell threw an interception that was returned for a touchdown by Screaming Eagles defensive back James Calhoun, making the score 17-9. But on the Empire's next possession, running back Mulku Kalokoh ran for a touchdown; a two-point conversion tied the score at 17.
Late in the fourth quarter, the Empire had a 31-23 lead before Salt Lake quarterback Verlon Reed found wide receiver Juwan Dotson for a touchdown, cutting the lead to two points with two seconds left. A 15-yard unsportsmanlike conduct penalty on Dotson after the score moved the ball back to the 18-yard-line as the Screaming Eagles prepared for a two-point conversion attempt to tie the game. Reed looked for wide receiver Devin Mahina, but the pass was tipped away as Spokane held on.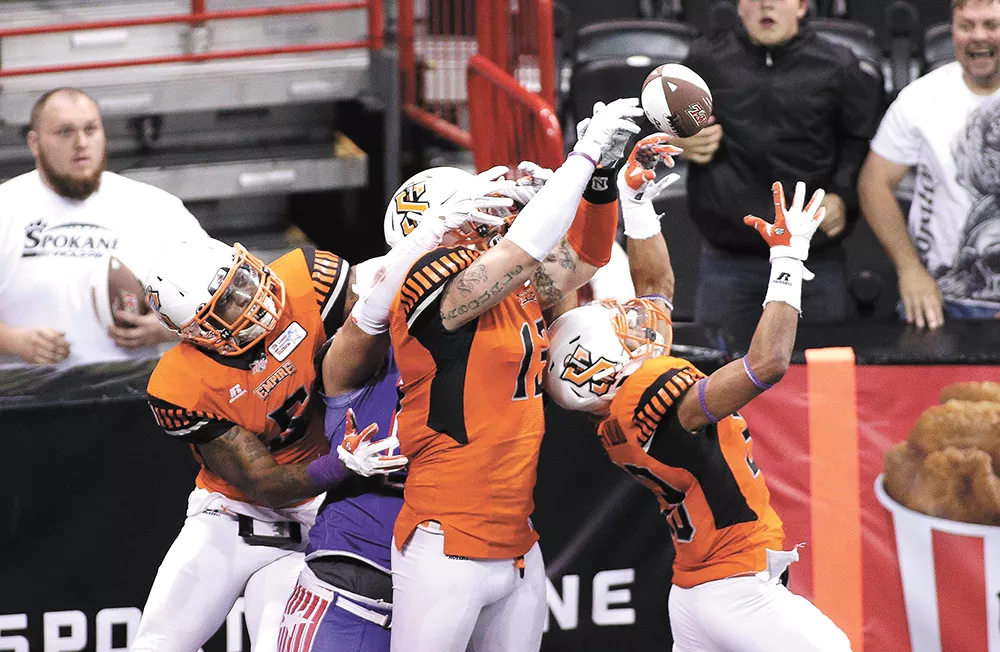 The Empire, now 7-2 and leading the Indoor Football League's Intense Conference, play at Sioux Falls, the 8-1 United Conference leaders, on Saturday, May 6. The Empire's next home game is May 12 at 7 pm at Spokane Arena against the Arizona Rattlers. ♦