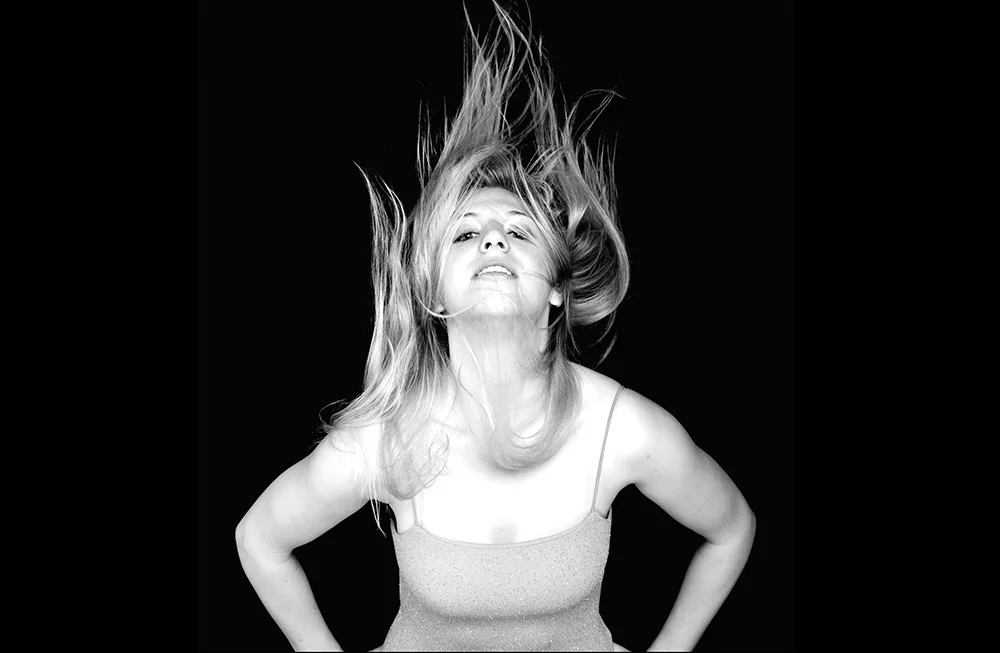 The melodies come without warning. Sometimes they arrive when she's wrapped in nothing but a towel at her Browne's Addition apartment, other times when she's out with friends. Once Stephenie "Stevie Lynne" Saunders hears the music, it's a scramble to find a piano and get it out.
"Liars," the title track off of her album released in March, hit her particularly hard one morning last year. She played two chords on her keyboard and the chorus flowed without thought: "Liars / They can't keep you down." It was so automatic, she had a full, entirely catchy song within the hour.
The tune came after a particularly painful breakup with a boyfriend who cheated. This after a divorce from an abusive husband the year prior. But the point wasn't to bash them; she isn't like Taylor Swift in that regard, Saunders says. She explains that she doesn't want to write about problems, but rather brokenness.
"There comes a point where you believe the lies they told you," Saunders says. "I believed that I wasn't worthy of love."
Last week, the Sacred Heart Medical Center nurse sits at Bistango Martini Lounge, telling her life story between sips of a purple huckleberry martini, her long blonde hair often falling into her face. Saunders, 24, says people perceive her as bubbly and carefree. But one listen to the indie-soul album, and it's clear there's a darker side.
"I watched my kingdom crumble around me and the only things I had were my keys and voice," says the self-taught pianist.
Her singing voice sounds a lot like her actual speaking voice. As she describes it, her vocals are the combination of what comes from the heart and the brain; there's no trying to emulate songwriters she admires.
Growing up in Montana's Bitterroot Valley in a self-described country home complete with horses, Saunders gave her first public performance at 2 (singing the Barney & Friends theme song dressed as the plush dinosaur) and wrote her first song at 11. She wanted to be like her songwriter mother. Getting married at 18 and later moving to Florida, writing came in short bursts only when there was time.
Saunders recalls her mother's first reaction to Liars.
"She called me on the phone and asked, 'How could you do this to me?'" Saunders says. "I got nervous that she thought my songs were too personal, but then she said, 'You made me cry.'"
There were a lot of her own tears shed in the writing and recording of these songs at Amplified Wax Recording Studios (which is set to move its Garland District headquarters downtown next month). Tears come even now when she thinks about how far she's come — with the help of friends and family — as a musician and adult since moving to Spokane two years ago.
The original plan, starting last February, was to lay down a couple of tracks, never a full record. Working with producer/engineer Jimmy Hill, she soon saw potential for more. She'd work a 15-hour day at the hospital, then with two days off, cram in a 10-hour recording session. Then repeat.
"It made it so I didn't have to think," Saunders explained. "Singing has always been easier than thinking about things."
Hill recalls the progression Saunders has made, and that while she was talented from the beginning, he was pleasantly surprised with the passionate end product. He says Saunders is one of a handful of local artists he's worked with who he'd gladly promote to outside markets.
"There's no filler on this album," he says. "Everything here is incredibly heartfelt."
Saunders is the first to admit her piano accompaniment isn't full of complexity. But she says the thing she does extremely well, the thing you can't take away, is her honesty.
"That's what people relate with," Saunders says. "I've had people come up to me after shows and talk about drug addictions and alcoholism because they feel comfortable with me."
Now, after only playing a handful of gigs in the past year, Saunders plans to perform more. She even has a full band — cellist, drummer and backup singer — that she says just fell into place. Her group takes on the Bing Crosby Theater on Friday, armed with a newly written song she intends to play last.
"I hope when people hear it, they won't want to move in their seats at first, that they'll want to let it sit," Saunders says. "I don't want people to leave and say 'That was nice.' I want them to feel like a different person."♦
Stevie Lynne • Fri, June 12, at 8 pm • $20 • All-ages • Bing Crosby Theater • 901 W. Sprague • bingcrosbytheater.com • 227-7638