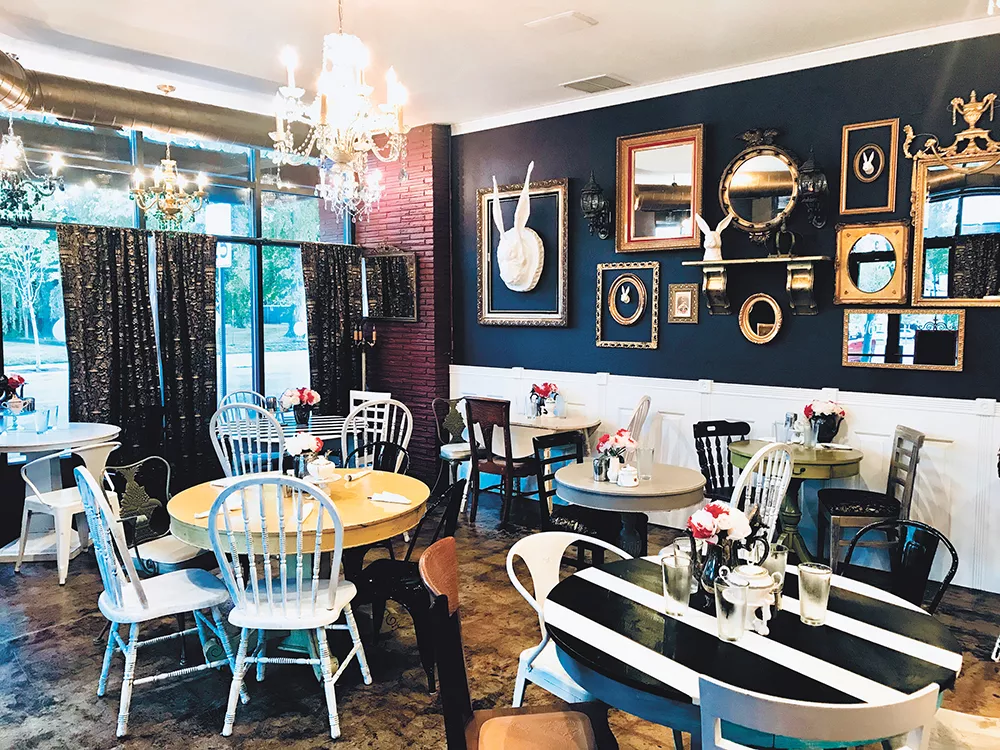 Mismatched by design, there are no bad seats at Ten/6, Coeur d'Alene's newest eatery featuring Alice in Wonderland-meets-eclectic-New-Orleans style. Some seats, however, offer distinct advantages.
Two chairs tucked into the entryway and partially screened from diners by old wooden doors, for example, offer a panoramic view of the space's charming décor: teapots filled with red-tinged white roses on the tables, a giant white rabbit head with pointed ears extending past the vintage gilt frame around it, and a tumble of chairs, frames and cutlery suspended from a corner ceiling.
Six bar seats in this cozy restaurant, each lettered with names of Snow White's companions — Grumpy, Doc, Sneezy, etc. — offer views into the kitchen, where chef Alex Chaffin executes the Creole and Cajun-inspired menu dreamed up by Ten/6 owners Jill Davis and Taylor "TJ" Taylor, mother and daughter respectively.
For example, try the Vieux Carré (which translates to French Quarter) beignets piled with powdered sugar ($8), which local resident and New Orleans native Kathy Beechler proclaims "excellent."
Other breakfast items include beans and rice with andouille sausage, tasso ham and two eggs ($13) and brioche French toast with buttermilk whipped cream and a caramel rum reduction ($15). Add a cup of Evans Brothers' custom chicory coffee blend ($3.50), or let the good times roll with a cocktail like the passion fruit mimosa ($9) or bourbon apricot sour ($7).
For lunch, served from 11 am to 2 pm, go big on Big Easy classics like gumbo with potato salad and crawfish biscuits ($15), jambalaya ($15) or grits with red-eye gravy and smoked gouda ($15). Curiouser and curiouser about "Alice's Verdict?" It's one of two lunch salads, this one with rhubarb, butter-leaf lettuce and candied pecans ($10).
Another great place to sit is at the table smack-dab in front of the door, where nearly every entrant arrives with an expression of childlike delight upon seeing the eatery's whimsically charming décor.
And once more visitors experience the thoughtfully developed menu that gently introduces Inland Northwest diners to New Orleans-style food, we predict they'll go mad for this newly minted Coeur d'Alene spot. ♦
Ten/6 • 726 N. Fourth St., Coeur d'Alene • Open Tue-Sun from 6 am-2 pm • facebook.com/ten6cda • 208-930-0905