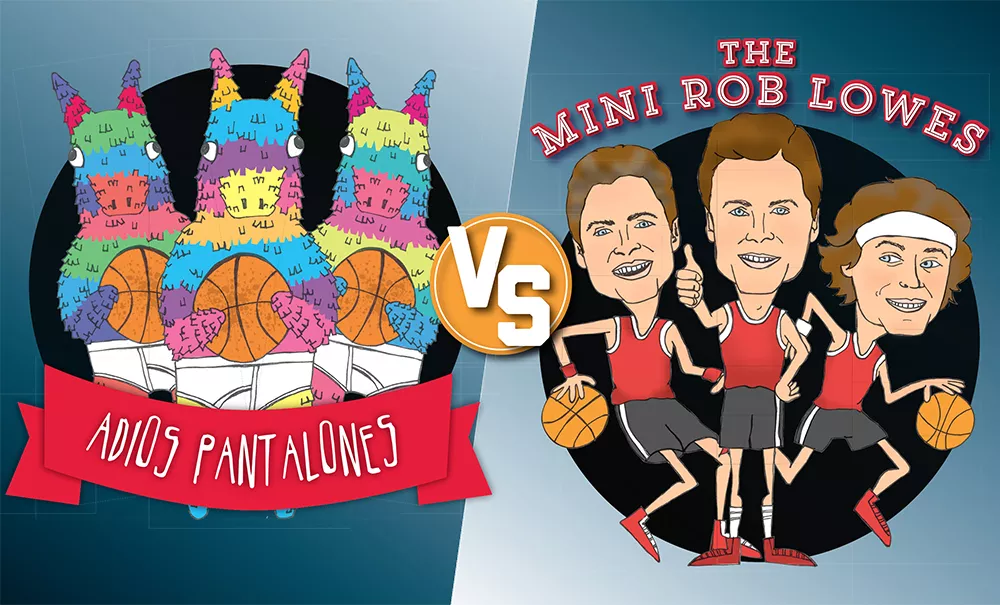 Adios Pantalones
It takes a special breed of baller to publicly proclaim his or her ability to, as announcer Bill Raftery likes to say, leave "a little lingerie" of the opponent on the court after a killer crossover. These guys take it to an extreme — opponents might want to wear suspenders.
Lebron's Hairline
Sure, LeBron James is a perennial MVP candidate, probably the best player on the planet and an incredible physical specimen. But the dude is follicly challenged, and no headband can hide that. Here's hoping this team sports do-rags or hats to stick with their theme.
Ric Flairs
Every woman's dream, every man's nightmare! The pro wrestler who inspired this squad's name is a stylin', profilin', limousine-ridin' beast as well known for his flowing locks and relentless style as his bravado. That's a lot to live up to for this team.
Mini Rob Lowes
We're guessing this name refers to the team members' boyish good looks. Or are they the "other Rob Lowes" we've been seeing every five minutes in those TV ads for... huh, what are those ads for? "Other Rob Lowe" is distracting, which may affect the opposing team's shooting percentage.
Pre Teen Wolves
Among all the cute kids' teams names, this is the best, simply because Teen Wolf is the most underrated basketball film in the history of cinema. Remember when Michael J. Fox turns into a wolf and then goes on a dunking montage for the remaining hour of the film? Priceless. If these kids play their games in werewolf costumes, they should automatically win the tournament.
We Plan To Try
If you find yourself matched up against this squad, that's probably a good thing. They're not going to win, but merely going to try. There is a very real chance that one of the players on this team bought their first pair of athletic shoes for the tournament. Good for them.
Tequila Mockingbird
Here's a little secret about Hoopfest — there's a lot of ancillary drinking happening after the games among the adult players. Thus, it was no surprise that the list of team names included a whole keg's worth of booze-themed monikers. This one was the best and by far the most literary.
Yao Know What I Ming
Kinda racist? Yes, absolutely, but also pretty funny, because Yao Ming is a funny guy. What's he up to these days? He should come to Hoopfest.
Uptown Dunk You Up
There is no shortage of puns on "dunk" this year, which is ironic, given that dunking is forbidden at Hoopfest, unless you're playing on Center Court. This reference to the hit Mark Ronson/Bruno Mars song gets extra credit for timeliness.
Four Guys Five Chins
We'll go ahead and guess that the guy or gal who's bringing the extra chin to the team is not aware that this is the name of that team. That is supremely mean, but as far as pranks go, it's not a bad one.
Kankle Breakers
Oh, the insult names. These are the tags that teams slap on themselves in the hopes that their boastful ways will lend them an advantage over their more humble opponents. Most of these include "your mom" at some point in the title. This one does double duty in insulting both your weight and your defensive ability. Pretty impressive. ♦