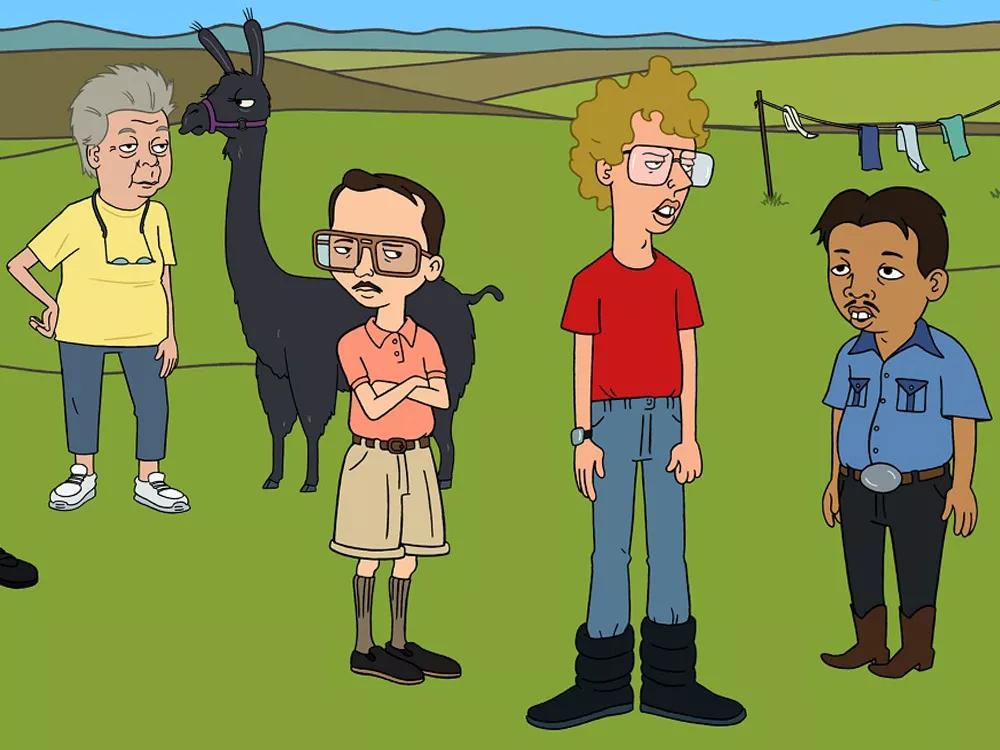 "Everyone knows there's only two important factors in compatibility," says Napoleon Dynamite to his friends, Deb and Pedro: "What's your favorite kind of hawk, and how many do you own?" Napoleon (John Heder) and his non-existent upper lip are back from the indie phenomenon that created a lexicon with words like "liger," "LaFawnduh, "gosh," "luckyyyy" and "idiot!" Heck yes, and within the first five minutes of his new animated series, the moonboot-wearing teenage pariah is already spawning new buzz words ("you do, you die!").
Amazingly, the entire cast of the 2004 film Napoleon Dynamite reprises their original characters. The magic, no doubt, would fizzle if unknowns voiced Napoleon's unruffled sidekick, Pedro, or Napoleon's older brother, Kip — the soft-spoken, spindly grandma's boy.
It's nice that Jared and Jerusha Hess, the couple who co-wrote and directed the film, are executive producers/writers for the FOX series. Former Simpsons show runner Mike Scully, accused by some fans of making The Simpsons suck from 1997 to 2001, is also on board. So there's that.
Whether Dynamite's innocent, geeky humor gets bullied beyond recognition in the reformation to rapid-fire cartoon banter (see: Family Guy) is the question. Unlike the movie — which featured sleepy, pensive pauses and awkward moments in the bumpkin-ish milieu of southeastern Idaho — the TV version can't rely on extended scenes of Napoleon's Happy Hands sign language club performing to a Bette Midler song.
Heder touched on this during a Good Day LA interview, in which he pointed out, "We actually have jokes … it's gonna be a weird hybrid."
On one hand, the revival of Napoleon's idiosyncratic mannerisms (his fantastically absurd run, his fetish for ninja weaponry) is gratifying and nostalgic. But the movie was a funny kind of nerdy: Rex Kwon Do's American flag karate pants, feeding casserole to a llama, etc.
Sometimes, the animated series is just nerdy without being funny.
This makes Dynamite feel like the goofy stepchild in FOX's animation lineup.
In all, if the producers can strike a clever balance between old and new — something only barely achieved in the first two episodes — then I'm willing to give our hero one more chance as he tells Deb, "Better hang on. This is gonna be awesome."
Napoleon Dynamite (Sundays, 8:30 pm, FOX)
TIVO-WORTHY
An Idiot Abroad 2: The Bucket List
Creator Ricky Gervais calls this jetsetting romp his "grand experiment." His chum, reluctant globetrotter Karl Pilkington, calls it "a torture session." They must be doing something right: Gervais's brainchild is the Science Channel's highestrated series, ever. The second season of Idiot is like the Bucket List movie with Morgan Freeman, but better, because it's British. (Premieres Saturday, Jan. 21, at 10 pm on Science)
Touch
Considering his new role as the emotionally vulnerable, single father of a misdiagnosed autistic boy whose mathematical genius enables him to predict the future, you could say this is Sutherland's mid-life crisis show. Filming for 24, the movie, doesn't start until later this year. (Premieres Wednesday, Jan. 25, at 9 pm on FOX)
Inside Comedy
Love Spaceballs and The Three Amigos? This episodic documentary spotlights seasoned comedians including Martin Short, Jerry Seinfeld, Billy Crystal and Mel Brooks. Produced by Steve Carrell (The Office), it's like the orgy lovechild of funny people. (Thursdays, 11 pm, Showtime)