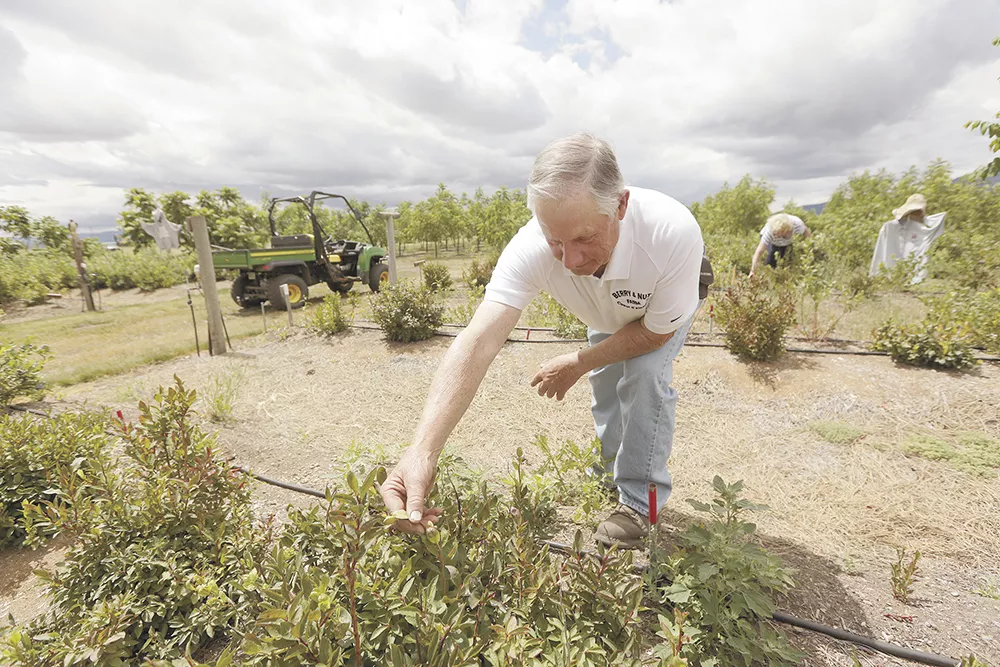 Joe Culbreth admits he's been out "huckleberryin'" only once in the past decade.
Back in the day, he'd set lofty goals to harvest at least 10 gallons each summer, scouring the North Idaho mountainsides near Fourth of July Pass for the tiny purple gems.
Despite the self-described huckleberry enthusiast's recent lack of attention toward the mountain's berry bounty, Culbreth is now celebrating a remarkable huckleberry milestone. After six long, patient years, the 77-year-old farmer is seeing berries for the first time on some of the more than 1,200 western huckleberry bushes he's planted on his North Idaho farm, Culbreth Berry & Nut Farm outside of Rathdrum, Idaho.
"It's been tough to get the huckleberries to do anything, and now this year they did, and I can't put my finger exactly on why," Culbreth says. "Is it the size? The weather? The soil?"
After retiring in 2001 from a career as a computer systems analyst, Culbreth decided to try his hand at farming, buying the farm plot in 2007, a piece of land that was nothing but weeds. Today, his farm produces blueberries, blackberries, grapes, cherries, apples, several nut varieties — and now huckleberries — across 15 acres.
Though he knew it would take years for the carefully tended juvenile bushes to produce, he'd just about given up on the idea of trying to mass-grow the highly sought-after berries. When bushes would die off over the winter, he'd replant new ones. This spring, he didn't.
"I said, 'They have to go. All the huckleberries have to go, and I'm going to just stick with blueberries,'" Culbreth recalls. "But then I got flowers and huckleberries — I scared 'em. They produced! You can imagine what I'm going to tell them next year," he laughs.
Most of the now-fruiting plants were put into the ground six years ago as tiny seed starts that Culbreth procured from the Tekoa, Washington-based nursery Plants of the Wild. Others came from a University of Idaho agricultural research nursery in Sandpoint, where for more than a dozen years, a team led by horticulture specialist Dan Barney worked to unlock huckleberries' secrets of domestic propagation. Though some success with fruiting bushes was observed by the now-defunct program, the huckleberry still doesn't appear ready for commercialized farming. With his first year of berries, Culbreth might be on the path to huckleberry farming success, though it's still early.
For now, berry lovers still have to hike up into the woods, plucking away for hours to get their fill in both bellies and buckets. Even if horticulturists do succeed in creating a domesticated huckleberry plant, there are arguably those who will still choose the wild, natural route.
All of these reasons and more also explain why the tiny, stubborn berries have become elevated to an almost mythological quality here in the Western U.S. Never letting us in on the mystery of their finicky growing requirements, even experienced backyard gardeners are likely to have poor results when trying to get a bush planted from wild huckleberry seeds to produce fruit.
At Plants of the Wild, where Culbreth bought most of his starts, employees haven't heard of any other operations in the region that have managed to pull off what the Rathdrum farmer has.
"We hear back every once in awhile of people being able to keep the plant alive, but not so much for berry production," says Plants of the Wild nursery manager Kathy Hutton. She adds that most customers who buy the company's huckleberry starts are small-scale home growers.
"We sell to them with the caution that it's very difficult to produce berries other than in a natural area, but people want to try anyway because they are curious, and they want to figure out the solution," Hutton adds.
Plants of the Wild also sells bush starts to the U.S. Forest Service and other federal wildland agencies for plant remediation projects in disturbed forested areas damaged by fires or other causes.
Growing up in North Carolina — host to a different species of huckleberry than what you'll find in the West — Culbreth has fond memories of berry picking as a child.
"I've eaten huckleberries for a long time, and I've always loved 'em, and I thought 'I'm gonna grow some,'" he says. "I was looking for something different. I don't like to do what everyone else is doing, and I love huckleberries, and everyone in the family loves huckleberries."
A careful student of his largely uncharted discipline, Culbreth has taken into account factors like the soil pH, bringing it down to levels found where wild huckleberries grow. He also gives the bushes more water and fertilizer than they'd get in the wild, with the hopes they'll favor those conditions in their current setting.
It may be too soon to tell for sure whether Culbreth's huckleberries will continue producing on a consistent, wide scale, yet already, the fact that it's not just one bush here and one bush there producing the berries this summer is a promising sign. Walking down the raised rows of berry bushes, he parts the branches to reveal a few deep purple orbs hiding among the waxy leaves.
"A lot of times you won't see them on the top — you have to look down inside," he indicates. "These aren't very big and not very pretty, but they're berries."
Planted alongside the huckleberries are taller, branching blueberry bushes, heavy with clusters of indigo orbs. Culbreth has planted them alongside in an attempt to help shade the stouter huckleberries, which grow wild in the shade of evergreens. Japanese heartnut, peach and apple trees interspersed along the rows also provide some protection to the huckleberries.
While he's still astounded to see his plants producing the elusive berries this season, one looming issue concerns Culbreth. So far, the berries are much more tart than any specimens harvested from the forest. It's not the taste he's looking for.
Improving the flavor will determine if and when Culbreth can harvest and sell the berries commercially, likely to area restaurants and food producers. For the rest of the season, he'll focus on one day at a time, observing the bushes and continuing to taste-test to find that perfect mix of tart and sweet.
"If we can't get that huckleberry taste, I don't have a market," he says. "But we're over the big hurdle. We can get berries now," he adds, joking: "Maybe I'll come out and sprinkle sugar around every night." ♦