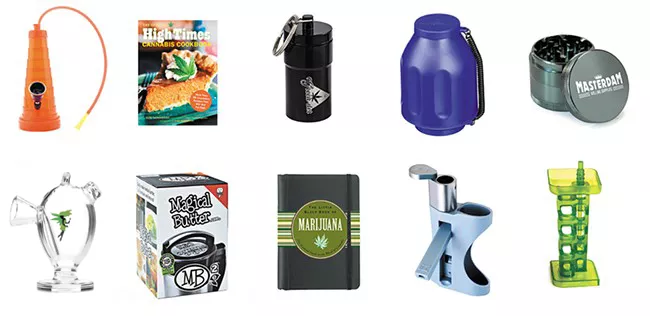 HANDY HOOKAHS
It's a common complaint: Smoking out of a hookah is great, but what good are they for a stoner on the go? Your prayers have been answered. These collapsible hookahs from Maxfashion start as pocket-sized plastic discs that essentially unstack into a smoking device that's about 8 inches tall. Think of it as a nesting doll, but one you can smoke out of. Online user reviews say it's durable and easy to use (it also comes with a set of cleaning brushes and screens). But be aware that, despite its portability, it's not exactly discreet. $15 (NATHAN WEINBENDER)
GOT THE MUNCHIES?
For the pot lover and foodie in your life, The Official High Times Cannabis Cookbook would make a perfect gift. Published by the monthly magazine that's been around since 1974, it teaches you the basics — how to make pot-infused butter, for instance, and the best kinds of tinctures and oils to use for specific dishes — but also boasts a variety of recipes both fancy (pot-and-pancetta-stuffed beef tenderloin) and not (Cheeto fried chicken, anyone?). Make everything from cupcakes to cocktails, as well as dishes that should make your next Thanksgiving a little more interesting. $19 (NW)
CACHE FOR YOUR STASH
Everyone's got a preferred place for stashing their bud — in antique cigar boxes, those bottles with false bottoms, or even old plastic film canisters. These durable stash jars from Green-Der might just be your new go-to, and because they're waterproof and have handy keychains on them, they'd be perfect for any outdoor enthusiast. They're airtight, too, so not only will your stash stay fresh, the smell won't get out. Each canister fits about 3 grams of pot, and you can currently snag two for $16 online. (NW)
WHERE THERE'S SMOKE...
If you're a regular weed smoker but want to avoid smelling like one (or maybe you've got roommates or nosy neighbors who aren't down), then you really should be using SmokeBuddy air filters. Next time you're enjoying a joint, just blow directly into the filter; the smoke that emerges from the other end will be as fresh as a spring breeze. The SmokeBuddy is available in a few sizes — from the mega, which fits comfortably in your hand, to the pocket-sized junior — and in enough colors to accessorize with just about anything. $15-$40 (NW)
GREAT GRINDERS
Masterdam Rolling Supplies is located in (no surprise) Amsterdam, and their herb grinders can't be beat. Both two- and four-piece grinders are constructed of aerospace-grade, precision-milled, hard-anodized aluminum. A nonstick nylon ring ensures a smooth, high-quality grind, and razor-sharp, curved diamond teeth cut and shred your green with ease. Powerful magnets of neodymium, a rare-earth metal, ensure that the lid will never come off accidentally, and a micron screen sifts the pollen. Easily cleanable, it's the best grinder (at the best price) you'll ever own. $17-$35 (MICHAEL MAHONEY)
MY FAVORITE MARTIAN
Sharing a joint with a friend — or friends — is great. The only downside? It can be a little harsh. The solution? The Martian, a miniature water pipe, aka a "blunt bubbler," that can accommodate a joint, blunt or cone — any rolled smokable. $18 (MM)
NOW THAT'S COLD
It doesn't get any more chill than smoking out of the Frost Pipe. A silicon mold enables you to make your own pipe from ice. Can you imagine a more refreshing way to smoke? Just fill the mold with water — or any liquid substance that will readily freeze — wait 6 to 8 hours, and you've got yourself the coolest pipe on the block. It comes from Dragons from Mars Industries in Saskatchewan, where you could dispense with the freezer and just leave it outside overnight. $25 (MM)
LET'S ROLL
Not all smokers have the sleight of hand to cleanly roll a joint anytime or anywhere. Pufftec's Sculpt insures that you're able to roll a joint in the tightest places easily. The malleable leather serves as a rolling plate when you're out and about, and this classy piece is a nice, innocuous addition to any set of keys or backpack. $42 (TUCK CLARRY)
EZ DOES IT
Ski and snowboard season's not far away, and catching a buzz on the slopes can be problematic. Enter the EZ Pipe, an all-in-one smoking device that's windproof and virtually smokeless. Made of acrylic, anodized aluminum and stainless steel, it fits a Bic lighter. The top piece, held in place by a magnetic plate, is replaceable. Fill the bowl and snap shut the swivel lid; the flame enters through a small hole, and a silicone mouthpiece folds out of the pipe's side. Cleaning is easy, with a poker that snaps into the pipe's underside. $10 (MM)
LEAN & GREEN
Ham-handed smokers rejoice! The Lean Green Wizard Cone Filling Machine has the foolproof cone filler to load your quarter-inch and king-sized papers without the typical mess. The stand-up rig comes with a disposable tray, magic wand and indestructible grinder to seamlessly fill those cones to the brim. $15 (TC)
GANGA GUIDE
Get a crash course on cannabis with the The Little Black Book of Marijuana. This handy little guide, written by longtime marijuana journalist Steve Elliott, known for the blogs Toke of the Town and Toke Signals, covers the history and cultural aspects of cannabis while also offering a solid background that enables readers to better understand medicinal aspects of weed legalities, cultivation and cooking. The travel-size book offers a bounty of information useful for the kings of cannabis and greenhorns alike. $10 (TC)
BETTER BUTTER
When making edibles or extracts at home, getting the rendering and processing down right can be an intimidating task. You're wary regarding how well the potency carried over, if you timed everything right, or if the temperature was accurate. Add the Magical Butter Machine, a countertop extractor, to your cannabis kitchen and rest assured that you'll make butter, oils, tinctures, topicals and infused products with the best of them. The machine comes with a hot glove, strainer and a year-long warranty. $175 (TC)