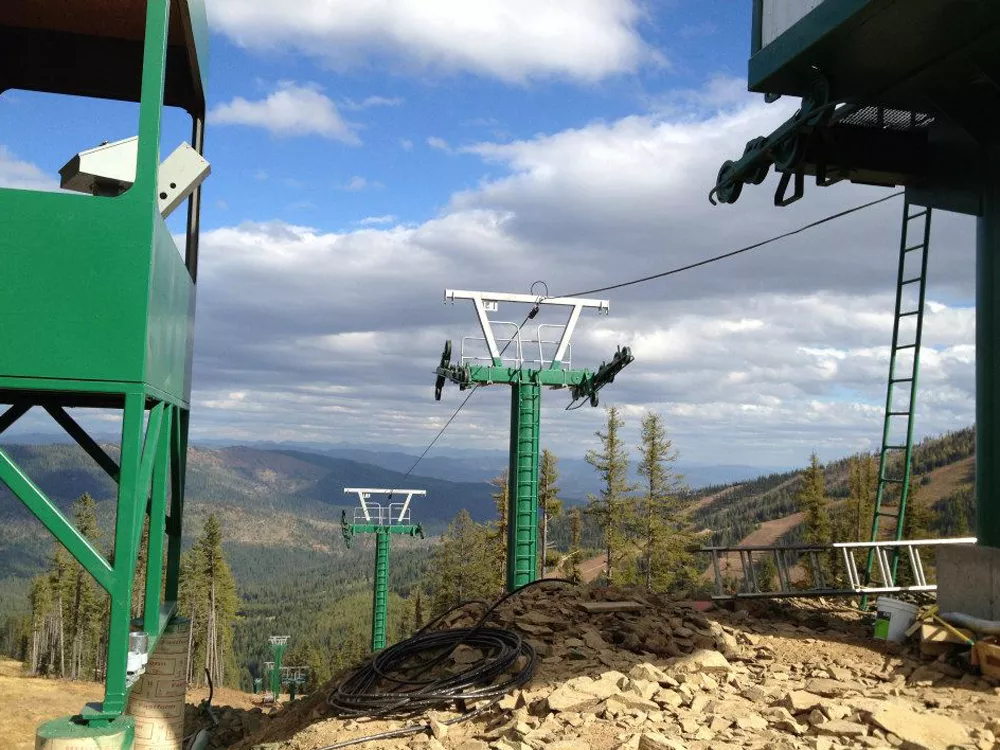 Anyone in need of a new ride, take note: Northeastern Washington gets a new chairlift this season. Ski resort 49 Degrees North is opening a lift on Angel Peak, a sub-peak of the Chewelah Peak, where the resort originated.
"It opens up a whole bunch of new terrain and new trails," says resort owner John Eminger.
The lift comes as an addition to a 2009 project that opened up skiing on Angel Peak, which lies northwest of the Chewelah Mountain summit. For the project, 60 acres of Angel Peak were used to create seven new runs, and 170 acres of trees were thinned to create more of the resort's gladed terrain. The chair lift project began in 2007 by laying out ski runs. The trails were developed and logged in 2009 and 2010.
The lift, a double-chair that will ascend 1,450 feet, is actually a combination of two lifts that came from resorts in Colorado and Utah. It's costing "a couple million dollars" to purchase and install, Eminger says.
When completed, it will take eight and a half minutes to ride to the top, Eminger adds, and will also help the ski patrol move around to deal with service calls.
"It brings a nice family dimension but with some extra glade skiing," he says, and it also adds a southeast aspect — meaning down-hillers will be able to look across to the original resort on Chewelah Peak.
"Any time anyone stands on Angel Peak they go, 'Oh my gosh, look how big that is,'" Eminger says, referring to Chewelah Peak. "And you see these little teeny people skiing."
Workers — including Eminger's son Ben — are currently weaving together the new lift's steel cable, which will carry 180 chairs capable of transporting about 1,100 people per hour. This lift will be the resort's seventh.
"It's a great addition to the ski resort," he says. "I'm really looking forward to it."
Beyond the logging and assembly, Eminger touts the lift's economic impact. In order to power the lift, Avista spent money to upgrade the power lines in the lift area.
"Which is cool," he says.