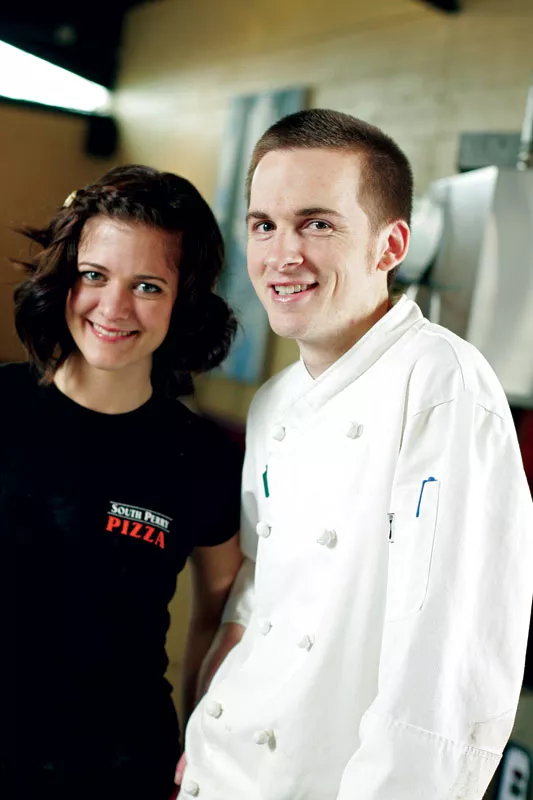 Sometimes neighborhoods spring up with ease. Others need a little nudge. The South Perry district was one of Spokane's first Centers and Corridors projects, started in 2001, to revitalize neighborhoods.
South Perry has a rich business history — a lumber mill once thrived near Grant Park. Grant School, first opened in 1900, is still educating neighborhood kids, albeit in a new building. So while it was looking a little tattered when Centers and Corridors started, South Perry was just the type of neighborhood Krista Kautzmann was looking for when she opened South Perry Pizza. And the Centers and Corridors project meant help navigating the bureaucracy that comes with opening a restaurant.
Kautzmann defined South Perry Pizza's purpose early on, easily quoting its mission statement: "We offer an inviting atmosphere in which to enjoy affordable, quality, artisan pizza, while fostering a sense of community by providing a gathering place for neighbors, family and friends."
During the dark days of winter, the woodfired, open-flame oven and open kitchen concept create a cozy, bustling respite from the weather. With springtime, the restaurant's two glass garage doors go up and dining spills out onto the sunny patio.
Though the restaurant opened in December 2009, Chef Chris Dietz and Kautzmann, both Lewis and Clark High School graduates, have known each other since elementary school. Dietz attended the Inland Northwest Culinary Academy at Spokane Community College, and Kautzmann has a Spanish degree from Western Washington University. They made a decision to remain in Spokane for their careers.
"Spokane has been a pleasant surprise. It's almost like discovering a new city, but not having to learn your way around," says Kautzmann. "There are so many great restaurants and venues around town. Plus, after four years on the coast, sunshine is always welcome."
Being an integral part of the new neighborhood was always part of Kautzmann's plan. She takes pride in South Perry Pizza's support of Grant Elementary, just one block away, where 85 percent of the student population qualifies for free or reduced-price lunches.
"We do a quarterly Grant School night from which a portion of our sales are donated to the school," says Kautzmann. South Perry Pizza also sponsors Grant's Walk-A-Thon each spring. She adds, "I think it's important that they know their community cares for them and is invested in their success."
The menu is not complicated, and special attention is placed on details. "All of our menu items are made in-house: dough, sauce, croutons, dressings and most desserts," says Kautzmann. "We also support the South Perry Farmer's Market. Chef Dietz purchases local produce to feature on our pies."
She continues: "We are happy to share what is on top of our pizzas, and we use Shepherd's Grain flour." But that's where things get a little mysterious. "The crust recipe is a 48-hour process and South Perry Pizza's own recipe," is all Chef Dietz will reveal.
So is eating healthy a challenge in their profession? Exercise helps create balance. Dietz is often seen riding his bike to work and is an avid paintball competitor.
"I try to eat well, but being around pizza constantly does provide a challenge," admits Kautzmann. "People always ask if I get sick of it, but unfortunately I do not. To balance my high carbohydrate/cheese consumption, I try to run a few days a week. I did hot yoga three days a week all winter and continue to do so once or twice a week now. The practice is so challenging, but also satisfying on mental, emotional as well as physical levels."
Just like South Perry Pizza.
South Perry Prosciutto Pizza
12 ounces pizza dough
1 Tablespoon plus 1 teaspoon olive oil
3/4 cup whole milk mozzarella, shredded
4 slices prosciutto, finely cut
1/2-2/3 cup mascarpone
1 cup arugula
12 grape tomatoes, halved
Preheat oven to 500 degrees Fahrenheit. Stretch pizza dough to 1/8-inch thick. Turn a baking sheet upside down and lightly flour. Place dough onto floured surface. Brush olive oil over the dough leaving a half-inch perimeter dry. Cover olive oil with shredded mozzarella. Sprinkle prosciutto evenly over the cheese. Drop the mascarpone in spoonfuls over the prosciutto. Slide pizza onto a pizza stone or place the entire baking sheet in the oven if you don't have a stone. Bake for 10-12 minutes until desired color and crispness are achieved. Top with fresh arugula and tomatoes.
SERVES: 8 slices
NUTRITION: 248 Calories, 8g total fat, 31g carbohydrate, 12g protein