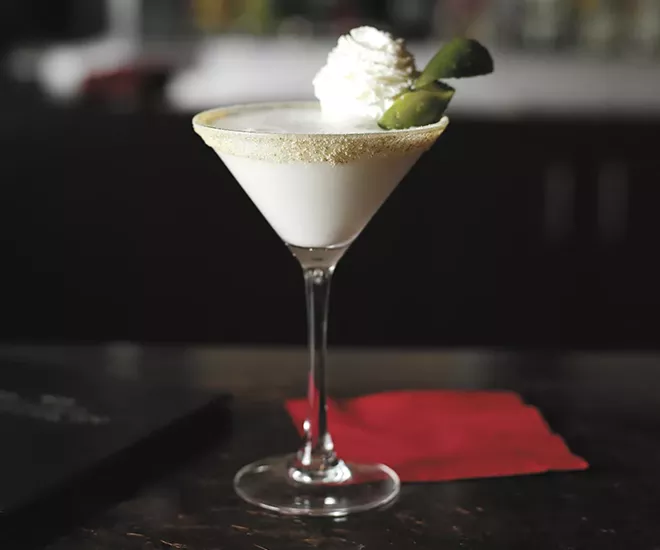 As someone who's eaten popcorn for dinner and called it satisfying, I'm probably not the best tour guide for haute cuisine. Yet when it comes to looking for adventure — as in getting out and trying new things — I'm there. The following items, from a French food staple to a gussied-up dessert often found in convenience stores, are the sorts of items you'll always remember trying, especially when shared with someone you enjoy. It's OK that these options don't perfectly fit together as a cohesive meal, and that the 30-minute drive from North Spokane to Spokane Valley isn't ideal. The perfect meal is about going out of the ordinary. So what are you doing right now? You can Netflix and chill tomorrow.
BEVERAGE
Key Lime Pie Martini ($8.50)
BISTANGO MARTINI LOUNGE
108 N. Post St., 624-8464, bistangolounge.com
The traditional martini is all alcohol with an olive. Of course, that's a harsh taste for many, and that's where the Bistango Martini Lounge, located downtown since 2005, can help out. With pages and pages of options to choose from, the dimly lit lounge offers vibrantly sweet, sour, bitter and even spicy martinis. The tangy delight of the Key lime pie martini in particular is so satisfying you could probably down it in a gulp and ask for two more. That can easily be accommodated as the beverage — made with a vodka base, fresh Key lime juice, cream, a splash of orange liqueur, rimmed with a graham cracker crust — is one that manager Ryan Crow says he makes all the time and only takes a few minutes to whip up.
APPETIZER
Frog Legs ($6)
1898 PUBLIC HOUSE
2010 W. Waikiki Rd., 466-2121, kalispelgolf.com/dining
Located at the Kalispel Golf and Country Club, the open-to-the-public 1898 Public House offers up some of the most thrilling appetizers around. Executive Chef Tyler Schwenk, formerly chef de cuisine at Beverly's at the Coeur d'Alene Resort, has made a menu that toes the line between pub food and fine-dining classics. His take on frog legs especially fits that mold. These legs aren't the traditional French preparation — coated lightly in flour and seared in butter — and this offers people a chance to try the meat in a more approachable context, paired with chipotle remoulade and lemon garlic aioli sauces. This particular amphibian, plated on a bed of arugula and flower petals, comes with a thicker breading and is already opened at the joint for easier handling. Those rumors you've always heard are true; frog legs do taste like chicken, but with a slightly fishy texture.
ENTRÉE
Tikka Masala with Paneer ($13)
TOP OF INDIA
11114 E. Sprague Ave., Spokane Valley, 927-0500, thetopofindia.com
It's been simmering since morning. The ingredients in the tikka masala curry — milk, yogurt, garam masala, coriander, ginger, garlic, turmeric, cinnamon and tomatoes — must fuse together to create yet another flavor of their own. Once a Top of India customer orders the dish, the spice level and protein choice is added individually. "Our sauces are thick, creamy and savory because of the cook time," says Jas Purna, who has owned the restaurant along with his mother, Manjit, since 2004. These are her recipes, and Jas says the tikka masala at Top of India is probably more tomato-heavy than others. When paired with paneer, a dense cow milk's cheese made in-house, the dish isn't dissimilar to an Italian dish, with a whole lot more explosive flavor and served with basmati rice. As for spice level, you could choose mild, but tonight you want adventure. Maybe this time, you go one step above what you think you can handle.
DESSERT
Coffee & Donuts ($7)
THE BLACKBIRD
905 N. Washington St., 392-4000, theblackbirdspokane.com
Fresh-fried donut holes served with a coffee-infused chocolate dipping sauce. That sentence speaks for itself, as Head Chef Molly Patrick is well aware: "The donuts are one of the most approachable items on our menu, which makes it one of our most popular." Patrick, along with pastry chef and baker Sophia Yost, comes up with the ideas for the restaurant's dessert menu, and this Blackbird dessert is one of the best in town. It's warm and sprinkled in sugar, but not too saccharine and not too chocolaty. For those not entirely enthralled with dessert, this hits the exact sweet spot. Open since last summer, and owned by the same folks behind Manito Tap House, the Blackbird offers a lot of excellent meal choices, but you'll almost want to forgo all of them just to get these donuts in your mouth. ♦