Great food at reasonable prices with generous portions: that's any diner's idea of happiness. At Happiness Chinese Restaurant, that's exactly what you'll be served: a bellyful of joy.
Happiness opened quietly in October, on the site of the former Peking Garden. The new owner, Kingsley Chen, is also the chef, and his sister Natalie will be your waitress.
"He makes the food from here," she says, pointing to her heart. "He wants his food to make everyone happy."
Kingsley's English is still a work in progress, so his sister explained that he had worked at their uncle's restaurant in Portland for 11 years before moving to Spokane. He cooks with fresh ingredients, and "there is no MSG anywhere in the kitchen," Natalie says with sisterly pride.
Meals come with a complimentary pot of hot tea and most include soup; the egg flower soup is good, but the hot and sour soup is a knockout, not to be missed.
The meals themselves are also much better than the standard Americanized Chinese fare, and are served with a helping of perfectly prepared rice. Most of the dinner meals are under $13, and lunches are $7.95 and $5.95. The $7.95 lunch special includes soup, spring roll, pork fried rice, fried wonton, and a choice of two entrées.
Dinner portions are huge, and even big eaters will have enough leftovers for a hearty lunch the next day. Takeout food is prepared when the customer comes to pick it up, ensuring freshness. The food is delivered in minutes, and takeout diners are offered tea while they wait. The restaurant is spotless and welcoming.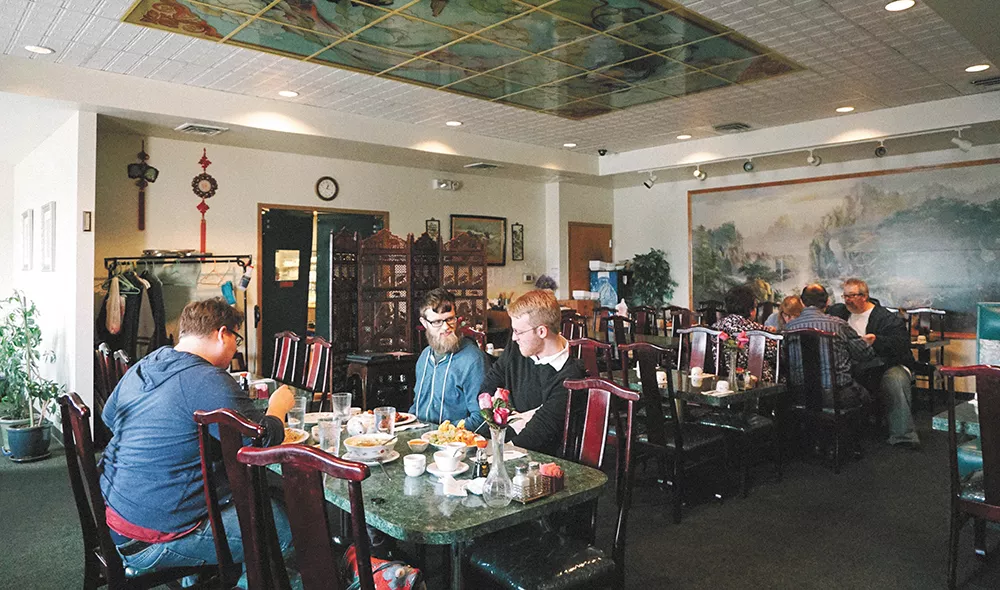 Strictly for research purposes, I've eaten at Happiness three times since a friend tipped me off to its charms. Standouts include the green bean chicken, the sizzling shrimp, and Szechuan tofu. The hit of the day was the sizzling shrimp, served with a faceful of steam as the waitress poured the ingredients onto the hot serving platter. The whole room filled with an intoxicating aroma. ♦
Happiness Chinese Restaurant • 3420 E. Sprague • Open Sun-Thu, 11 am to 9 pm; Fri-Sat, 11 am to 11 pm • happinesschinesespokane.com • 534-2525