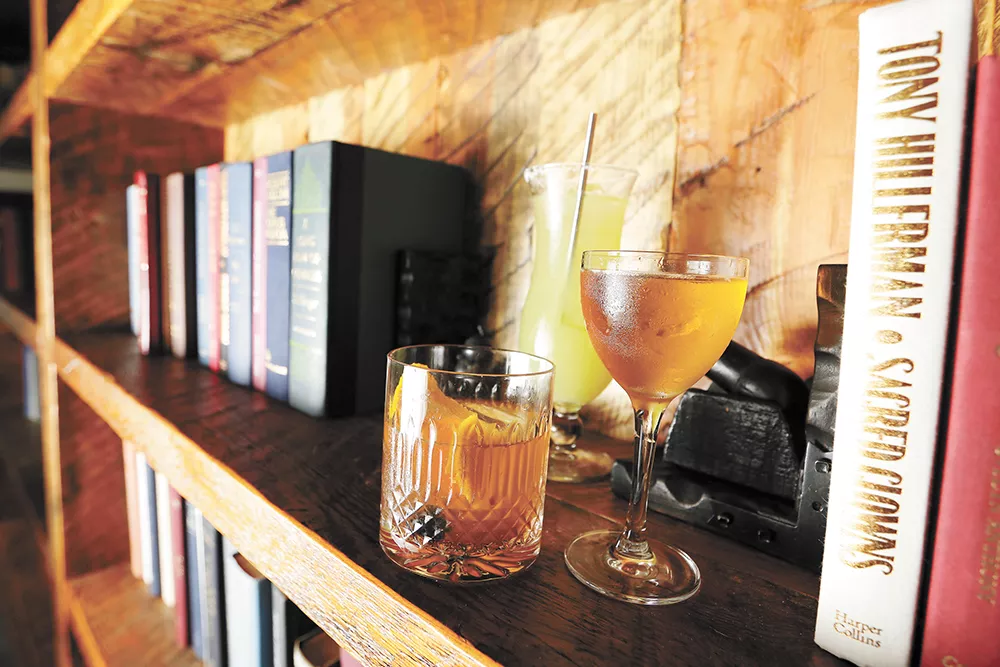 True to the tradition of Prohibition-era speakeasies, it can actually be a little difficult at first to find Scofflaws Book Club, one of downtown's newest cocktail bars.
First of all, the bar has already changed its name after receiving a cease-and-desist letter from Scofflaw bar in Chicago for alleged trademark infringement.
"We're gonna have to change the name," owner Bryan Harkey says. "It's not gonna be fun, but I don't have the time, money or effort to have a lawyer fight it."
So now, you'll be looking for Cease & Desist Book Club.

[Editor's note: The name change was in motion as this story went to print, when Harkey said he was going with "Riverside Book Club." The day our issues started hitting stands, he announced the new name as "Cease & Desist." Most instances of "Riverside" have been changed or removed in this story online to reflect the change.]
The key is not to focus on the bar's address at 108 N. Washington St., but instead to wander around the corner onto Riverside, where you'll find a plain storefront marked S. 100. There, through the glass windows, you'll see a wall of bookshelves and know you're close.
It's pretty simple to figure out which shelf opens to reveal the bar (Hint: it's the one with fake books), but Harkey says he's still finalizing the design to make sure people know how to get inside. The early days of the bar's soft open saw some would-be customers wandering around outside the building.
"You'd think that people wouldn't be so confused, because it's called [Cease & Desist] Book Club and there's a giant bookcase, but there's no sign so people are having a hard time," Harkey says. "We're leaving it open a little until we get it all done."
While there are plans for a grand opening later in the month, patrons can already gather in the bar's green "library-style" booths between 2 pm and 2 am daily.
Inside, massive portraits of Ernest Hemingway and Charles Bukowski decorate the walls and drinks are served in elegant chiseled glassware at the black poured-concrete bar.
On the menu, guests will find many house concoctions that put a refined twist on classic cocktails. Take, for instance, the Riverside Old Fashioned ($10), which features house-made coconut-infused Old Forester bourbon, Clear Creek eight-year apple brandy, and spiced almond syrup. Garnished with a classic orange peel and served over a gentleman's cube, the drink hits the classic notes with a warm but subtle coconut flavor that lingers after each sip.
The bar's current seasonal menu offers several options for those who like to imbibe in something a little sweeter and fruitier. The High Five ($9) is a bright mix of Damrak Gin, Aperol, grapefruit, lime and simple syrup, while the Kentucky Maid ($9) is essentially a mojito made with whiskey instead of rum, featuring Elijah Craig bourbon, lime, simple syrup, mint and cucumber for a refreshing finish.
The plan, Harkey says, is to feature a rotating selection of house infusions and syrups on the menu as he feels inspired to create them. Right now, there are four bourbons, each infused separately with coconut, Thai chili, fig and apricot, as well as a variety of syrups made from fresh fruit, such as honeydew.
Harkey tended bar for a handful of years before spending the last seven or so years working as a liquor and wine distributor for Young's Market Company. There, he learned a lot about wine and spirits, and eventually felt inspired to open his own place.
"I quit my job, where I was successful and had benefits, to open my own bar," Harkey says with a chuckle, "because I needed more stress in my life."
Happy hour is from 2-6 pm, when the three draft beers can be found on special for $4 and the three draft cocktails (currently variations of a boulevardier, a margarita and a cosmopolitan) are on special for $7. Buffalo Trace infused bourbons are also discounted at $6.
Eventually, regulars might even be able to sign up for their own library card, offering them access to specials and discounts.
For now, despite the trademark issue, Harkey says he's happy to be open, with staffing and the overall setup (fancy wallpaper finishing and dimmer lighting are in the works) for the brand new nightlife spot getting finalized in coming weeks.
"It sucks because I've wanted a bar named Scofflaws for several years now," Harkey says. "But we're going to move on. My friend was joking with me that I should change the name every several months." ♦
Cease & Desist Book Club • 108 N. Washington St. • Open Mon-Sat 2 pm-2 am; Sun 6 pm-2 am • facebook.com/ceaseanddesistspokane (for now) • 413-1069