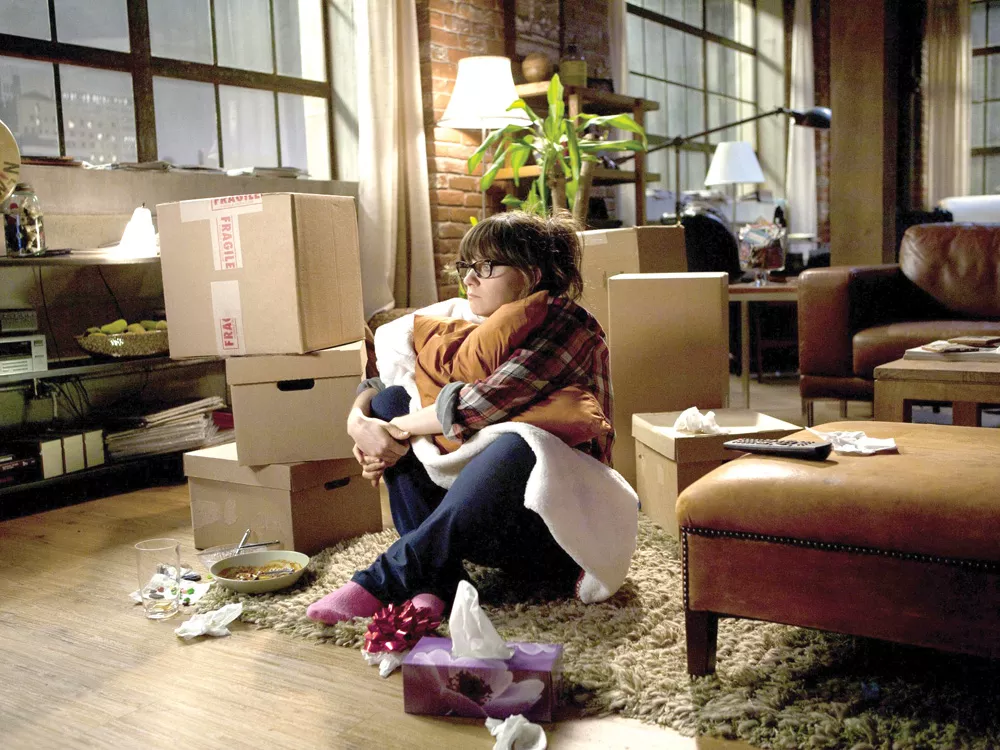 When a movie star goes on hiatus to star in a sitcom, it makes me squeamish. Sure, watching Kat Dennings lampoon a pair of hipsters in Episode 1 of Two Broke Girls was delightful. But after her breakout role in Nick & Nora's Infinite Playlist, Dennings' raw prowess seems downgraded alongside a forgettable cast and cheesy laugh tracks in Broke Girls.
Not so with Zooey Deschanel in New Girl, which premiered as FOX's highest-rated fall sitcom debut in 10 years. The "Naked" episode airing Nov. 1 doesn't disappoint.
I figured that as an "adorkable" elementary teacher who moves in with three dudes after her boyfriend cheats on her, Jess Day (Deschanel) would be an exhausted reprisal of Deschanel's recurring typecast (the off-beat, beautiful quirky girl who listens to obscure indie music and shops at second-hand/vintage stores), like in Yes Man and 500 Days of Summer.
But like a ducky Barbara Streisand in What's Up, Doc? Deschanel is effortlessly likeable with her sparkly, Lucille Ball eyes and a self-awareness that feels organic.
"Believe it or not, that's not the first time someone has broken my feeling stick," she chirps at moody roommate Nick (Jake Johnson), who snapped the object in two.
Fishing around a Mary Poppins-ish tote, Jess assures, "I have a travel size."
The show's potential kryptonite, however, is its own predictable formula: roommate sex seems inevitable and, when it happens, the ensuing awkwardness takes a page out of the every-sitcom playbook.
New Girl is capable of overcoming clichés, but a few elements need polishing.
Firstly, Day's gregariousness is best taken in measured doses. Take The Office's Michael Scott, or Glee's Sue Sylvester. Their irrational antics are often overblown to the point of cringe-inducing obnoxiousness. A protagonist's eccentricity packs a cleaner punch in smartly inserted snippets — like the subtle, well-timed reference in Episode 2, where roommate Schmidt (Max Greenfield) likens Day's style to Helena Bonham Carter.
Secondly, storylines for supporting cast members, like Jess's BFF Cece, should be explored. Consider, for example, the recent "Pawnee Rangers" episode in Parks and Recreation, which spotlit a hilarious subplot featuring characters Donna and Tom.
Thirdly, to whomever decided it would be ironically funny for wannabe player Schmidt to spout archaic '90s drivel: That shiznit was off the heasy in 10 Things I Hate About You, maybe, but damn, home skillet… let's update the colloquialisms.
(Tuesdays, 9 pm, Fox)

---
TIVO-WORTHY
Rock Center with Brian Williams
Stoic white people reading the news will take over The Playboy Club's timeslot now that it's canceled. (Happy, Parents Television Council?) With veterans like Kate Snow and Harry Smith comprising an all-star anchor lineup, this edgy, primetime news magazine could be the Cadillac margarita of nightly journalism — in spite of that stupidly punned title. (NBC, premieres Oct. 31, 10 pm)
Allen Gregory
If you enjoyed Jonah Hill's fast-talking, acerbic humor in movies like Super Bad and Funny People, check out his all-new animated series about a pretentious, 11-year-old boy weathering elementary school for the first time. Hill created and stars; French Stuart, Leslie Hill and Will Forte lend their vocals. (FOX, premieres Oct. 30, 8:30 pm)
Parks and Recreation
A new iconic boss is filling the Michael Scott void. It's Ron "f---ing" Swanson, the nine-toed, mustached libertarian whose work apathy is rivaled only by his love for deer jerky and whittling. If you brushed off Parks after a few so-so episodes in Season 1, Season 4 is kicking ass. (NBC, Thursdays, 9:30 pm)