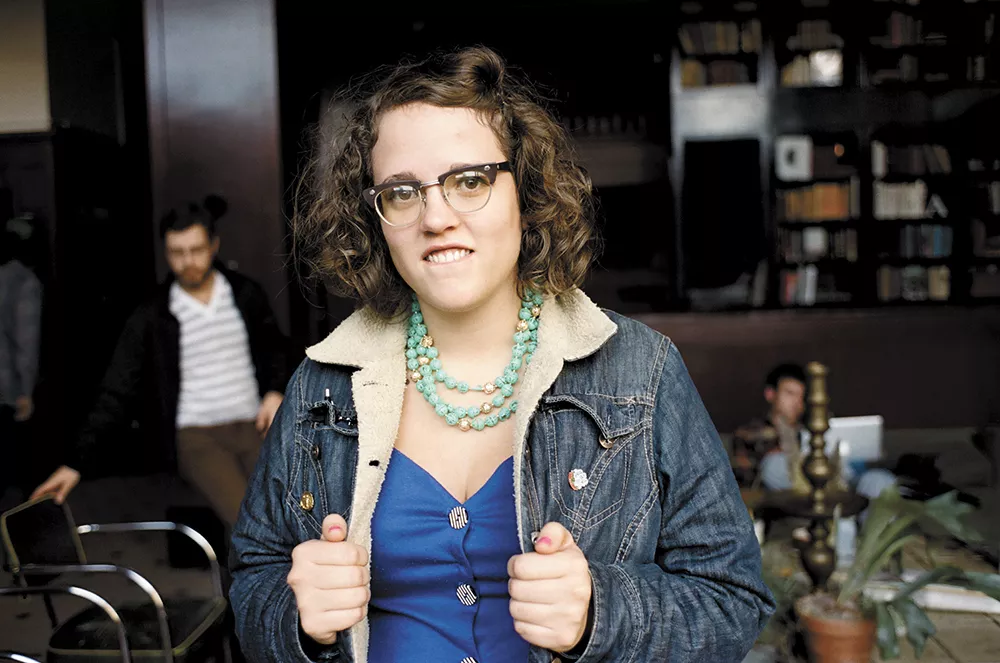 On tour in France last month, Sallie Ford's voice was breaking like a pubescent teenage boy's. She found herself unable to sing more than one octave. Laryngitis had settled in. Her band, Sallie Ford and The Sound Outside, was forced to cancel three dates while she recuperated with drugs and bed rest.
"That was the first time I ever had laryngitis," Ford says over the phone after landing in Portland earlier this week.
The illness also happened to hit during Thanksgiving.
"I Skyped with my family back home but I couldn't even talk, which sucked, so I just kind of pointed and smiled," she recalls with a laugh.
Back in full form, Ford is ready to take on Spokane for the band's first show stateside since Europe.
But to find her voice in the beginning of her career, Ford had to experiment. That raw, raging vocal prowess she now possesses was and is an ever-changing work of art.
"At first I was doing a lot of mimicking," Ford confesses.
A mash-up of Regina Spektor, Feist and Billie Holiday inspired Ford, and she admits it was hard to uncover her own expression.
"I've tried to just go with it and I've tried to audibly change it," she says. "From listening to that first EP to the second album, I can definitely hear changes. It's kind of in general like changing the way you dress depending what you're into at the time."
After moving from Asheville, N.C., to Portland when she was 18, the original plan wasn't music; she had her sights set on art school. But taking to her guitar, Ford started playing basement house shows, then later open mic nights, which led to meeting Alaska-bred Tyler Tornfelt on bass, piano and organ, Ford Tennis on drums and Jeff Munger on guitar. The Sound Outside was born, but Portland wasn't quick to pay attention to Ford's concoction of retro rock 'n' roll, quirky vocals and confrontational lyrics. Then Seth Avett heard them and invited the act to open for the Avett Brothers in the summer of 2009.
"It took someone from outside of the scene to get Portland to notice us," Ford says.
Now 26, with two full-length albums out, Ford will be back in the studio in the new year working on a new album. In the meantime, the band is releasing the Summer EP at next Wednesday's show, but only on vinyl and MP3.
"I hate CDs," Ford says. "In general, I don't like technology — but I'm also a hypocrite; I would like to experience life without all of these modern amenities and see what it would be like." ♦
Sallie Ford and The Sound Outside with And the Kids, Runaway Symphony • Wed, Dec. 18, at 8 pm • The Bartlett • 228 W. Sprague • All-ages • $10 advance/$12 day of show • thebartlettspokane.com