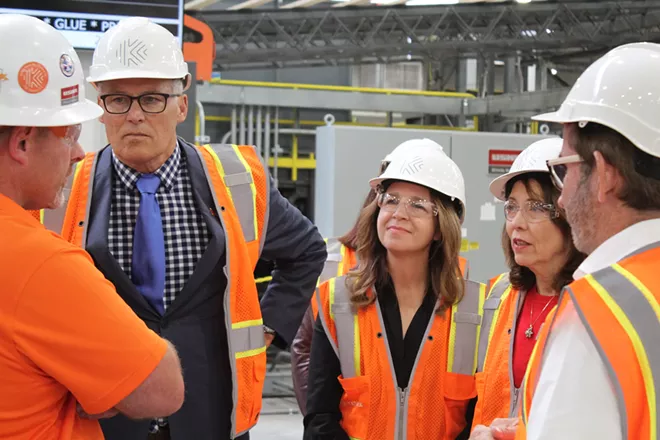 S
tate officials and business people gathered in Spokane Valley
on Friday to celebrate the opening of the largest manufacturing facility for cross-laminated timber in North America.
The material, made by gluing smaller boards of wood together in a perpendicular pattern, has state and national officials excited for its sustainability, aesthetic and job-creating potential.
Katerra announced the opening of its new 270,000-square-foot facility Sept. 20, with tours and speeches by Washington Gov. Jay Inslee, Commissioner of Public Lands Hilary Franz, and Sen. Maria Cantwell.
The material, also called CLT, is incredibly strong and can be used to build multistory structures much taller than wood alone could be used for. That can reduce the need for concrete and steel, which have higher carbon footprints.
Inslee said he was encouraged by the material's potential to sequester carbon and partially answer the call from climate strikers around the world, including students who on Friday called for immediate climate solutions from those in power.
"I was just over in downtown Spokane at the kids' climate strike, and these are young people all over the world today demanding that their elders do something to defeat climate change," Inslee tells a crowd gathered near the manufacturing floor. "Well we know that this is a product that allows trees to suck carbon dioxide out of the atmosphere, instead of putting it into the atmosphere, and then using it for our homes and office buildings [to] sequester that carbon in our building structure."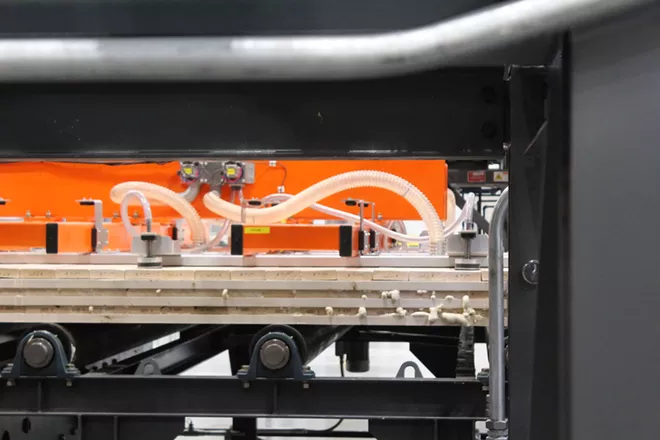 Because the product can be made from much smaller trees and even ones that were already dead or diseased, the state Department of Natural Resources (DNR) is enthusiastic about the potential to combine forest health efforts with the manufacturing of CLT.
Under its relatively new 20-year forest plan for Eastern Washington, DNR has seriously ramped up its efforts to thin dead and dying trees. East of the Cascades, there are 2.7 million acres of dead and dying trees, which cross federal, state and privately owned land.
The forest health plan calls to treat 1.25 million acres across those jurisdictions over the next 20 years, which will involve treating up to about 70,000 acres every year.
That's significant, considering that over the seven-year period leading up to 2012, the state treated a total of 30,000 acres, Commissioner Franz says. Last year alone, the first of the plan's implementation, DNR treated 35,000 acres, and this year they're on pace to treat 50,000 acres.
Facilities like the new Katerra site and a new CLT facility by Vaagen Timbers in Colville complement that work by providing the opportunity for some of the forest treatment to pencil out financially, Franz says.
"The beauty of this is that work isn't just a lost cause in the sense of pouring money into an environmental crisis," Franz tells the
Inlander
Friday morning. "But it actually is something that now can create economic opportunity, especially in Spokane and Eastern Washington."
For DNR, which already operates timber sales from its forests, being able to sell smaller diameter trees and those that have had insect problems to a CLT factory like Katerra only increases the opportunity to profit from thinning and treatment work, Franz says.
"Part of what determines whether [forest health treatments] pencil out is the location to mills and to manufacturing facilities like the ones we're talking about here with Katerra and Vaagen Timbers," Franz says. "We've actually done a number of sales now. We did one up in Colville, it was about an 800-acre forest treatment, so not a traditional timber harvest but a forest treatment, and that sold for $1.5 million."
Money made from forest treatments like that one will be put into a revolving loan fund that can help pay for further treatment and potentially reduce the need for capital funding from the state Legislature down the road.
"If we didn't have cross-laminated timber, I would tell you most of this would not pencil out," Franz says. "That's the reality, we wouldn't make money on it."
Franz says she believes that the state's 20-year forest plan played a significant role in getting investors interested in opening those CLT facilities in Washington.
"Many states, California, Montana, Idaho, Oregon, have a forest health crisis. We're not alone in this right? Any facility determining where they're gonna locate is going to need one thing, and that's supply," Franz says. "We developed that plan to treat 1.25 million acres and that sent a message to the marketplace, to Vaagen Timbers, to Katerra: If you want to invest in a cross-laminated timber facility and be able to have enough supply to be guaranteed on your investment, you should be building in Washington."
At full operation, the Valley facility is expected to employ 150.