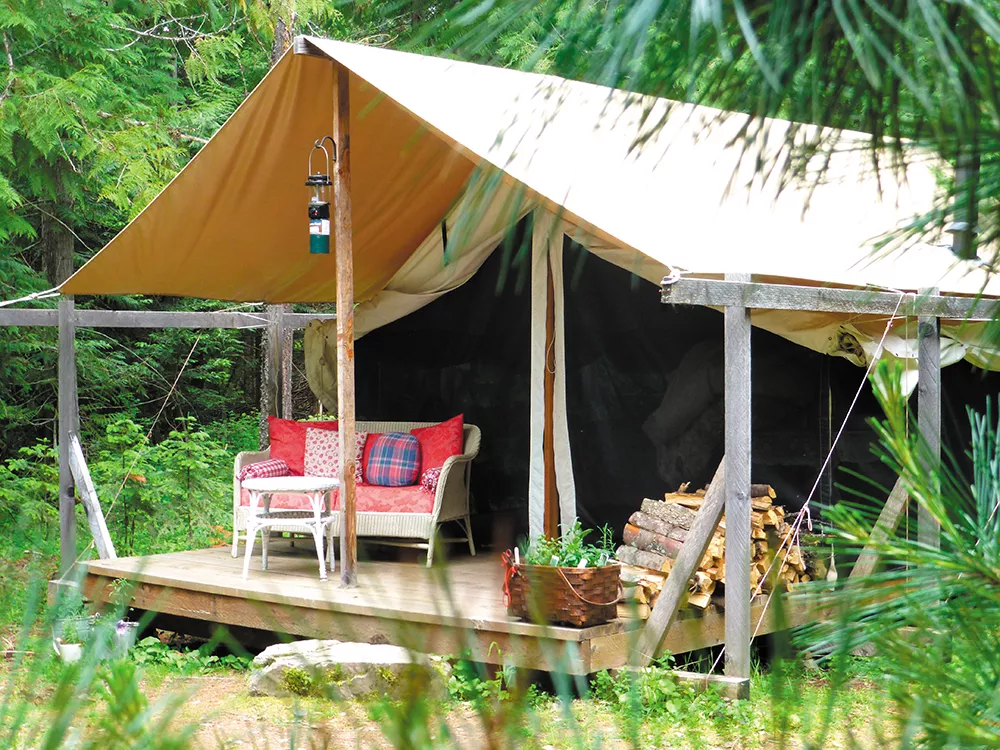 If you're in Spokane for any amount of time, you're bound to hear someone boast about the outdoor opportunities a car ride away. Be it the seven ski resorts within three hours' drive or the 76 lakes within one hours' drive, "limited options" doesn't quite qualify as an excuse.
But if you're a busy person, working full time with plenty of other things on your plate, plunging into the Inland Northwest's scenery isn't necessarily easy. Not everyone is an outdoors survivalist; sometimes, you have to get your toes wet first. Here are some easy outdoor and camping options for those of us who aren't quite ready for making our own flint-and-steel fires:
Huckleberry Tent and Breakfast
Enjoy the pleasures of a bed and breakfast while taking in the scenic pleasures of the Sandpoint area. The canvas tents offer a wood-burning stove in case things get chilly during your stay. In those hot summer months, the tents also offer screened walls for taking in nice cross-breezes. You're treated to breakfast at the homestead, and the site features a gorgeous backdrop of the mountainside (ask for the Mountain View campsite). The Huckleberry site is central to short drives to Lake Pend Oreille and the Ross Creek Cedars Scenic Area in northwest Montana. The Clark Fork River delta and Johnson Creek inlet offer island-hopping and opportunities to float past wildlife, including, deer, elk, moose and plenty of eagles and other birds. Tents start at $139 a night: huckleberrytentandbreakfast.com
Fire lookouts
If you want jaw-dropping scenery, consider a stay at one of the fire lookouts sprinkled throughout Idaho. For example, the Bald Mountain Lookout, located south of St. Maries in the Saint Joe National Forest, offers an aerial view of the lush forest. The lookout, which was built in 1956 and used as a fire lookout until 1984, is 50 feet off the ground and offers enough room for four guests. A propane stove, heater and refrigerator allows residents to make their meals in a camp kitchen stocked with utensils and cookware. Located off Highway 6, the drive to and from the lookout is known as the "White Pine Scenic Byway." The area boasts fun day activities like horseback riding, hiking and berry picking, as well as the perfect stargazing spot in the secluded forest. The lookout rents for $45 a night, $315 per week. For more options, visit recreation.gov.
On the water
Perhaps the most luxurious option, houseboats offer a unique experience for prospective campers. The houseboats at Lake Roosevelt Adventures offer a host of amenities. The master bedroom will have a queen TempurPedic bed, with a full-sized sleeper sofa located in the living room. The boat features a bathroom and shower. The front deck has a gas barbeque, with a spacious ice chest on the rear deck. Better yet, the boat also provides a waterslide, once you're ready to plunge into the Northwest's largest lake. Once you're ready to dry off and the sun goes down, enjoy a movie on the provided LCD TV and Blu-ray players located in the living room, with speakers located throughout the boat. The houseboats come in several classes and start out at $1,295 for three nights. While you're there, rent a jet ski and enjoy some of the glassiest waters around. The 660 miles of shoreline provide plenty of sand and wildlife, as you're likely to see some deer, moose, bighorn sheep or turkeys. Splurge on a $19.05 three-day fishing license ($30 for an entire year) and enjoy a scenic backdrop of blue skies, clear water and a mountainscape while you cast a line. lakerooseveltadventures.com
River Ranch offers the Cadillac of houseboat rentals. Snatch up one of their 59-foot houseboats and take in the serene Snake River, or station yourself in Lake Sacajawea. These boats offer an entertainment system, three staterooms, a canopied rooftop deck, full kitchen, barbecue, bathroom amenities and a waterslide. The river provides prime fishing for salmon and steelhead. For day trips, there are plenty of neighboring wineries to check out, as well as blueberry and apple picking. If you bring a travel boat, take advantage of nearby restaurants located on numerous docks. A weekend rental is $2,000. riverranchboats.com n