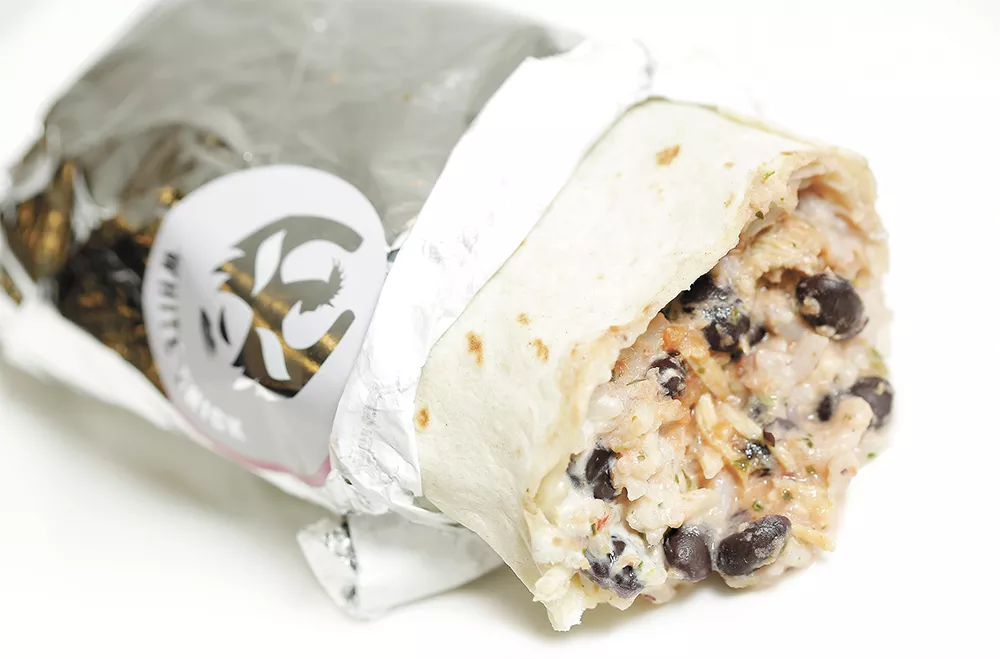 When you feel like you've exhausted your regular standby options for delicious, yet inexpensive food that's also fast and filling, try these eight spots that have come onto the local food scene within the last year or so.
Turkey Pesto Sandwich, $8.75
Clark's Fork, 1028 N. Hamilton St., 960-8962
This regional chain based out of Bozeman, Montana, recently opened up a sizeable spot right next to the Gonzaga University campus, where students and locals can find budget-friendly foods that are fast, filling and often healthy. Though there is the temptation of breakfast being served all day, the turkey pesto sandwich is a savory lunch treat, thickly stacked with turkey, Genoa salami, artichoke hearts, roasted tomatoes, dilled harvarti cheese and pesto aioli. It's served with a pickle and a reasonable portion of crisp, salty fries.
Indian City Sandwich, $8.50
Nectar Catering & Events, 120 N. Stevens, 290-5182
Though not brand new to town, earlier this year this former downtown wine tasting room transitioned into an event space, and added a lunchtime menu served from 11 am to 2 pm on weekdays. Though some may be sad to see the tasting room gone, the best part of this change might be the option to order your midday meal in one of three ways: as a sandwich, wrap or salad. Try the Indian City, which comes with roasted chicken breast, tandoori curry, apples, almonds and celery. In salad form, it's topped with a coconut lime vinaigrette.
Thai Bow, $8
Crate Food Truck, cratefoodtruck.com
You'll often find the bright orange food truck on a rotation of regular weekly stops, including Bellwether Brewing Co. on North Monroe most Thursday evenings, and at a few local farmers markets. While you probably can work your way down the concise yet varied menu over a few visits, start with the spicy and nutty Thai bowl, a tasty mess of rice, cabbage, carrot, cucumber, spicy peanut sauce, cilantro and your choice of chicken or tofu (making it vegan and gluten free).
PBJ&B Breakfast Sandwich, $8
The Farmer's Daughter food truck, farmersdaughterfood.com
Since chef Jillian Gay started rolling her mobile restaurant around Spokane early this year, she's built up a following from folks who love classic, farm-style breakfasts — think fresh eggs, meats, jams and sauces — all scratch-made by Gay, with nearly all ingredients sourced from her father's farm just north of Spokane. While you can't go wrong with the classic breakfast sandwich on one of her homemade English muffins, get adventurous and try Gay's PBJ and bacon sandwich, topped with the jam of the week, organic peanut butter, bacon and a fried egg. You can find the truck's weekly schedule on Facebook.
My Fresh Basket Salad Bar, $8.99/lb.
My Fresh Basket, 1030 W. Summit Pkwy., 558-2100
Downtown workers and residents alike rejoiced with the recent opening of the new independently-owned grocery store at the eastern edge of the Kendall Yards development. Beyond grocery staples, My Fresh Basket offers a bevy of options for meals and snacks on the go, which can also be enjoyed on the store's two patios. The customizable salad bar is a major win for health-conscious lunchers, offering a variety of greens that can be topped with just about any veggie, along with several types of cheese, nuts, and dressing. Keep in mind that to get to a full pound, you'll need to really pack the produce into your to-go box.
Ceviche Tostadas, $6-$10
Zona Blanca, 154 S. Madison, 443-5427
To many Spokanites, ceviche may still be a new culinary frontier; it's only been a year, after all, since Top Chef contestant Chad White opened the city's first ceviche bar, Zona Blanca. Don't be afraid to dip your taste buds into the colorful and flavor-packed Latin American tradition, in which raw fish is steeped in an acidic marinade of lemon or lime juice, salt and spices. Served on a tostada or in a bowl, Zona Blanca's tostada version is easy on your wallet, and allows one to try a varied sampling of seafood and meat combos, like the Cabo: scallops, bacon, cilantro, serrano mayo, and Monterey jack cheese.
White Chick Burrito, $7.50
Sweeto Burrito, 1839 N. Ruby and 9602 N. Newport Hwy., Spokane; 15705 E. Broadway, Spokane Valley; 1423 W. Appleway Ave., Coeur d'Alene; sweetoburrito.com
The indulgent burrito chain with a Spokane-area connection (its founder went to Riverside High School) has set up roots with four Inland Northwest locations offering all sorts of insanity stuffed inside a tortilla shell. You can go all out and get the cheeseburger-inspired "All American," which contains French fries and bacon. If that's too much for your stomach, try the "White Chick," with chicken, lime rice, black beans, pepper jack cheese, cilantro ranch, sour cream and salsa. Sweeto's handhelds also come in three larger versions above this "small" burrito; the menu also includes bowls, wraps, salads and street-style tacos.
Side Sampler, $8
The Kitchen Counter, 214 S. Main St., Moscow, 208-596-3042
When in the Palouse town of Moscow, make sure to hit up the Kitchen Counter, a fairly new (it opened about a year ago) and seasonal-ingredient focused lunch spot with a deli-style menu that changes weekly. Owner Patty Brehm regularly cooks up light sides — think fresh, colorful salads and cold pasta; these are your options for the side sampler, which comes a choice of four sides or salads — along with hot entrees and a rotation of weekly sandwiches and soups, many with an Italian influence due to Brehm's frequent travels there. Many ingredients are sourced directly from local farmers, and everything is made from scratch in house. The Kitchen Counter is open on weekdays, from 11 am-3 pm. ♦