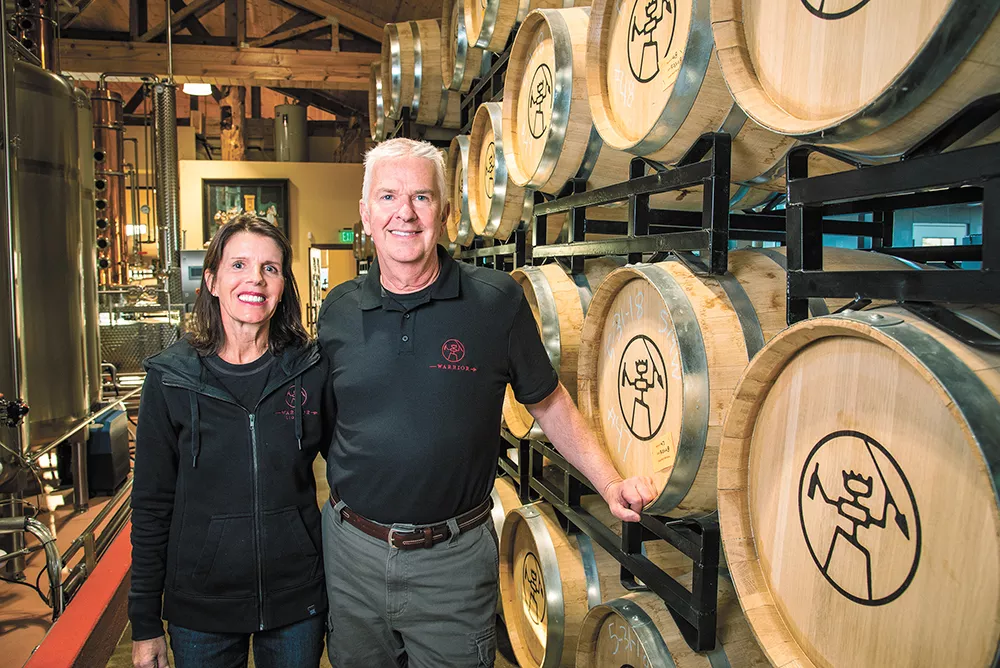 Retirement isn't for everybody. When Rich and Mary Clemson sold their old company Pasta USA, Inc. 10 years ago, they figured they were ready to chill out. Over the course of nearly 20 years, they'd built a new production facility and grown from a mom-and-pop shop into a booming business with 50 employees. And that work had come after decades in the rollercoaster construction business of the '70s and '80s.
Even in retirement, though, the Clemsons had no "off" switch.
"We took a couple years off just to get our sanity back, but we decided that retirement wasn't exactly where we wanted to go in this stage of our life," says Rich Clemson. "I was going around buying crummy old buildings and fixing them up, and Mary was doing all the administrative stuff with those, so that was keeping us kind of busy. Mary and I always tell people we like to make things. Manufacturing, it's pretty cool. So we thought we'd give it one more whirl."
"The last one," Mary adds.
"The termination business," Rich agrees.
Warrior Liquor is that new, "last" business, a distillery that started producing vodka and gin in December 2017 at a space they converted from a warehouse into a vast operation fronted by a beautiful tasting room that opened in late summer. They spent the last nine months building up inventory and jumping through various regulatory hoops necessary before opening to the public. Ultimately, the Clemsons would like to produce about 2,500 cases each month and distribute throughout the West.
As customers in the tasting room peruse T-shirts and glasses with Warrior's distinct logo, or belly up to the bar for samples, a peek through the adjoining doors reveals a serious distilling operation, one the couple learned about from friends in Southern California who let them work a week each month for several months to learn the ropes of distilling.
At first, they thought they'd do it all themselves, but the Clemsons quickly realized "the responsibilities and duties were greater than we anticipated," Rich says, so they hired Brad Budge to be the master distiller (you might remember him from Budge Brothers Brewery, which closed in 2016).
"We looked at beer, we looked at wine," Rich says of the Clemsons' decision to open Warrior. "Mary and I thought there was an opportunity in the growth of craft distilling, and there wasn't much other than the existing companies here [in Spokane] ... It's just a question of making a quality product, having a competitive price and getting your distribution channels squared away. That didn't intimidate us. We've been there, done that. This is just a different product."
And it's a tasty one, at that. Warrior's flavored vodkas have already proved popular with visitors, and Rich's claim that Warrior's versions aren't as "super sweet" as some mainstream brands holds true. I sampled a huckleberry vodka straight and it was smooth and delicious. The tasting room offers free samples as well as cocktails that showcase the products with mixers. I tried a War Cry ($4), a blend of Warrior's blood orange vodka, turmeric, cilantro, fresh jalapeno and simple syrup, and it was perfect on an unseasonably warm afternoon.
Come December, Warrior's brown liquors will be ready for sale alongside the vodka and gin, including a single-malt whiskey, a bourbon and a rye whiskey. Rich and Budge have been sampling from the barrels as those products have aged and are confident the knowledge of regional grains the Clemsons transferred from their past business to distilling will result in more winning flavors.
"We wanted to make a world-class product here in Spokane," Rich says. "The grains in this area have always been underutilized. The wheat goes for pastry or soft noodles in Japan. The barley was kind of an animal-feed product, the corn was animal feed. The grains have been underappreciated and underutilized, and they're world class. The flavor profiles those grains give are incredible." ♦
Warrior Liquor • Open Tue-Thu 10 am-2 pm; Fri-Sat 2-7 pm • 714 N. Lee St. • warriorliquor.com • 413-1885