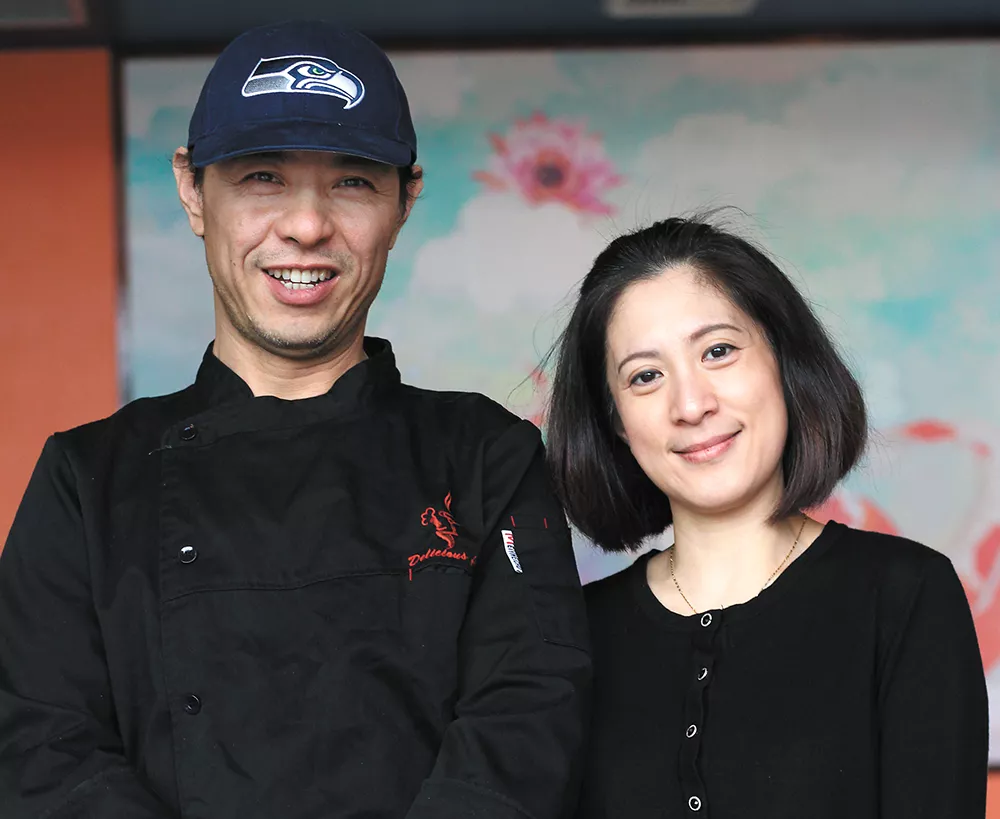 The "breath of the wok," or wok hei, is a sort of magical essence that Chinese chefs aspire to capture.
Literally translated, wok hei describes the thermal radiation that emanates from a wok, the large bowl-shaped pans commonly used for cooking stir fry. The breath of the wok (or the spirit of the wok, depending on who you ask) enters the food at these high temperatures and preserves the juices and flavors of the food. But perfecting the art of wok hei requires more than just high temperatures: It's the test of a culinary master's skill.
This is what Chef Lu's Asian Bistro prides itself on. Jianjun Lu, or "JJ," as he's known in America, is the reserved and down-to-business owner of the new restaurant, now in its third month.
Located in the Lincoln Heights Shopping Center, Chef Lu's Asian Bistro is a somewhat different take on Asian cuisine. It departs from the often dimly lit and seemingly somber Asian restaurants with its bright colors, high ceilings and an enormous focal wall of pink and purple koi wallpaper, imported from China.
Lu's menu offers a variety of plates and appetizers that combine both familiarity and adventure. American favorites include the likes of General Tso's chicken, broccoli and beef and orange chicken ($11.95-$12.95). But these items "aren't really Chinese," says Vinson Cai, Lu's consultant and translator for this story.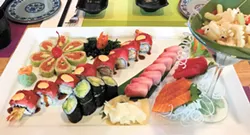 Where Chef Lu truly showcases his culinary skills is the "modern Chinese menu." These items include the eggplant with hot garlic sauce and black mushrooms, onions and beef topped with coriander ($12.95); the "King of Tofu," egg and tofu-like pancakes, mixed with shrimp, scallops, chicken and squid with vegetables ($13.95); or the "stewed sliced fish in wine sauce," with zucchini and carrots ($13.95). These meals are more akin to what you might find in China, says Cai; they're more authentic.
The restaurant also has a Szechuan menu and a sushi menu, each of which are prepared by individually dedicated chefs, Cai says. The restaurant includes a full-service cocktail bar as well.
Lu began his culinary training more than 20 years ago in Tianjin, a major port city about 80 miles south of Beijing. He moved to the U.S. about nine years ago. He and his wife, Monica, also originally from China, opened Chef Lu's Asian Bistro after working at different Asian restaurants in Liberty Lake, Cheney and Coeur d'Alene.
"JJ and Monica believe that it's time for an Inland city to have authentic Chinese restaurant," Cai says. "What they are doing here is very common in coastal city towns, like San Francisco, Seattle."
In the kitchen, Lu demonstrates his culinary prowess at the wok. Fire bursts from the stove into the air. It's wok hei, Cai says, from a safe distance. Lu maintains a stoic demeanor as he maneuvers his tools under the flame.
"In this business, talking doesn't do too much. In the end you just have to try the food," Lu says in Mandarin to Cai. ♦
Chef Lu's Asian Bistro • 2915 E. 29th Ave., Suite D • Open Mon-Fri from 11 am-9 pm; Sat-Sun from 10 am-10 pm • luasianbistro.com • 443-3871