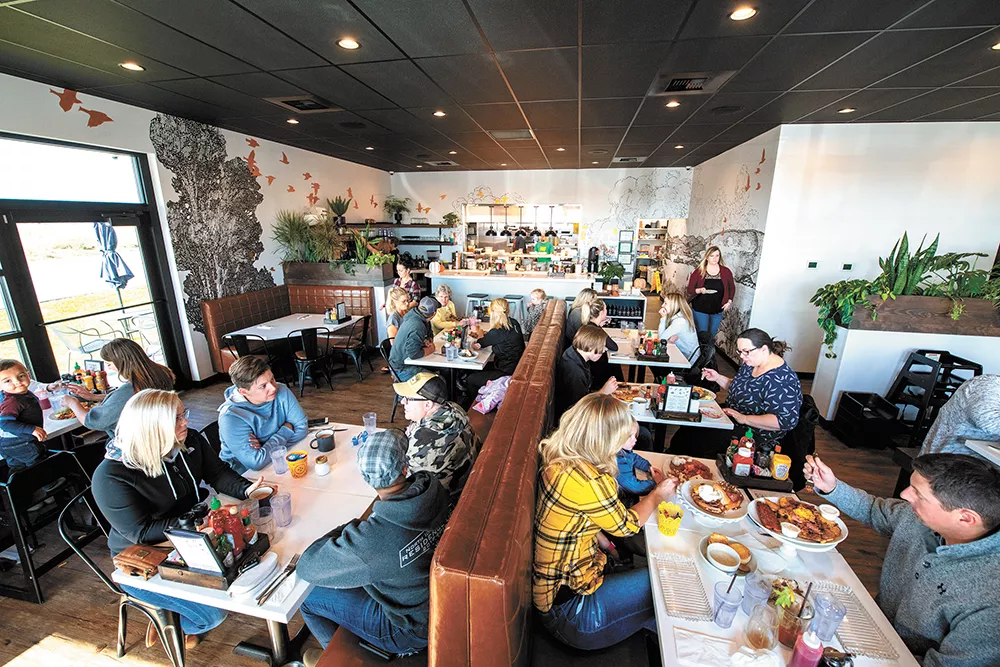 Is this a food story about art, or the reverse? It's a food story, of course, yet art was key for North Idaho restaurateur Sarah Baker, who recently launched Belle's Brunch House in a gas-and-go spot at the eastern edge of the Rathdrum Prairie.
Belle's is her second Hayden-area restaurant, both of which feature a collaboration with Spokane artist Desire McGinn.
"With Belle's, I was very inspired by the gorgeous views from the windows," says Baker, who opened Chomper Café in 2015 featuring McGinn's décor; homey black-and-white murals resembling the German paper cutout technique known as scherenschnitte.
Like they did for Chomper, Baker and McGinn developed a Pinterest board, this time inspired by early 1940s sketches, says Baker. Metallic gold birds wing their way along the wall mural, reminiscent of a Van Gogh sketch. The artistic theme carries over to the menu, featuring brunch fare served all day long.
"No weird rules on serving only certain food during certain hours," notes Baker, who named the place after her daughter, while Chomper is in honor of her son.
The menu is an amalgam of Baker's varied experiences in the industry, including at the Cottage Café, from where she purchased some recipes, and as a mom — there's french fries and fruit on the kids menu. She's also a media-savvy foodie who knows that each dish has to be pleasing to both the palate and the camera lens.
"When working on the Belle's menu, I really wanted to serve beautiful and delicious food that would photograph well," says Baker, noting that it's the times we live in.
Baker also credits and pays for any recipe developed by staff.
Try Coffee Roboto chai with the strawberry shortcake ($5) or chicken fried steak ($13). Sip Cravens Coffee with the smoked pulled pork benedict ($11) or any of the many other versions of benedicts on the menu, including a build-your-own option.
Four breakfast bowls ($12-$13) include the Irish, with corned beef, grilled onions and pepper jack, and the Farmer: ham, bacon, sausage, onion, red peppers, green chiles and cheddar. The hearty bowls include hash browns and are topped with melted cheese, three eggs and toast.
For purists who eschew eggs and bacon after the noon hour, try the house mac and cheese ($7; add $3-$4 for protein), a juicy burger ($10-$14) or applewood BLT ($9).
In addition to a kids' menu, Belle's offers a distinct gluten-free selection and will serve a fixed-price family-style menu at the chef's discretion ($20 per two diners).
The evolution of the restaurant was fast-paced from an unexpected start.
"My friends own Lancaster Market and the retail space Belle's is in," explains Baker. When the market's owners suggested Baker relocate Chomper to northeast Hayden, she ended up creating Belle's instead. There are very few options for dinner up north, notes Baker, who wanted to be a solid option for diners in a location where continued growth is expected.
"Lancaster area is going to boom in the next few years," she says. "It's the smart move and I couldn't be happier. It's also pretty fun to be able to serve beer and wine!" ♦
Belle's Brunch House • 324 W. Lancaster Rd., Suite A, Hayden • Open daily 8 am-7 pm • bellesbrunch.com • 208-758-0600