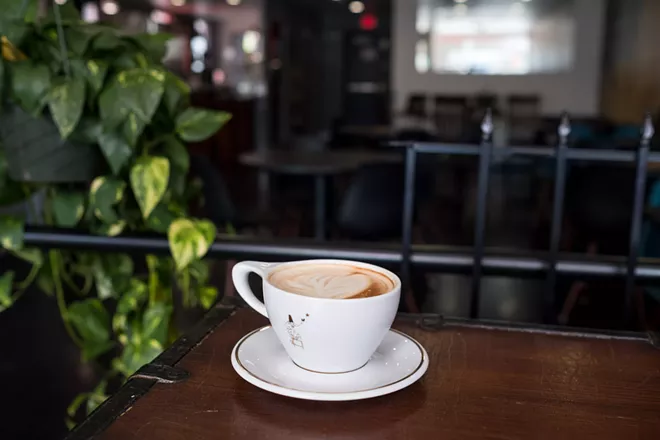 New kid on the block Next Door Deli & Coffee Lounge, in Spokane's Logan Neighborhood, is changing up the coffee game with its original flavors, house-made syrups and an exclusive partnership with Seattle roaster Caffe Vita.
Owner Lindsey Blair, former chef at Iron Goat Brewing Co.'s downtown taproom, saw the space that used to be the Lucky Puppy bar and manifested her vision to branch out on her own. The Cuban-themed coffee shop is laden with plenty of outlets for computer campers, comfortable couches and a bathroom arrayed with kitschy "bad art" arranged with no particular order. The name says it all: it's definitely a lounge, and lounging is more than welcome.
Drinks are made with Caffe Vita's Del Sol espresso blends of coffees from Indonesia, Africa and South America. With a moderate acidity, aromas of dark chocolate, butterscotch, blueberry and praline are imbedded with notes of caramel and amber crema. Next Door Deli & Coffee Lounge is the first in the Spokane market to serve the longtime Seattle roaster's dark and medium Italian-style blends.
"I think the coffee speaks for itself," Blair says.
Blair uses her culinary expertise and creativity to make unique drinks that surprise. Ingredients like caramel and rosemary are infused together in a latte for a warm and bright pairing. Or, take the Laura Palmer ($3.40-$5.30), an iced coffee brew blended with Blair's lemon syrup that's refreshing and tangy.Clear syrup bottles lining a shelf behind the counter visibly showcase each syrup's main flavoring ingredients: vanilla sticks, lemon shavings, cardamom, lavender, cinnamon and turmeric. Akin to alchemy, Blair whips up these sauces and syrups in the cafe's kitchen. Working her magic, she wields spices and herbs to enhance each espresso drink.
Churro doughnuts, pastries and croissants, among other goods, from Chaps Diner and Bakery are served at Next Door. The menu soon will add savory options like a Vietnamese banh mi sandwich ($8) with pork, chicken or tofu, and a mixture of veggies: radish, pickled carrot, onion, jalapenos and cilantro drizzled with Blair's special sauce. The deli is also serving Blair's housemade granola, avocado toast with egg ($6), açaí bowls ($6), yogurt parfaits ($5) and salads, along with small plates like hummus and cheese ($6.50).

The pace since the opening on June 1 hasn't been frantic, but Blair is glad for the summer lull at nearby Gonzaga University that will allow the shop to find its rhythm and cadence before students return in the fall.
When asked about other coffee purveyors in the area, Blair says there are several she supports and admires, like Indaba, and proclaims a sentiment of community versus competition.
"Spokane is a small community, and we're all in this together. We need to come together and support each other," says Blair. "It's nice to know if I'm downtown or in Kendall Yards, I can still find good coffee and people who have the same passion for putting out a great product."
Next Door Deli & Coffee Lounge • 1307 N. Hamilton • Open Mon-Fri 8 am-5 pm and Sat 9 am-4 pm • Facebook: Next Door Deli & Coffee Lounge