When customers stumble into the new Poke Express, they occasionally do so thinking it's still a Subway, says co-owner Leo Zheng.
He has one thing to say to those disappointed faces, ready to devour a sub: "It's not Subway. It's something better."
Zheng urges everyone to give poke a try.
Poke, pronounced "poh-kay," originates from Hawaii, where the name means slices or chunks. In this context, it's essentially a salad of cubed fresh, raw fish.
Originally, Poke Express was planned to be a second location for the also newly opened Yummy Ice Cream Rolls, but Zheng and co-owner Evan Ke, a former hibachi chef, decided to make poke the focus of their second eatery. (Poke Express does, however, also serve Yummy's rolled ice cream.) Zheng believes Spokane could have more diversity in its food options, and this is his way of contributing to that vision.
My own poke journey started in Hawaii when I was introduced to these savory cuts of fish on menus at almost every shop and restaurant. Later, when I moved to Portland, I tried several places emulating the Hawaiian poke I first had. Since then, I've been ordering poke from various menus in Spokane in hopes that it would parallel what I first tried, but to no avail. What I really desired was a designated poke bar, and I guess the poke gods heard me, because Poke Express so far has delighted my taste buds.
Poke Express serves a menu of four signature bowls ($13/each) featuring a blend of complementary ingredient and topping flavors. These bowls come with base proteins of salmon, tuna or unagi (eel), along with the tofu-based Buddha bowl, which has onion, red pepper, avocado, cucumber and seaweed, topped with house seasoning, sesame seeds and yuzu sauce. The other signature bowls are also mixed with fresh veggies and seasoned sauces.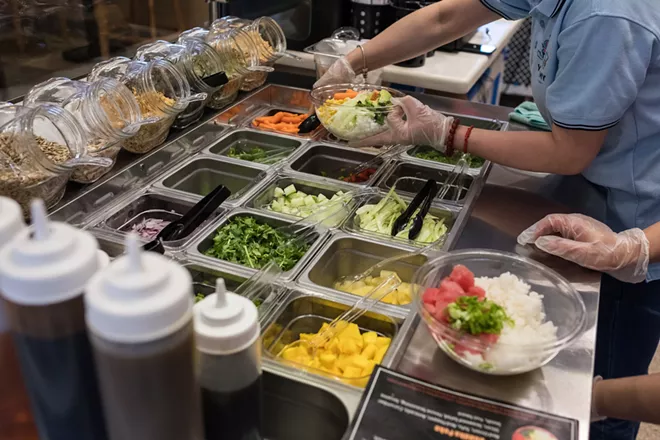 As is the style with Yummy Ice Cream Rolls, there's an option to build-your-own poke bowl in five steps. First, select a base of white rice, brown rice, a spring greens mix or tortilla chips. Next is the protein: salmon, ahi tuna, tofu, chicken, octopus, albacore, unagi, spicy salmon or spicy ahi tuna ($11 for a two-scoop protein bowl or $13 for a four-scoop protein bowl).
My favorite was selecting three out of 18 possible sides (extras beyond three are $1 each), which include fresh fruit and veggies like mango, avocado and yellow radish, and then dressing up the bowl with sauces like ponzu or yuzu sauce. Zheng says their sweet and tangy house poke sauce is the most popular.
All sauces, with the exception of the eel, teriyaki and spicy mayo sauce, are house made. Toppings choices include crispy onion, garlic chips, sesame seed, shredded nori and wasabi peas.
Poke Express gets its fish every other day, but Zheng is currently working on an agreement to begin receiving fresh fish daily.
For the bowl I ordered during my first visit to Poke Express, I wanted to keep my base simple in order to savor the fish and other ingredients, so I chose white rice and salmon. My sides of seaweed salad, avocado, cucumber and ginger combined wonderfully together, and the house poke sauce, spicy mayo and ponzu sauce enhanced the bite-size pieces of salmon. I chose crispy onion as a topping for its crunchy texture. The bowl was refreshing, light and appetizing.
If driving across town for poke is keeping you from trying it, you're in luck, since Poke Express is also bringing this Hawaiian treasure to a couch nearby through Uber Eats. ♦
Poke Express • 905 S. Grand Blvd. • Open Sun-Thu 10:30 am-10 pm; Fri-Sat 10:30 am-11 pm • pokeexpressspokane.com • 960-7739