Don't ever let it be said that age is a barrier for entry. Just ask Newport resident Ruth Calkins.
Calkins, now 91, has published her first book, an illustrated children's story called Max Goes to Africa. It was inspired by a trip Calkins and her pet dachshund Max took in the summer of 2016, traveling to the country of Malawi in southeastern Africa. Calkins was there representing the World Medical Fund, a U.K.-based organization that provides medical care to sub-Saharan Africa.
Told from the perspective of Calkins' daschund Max ("translated by Ruth Calkins," the front cover proclaims), Max Goes to Africa describes, in rhyming couplets, their adventure: the plane ride, the long car trip to the village itself, the people they meet in Africa, and the strange animals Max encounters.
"I made up the first two lines while I was in Malawi," Calkins tells Health & Home. "Then I couldn't think of any more rhymes, so I thought I'd have to give it up. When I got home I decided to pick it up, and it was pretty easy once I started."
The trip that inspired Max Goes to Africa was actually Calkins' third visit to the continent. Her late first husband worked for the U.S. Agency for International Development, which focused on agricultural innovations in poor countries. Their travels over the years took them to Sri Lanka ("a gorgeous place; the people are marvelous," Calkins says), India, England, Germany, Spain and Italy.
But the first time she visited Africa, Calkins says, she felt compelled to do something about the conditions she witnessed there. The more she learned about the African AIDS epidemic, she says, the more distraught she became.
"I was so unhappy about that, because I knew how poor they were before that," she says. "It just really bothered me."
Upon returning to the States, Calkins says she started a website that she hoped would provide information to people about the AIDS crisis, and it was through that site that she met WMF CEO Michael Burt.
"They seemed to be doing very good work, and I told Michael that he ever wanted to expand to the U.S., I was interested," Calkins says. She eventually became the organization's U.S. secretary.
On this third trip to Africa that inspired her book, Calkins brought along several bulky sewing machines and suitcases full of craft supplies. The women of Malawi were taught how to sew and then paid to quilt and make craft projects, which were then sold to benefit their villages.
Calkins and a (human) traveling companion lived in a small, sparsely-furnished concrete hut during their stay in Malawi. Because it was the African winter, the temperatures typically hovered around the low 80s during the day. The dining room had no table or chairs, and the kitchen had only an electric stove and a freezer. There was indoor plumbing, but the water and electricity would go in and out, Calkins says, and the internet connection was spotty.
Knowing she'd be away for most of the summer, Calkins decided to bring Max along with her.
"I didn't want to leave him for three-and-a-half months, so I decided to take him with me," Calkins says. "He turned out to be a very good traveler. He acclimated very well. There were no problems."
Max did lose three pounds during the trip, Calkins says, "but he's [since] gained two of them back."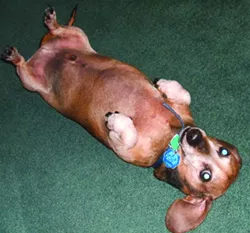 Calkins has been living in Newport for 16 years, and has five children and three grandchildren. Though she's no longer involved with the World Medical Fund, and says her traveling days are behind her, she still follows their work.
"The clinics are absolutely amazing," Calkins says. "They go out to villages, and women walk for miles and miles to come with their kids. There are generally about 150 children they see at one time. They're really very dedicated."
Calkins says she previously sold a story about living through the Great Depression to the children's magazine Cobblestone, but Max Goes to Africa is her first book. She has already written three more stories about Max, she says, and the next one, a Christmas adventure Max Visits Santa Claus, will be published in the fall.
"I wrote it mostly as an entertainment for children," she says, "and I hope children will enjoy it."