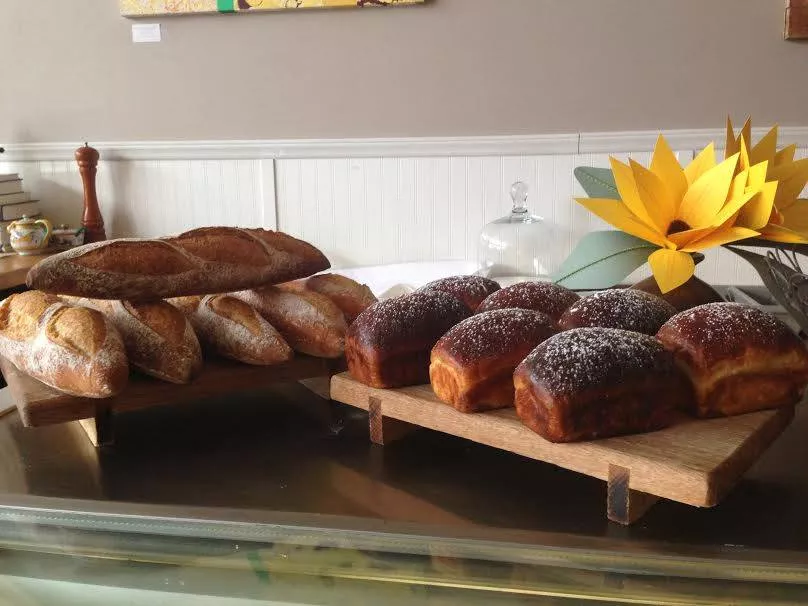 In a few short weeks, Jeremy and Kate Hansen, co-owners of Santé Restaurant & Charcuterie, will add to the West Main Avenue renaissance with the opening of Common Crumb Artisan Bakery in the Saranac Commons.
"It's kind of the next progression in our food journey. We do a lot of baked goods. We thought it would be the next natural step," explains Kate.
"We want to focus on the art of baking, the techniques of baking, combining old world techniques with new world techniques. We want to elevate the level of what we are doing all around," says Jeremy.
Although Santé has produced artisan baked goods in-house for years, having a separate bakery will free up much-needed space in the kitchen to further expand the restaurant's charcuterie repertoire. Pastry chefs Lynette Pflueger and Taylor Siok plan to utilize the new space to employ classical French pastry techniques. The bakery kitchen also will include a chocolate room, providing the chefs with space to make their own chocolate.
The menu at Common Crumb, set to open the week after Thanksgiving, provides compelling and bountiful options. Scratch breads made from biga starters will be sold alongside rice pudding, panna cotta and confections. Mini panettone will take the place of muffins. Cannelés, a custardy pastry from Bordeaux, will be featured alongside other French favorites such as madeleines, palmiers, tarts, petits gâteaux, éclairs, cream puffs, croissants and pain au chocolate. The bakery also will feature baklava, turnovers, sticky buns, scones and Danish pastries.
Pies and cheesecake will be available by the slice or whole. Common Crumb chefs will offer a sneak preview of their cheesecakes and pumpkin ginger, apple and pecan pies for the holidays, with pickup available by Nov. 26. Orders may be placed at Santé.
As expected, the Hansens will strive to source all ingredients locally for their impressive collection of handmade baked goods and confections.
"It's an obligation for me as a chef to source and do things correctly and utilize the local community of growers," Jeremy says. "It's very exciting to be part of this community right now." ♦
Common Crumb Artisan Bakery • 19 W. Main • santespokane.com