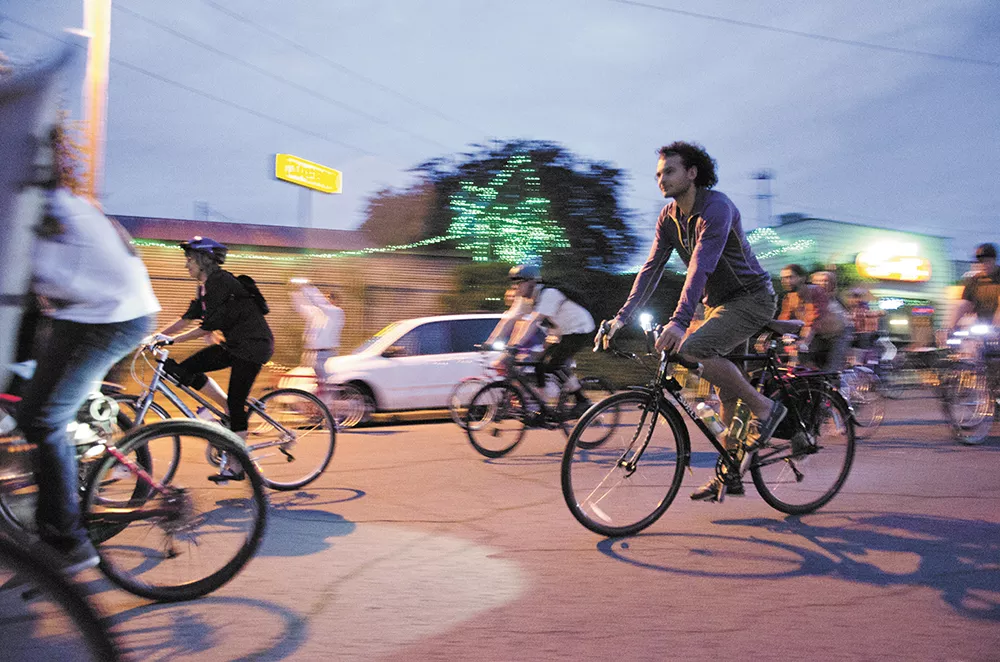 Bicycling doesn't have to be a solitary sport, a lone cyclist on dusty country roads.
If that's what you're into, great. If not, the region is flush with bicycle clubs hosting "no drop rides" into the mountains, and to the foot of a barstool downtown. A "no drop ride" means no rider will be left behind, alone, from the group.
"No drop rides give an opportunity for people to learn how to ride in a group and get more proficient," says Dave Mannino of Two Wheel Transit. "We make sure everyone stays together. If someone is not able to ride with the fast group, we can always splinter into other groups."
Below are some groups to get you started this summer. If you're more of a lone-wolf sort of cyclist, you can always ride the routes solo.
Two Wheel Transit
The ride: Thursdays at 5:30 pm
The South Perry bike shop hosts 18-to-20-mile road rides for moderate to advanced cyclists. The route takes you through neighborhood pathways along historic South Hill homes and through the pastoral beauty of the Palouse. The ride starts at Two Wheel Transit and travels up to Southeast Boulevard, over to 37th and Grand, then down to the Palouse Highway for a loop around Windmill Road.
"I would say it's a fairly challenging ride," Mannino says. "It's just because of our location, there aren't other options that don't include hills."
Belles and Baskets
The ride: Twice monthly
The women's-only cycling club hosts casual 5-to-10-mile rides throughout the city for cyclists of all abilities. The social group always starts at a coffee shop or ice cream parlor. If someone can ride a bike at all, they're generally just fine, says founder Betsy Lawrence. One of their most scenic routes starts at Rocket Bakery on First, travels down Riverside, across the Sandifur Bridge, across the newly finished Centennial Trail through Kendall Yards, and then across the Monroe Street Bridge to Riverfront Park.
"The ride is just picturesque along the river," Lawrence says. "It's a nice mix of rural landscapes, and Kendall Yards offers the prettiest view of downtown."
Coeur d'Alene Bicycle Co.
The ride: Wednesday Night Bikes, Brews and Burgers at 5:45 pm
The weekly 4-to-5-mile mountain bike ride is open to all skill levels. The group almost always meets at Canfield Mountain (Nettleton Gulch parking lot) and zigzags the mountain up the fire road, across Sixth Street, and eventually down to Slate Creek Brewery where free hamburgers and discounted beer await.
"It is mountain biking, so it's all dirt roads and mostly single track," says Chris Caro, co-owner of the Coeur d'Alene Bicycle Co. "We've had people walk up before... but there are few spots where you can look over Coeur d'Alene. The mountain has some of the best views around."
WOW Cycling Club
The ride: Twice monthly
The women-only cycling group for intermediate to advanced riders hosts mid- and long-range road rides throughout Spokane and the Centennial Trail. The last Sunday of every month, the group invites the public — men included — for a 25-mile ride. The group meets at Yoke's on Highway 2, rides up to Greenbluff Grange for a pancake breakfast, and then rides down and around the farms.
"We have a wide variety of riders, people in their 20s and in their 70s," says member Jodee Thompson. "All of our club rides are 'no drop' rides because it encourages people to come out and try it."
CDA Cruiser Ride
The ride: Once monthly
What started as a cruiser ride has since morphed into a social 5-to-7-mile ride for bikes and cyclists of all varieties. The group always starts at Bardenay, then cruises the Centennial Trail along the river, rides through City Park past the Coeur d'Alene Resort, across Sanders Beach, and ends at Java On Sherman. The coffeehouse provides a discounted food menu and $2 beer until the keg blows.
"We have baskets and bikes and bells. ... Anything is doable, we just really go slow so families can come out and enjoy the scenery," says organizer Cathy Stephens. "The ride is absolutely gorgeous around Sanders Beach with some of the old mansions, and then we're literally right on the lake."
The Swamp Ride
The ride: Every full moon
There is a very strange and very large gaping hole in the hearts of cyclists who once rode with the F---ing Bike Club (FBC), which dismantled in 2013. Bradley Baysinger stepped up to form the Swamp Ride — a group in FBC fashion that meets at the Swamp Tavern every full moon and rides to an undisclosed bar. The 7-to-8-mile city road rides convene at places like Jones Radiator, the Hub Tavern and Boots. Much like the fate of FBC, the Swamp Ride became too much to orchestrate, and the group's final ride — Bike Prom — is Friday, July 10 at 9 pm. That is, unless you want to become their leader. "It's a little bittersweet to see it end," says Baysinger. "I know there are a lot of people who feel very strongly about this whole thing. ... I believe the full moon tradition should exist in every city, no matter what. I'm hoping it's not over. I'm hopeful someone will step in." ♦